Shirley V. Gray
6/14/1920 - 12/08/2020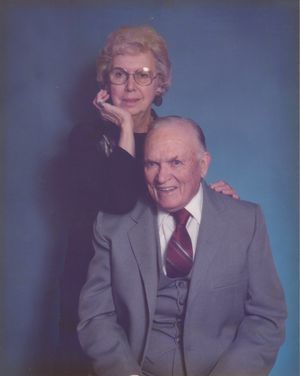 Shirley was a selfless, caring person her entire life. She was always there to help anyone in need and was always supportive of her children's dreams and desires. 
With her husband John jr. she fostered several children, ranging in age from infants to teens over the years and adopted four of their five children. All were loved equally. That love carried over to all family members. Blood was never considered as a factor. She cared for her mother when she became ill and then dad as he slipped into ill health.
She loved reading, discovering new places and meeting new people. There were always dogs or cats in the house.
In the 1970's there was a popular catchphrase that appeared on bumper stickers, "Shit Happens". She had one that said "Good Happens". I have always felt that that sticker summed up her entire personality.
She was preceded in death by John R. Gray jr. (husband)
Survived by her children, Mike (Mitzi), Lin, John (Eileen), Chris (Marvelena), Gary (Cheryl) and many Grandchildren and Great Grandchildren. 
---
Comments
Mom,
We will always love and miss you. I am so fortunate to have a mother who loved and cared so much for every life she touched. My heart is full knowing that you are at peace now back with dad.
Love Always
Gary
---
My mom, Laurine Homestead (who passed away two years ago) talked often of Shirley. When I saw Shirley's announcement I confirmed it was her friend by going to my mom's calendar from 2018 where she had marked June 14th, Shirley's 98th birthday:) Laurine often mentioned Shirley's kindness and compassion similar to your tribute. May peace be with all of you.
- Cheryl Homestead (Nenow)
---
Shirley was a friend of my mother's, Jane McKay, from early days at Our Lady of Lourdes. Mom had many stories involving Shirley. Shirley was also a friend to our family. My memory of her at my grandmother's funeral is one I hold. She was a large part of our family's lives. I can picture her laughing; that's the Shirley that I see in my mind and that I'll always picture when I think of her. My thoughts are with you.
Liz McKay
---
I have many childhood memories with Grandma (Shirley) Gray. Outside of Thanksgiving and Christmas we spent many New Years staying the night at their house. We would eat sweets to our hearts intent and cheers with sparkling cider. At midnight we would ring in the New Year with fireworks.
During the summers she would get us out of the house to go to the park, aquariums, fairs, bowling, lunch at McDonalds, you name it. She would even take my brother, cousins and I to the arcade and hand us a roll of quarters and say have fun. She really made summer vacations fun and memorable.
She raise us to understand the family is more than blood regardless of race, background, disability, identity, ups and downs. She greeted us all, including friends and lovers, as members of our family and always saw the good in people. She wasn't just the glue the held us together, she was the glue that brought us all together. Because Good Happens!
J. Russal Gray IV
---
A great Lady. Many memories of her. My thoughts and prayers are with you all.
- Jim McKay
---
Shirley and J.R. were neighbors of our family back 75 years ago, when we all lived in the Boulevard Park area. They would come over some evenings and sit down with my parents and the four of them would play Canasta - lots of laughter during the games. After 3 or 4 years, they moved down to the South Park area. My parents missed their company, and certainly the card games. I last saw Shirley in 1952, shortly after my marriage and I recall it as a happy reunion. I believe they had 2 or 3 children at that time. Shirley and J.R. Had always wanted children and I knew they would be great parents. I am only sorry that I did not see her over the years. All of her children were blessed to be raised in their household.
Peggy (Russell) Snell 
---