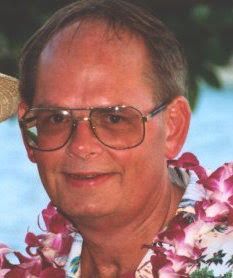 Dave Runkle, a parishioner of St. James Cathedral, age 67, of Seattle, WA passed away at home on October 21, 2015. Dave lived with cancer for nearly thirty years until it became aggressive. Special thanks to the Group Health Hospice team for their incredible support and loving care that he received the last months of his life. He was born in Portland, Oregon, and was adopted at birth by Leonard and Mae Runkle. Dave lived most of his life in Oregon where he worked in many trades (plastics, machining, heavy construction, restaurant office management developing menus, arranging international dinners and wine tours, and futures trading.) He moved to Seattle 19 years ago upon his marriage to Elizabeth.  Music, travel, classic cars, fine cooking, wines, and computers were Dave's hobbies and pleasures in life. Music touched him deeply and he loved modern rap, classic rock, classic blues and opera. In his twenties, he owned a record store in Portland. Dave traveled extensively as a young man, spending nearly a decade roaming through Thailand, northern India, Morocco, Turkey, Afghanistan, Iran, and Europe. Upon settling down in his thirties, Dave returned to school and made the Dean's list in his computer studies. Upon moving to Seattle, he worked a couple years at the UW's Housing & Food Services performing computer technical support. He loved sharing his enthusiasm for computers as our family tech support. Dave adopted cats wherever he lived .
Dave is survived by his wife, Elizabeth (Liz), of Seattle, and their 16+ year old Scottish Fold.  He is survived by his sister, Franell Nelson, Oregon City, Oregon and her two daughters, Shawna and Monica. Dave is also survived by his extended Washington in-laws, Roger and Georgie Chaffin, Bill and Holly Chaffin,  nieces and nephews Andrew (Suzi), Brian, Caitlyn and Renee, and the Roberts family (Greg, Jackie, Chris and Michael.) He is also survived by members of his birth family. 
Rite of Committal will be held at Calvary Cemetery in Seattle.
Remembrances in Dave's name may be made to paws.org, the Humane Society, or your preferred charity. 
---
Comments
Hi, Liz:
I am truly sorry to hear of the loss of David. Please accept my condolences and may our prayers help comfort you and hasten the journey of his soul to Heaven.
Please do not hesitate to reach out, especially during this difficult time.
Siqing Lu
---
Please accept our deepest sympathy for the loss of Dave. Thank you for letting us know, Liz. Please take good care of you now. Sincerely, Jim and Catherine
Jim and Catherine
---