Jack Alden Gifford
December 31, 1931 - January 7, 2021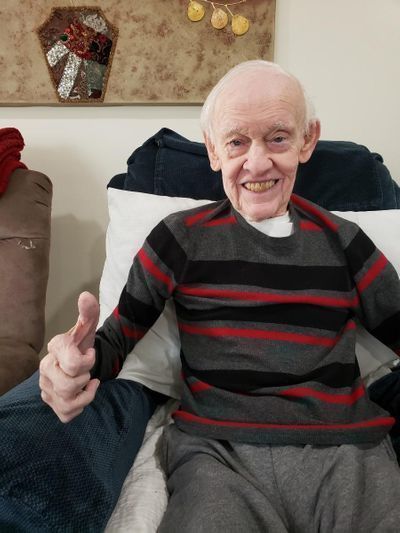 ---
The youngest of ten children, Jack was born in Seattle to James and Genevieve Gifford and was a lifelong West Seattle resident. He attended Jefferson Elementary, Madison Junior High, and graduated from West Seattle High School, where he met Geraldine Nelson.  Jack and Geri were married from 1953 until her passing in 2015.

Jack was an avid sports fan and athlete, playing pickleball with his brother well into his 80s. He loved to be outdoors laying out in the sun, playing tennis, appreciating vintage cars, and tracking down deals at garage sales and antique malls. He was a record salesman by trade and was once honored as RCA Records national salesman of the year.  A proud and active WSHS alumnus and member of the Monogram Club, he loved sharing fond memories of his school days and staying connected with classmates.

He was generous, caring, and loved his family dearly.  He is survived by son Tim, daughter Kim (Mark) Amsden, grandchildren Graham (Sabrina) Amsden, Mallory (Euan) McLean and great grandson Hamish Jack McLean. Jack is also survived by his brother Kenneth and many, many beloved nieces and nephews.

In lieu of flowers, donations can be made to the West Seattle Alumni Association scholarship fund: http://wshsalumniassociation.org/how-to-make-donations/ or Duwamish Tribal Services Real Rent: https://www.realrentduwamish.org/ .
---
Comments
My Dad - Ken, is Jack's older brother. As Kim said, they spent many years playing volleyball and pickleball together. There were a few times, when cousin Chris played that there would be 4 of us Gifford's playing together. I am Jack's niece and am so glad that I got to play sports with my uncle and Dad. When Jack went into a nursing home, my Dad and I would visit him every week. He would always light up when he saw his big brother and we would have very interesting conversations with him - my Dad not hearing and Jack in whatever time period he was in. Some of our visits coincided with Kim's and those were special times. Jack - with a smile on his face and rubbing his hands together - will be missed!
Sandra Gifford Goldade
---
Condolences and love from Mr. Steven Castle and family.
Steven & Elisa Castle
---
Dear Kim & Mark, and Tim, So sorry to hear the news. Your Mom and Dad were just the best! I consider myself so very lucky to have them as friends and to have shared in some of their adventures and milestones! So many happy memories..... Much love, Linda
Linda Justham
---
We will remember Jack when we play Pickleball. He was a great competitor and true gentleman.
Kathy and Gary VandeBrake
---
our condolences; watching the Gifford brothers playing pickleball and enjoying one another's
company has been an inspiration.
 
Jimi and Rudy Vernie
---
Tim and Kim, so sorry to learn of your Dad's passing. I used to see him quite often when he worked for RCA. I was working at JL Marsh/ Pickwick record distribution warehouse and he would be there often as he was friends with Al Zangrillo. I also played a lot of volleyball with him over the years at Fauntleroy YMCA. He was a great guy! Always happy and a really good athlete too. RIP Jack!

Condolences, Greg Ring
---