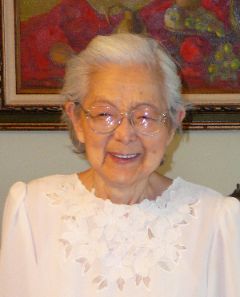 Also joining the ranks of the Church Triumphant this past week was Fumi Uomoto, who went home to her Savior this past Monday (May 4).  Born Fumiko Onoda in Cosmopolis, Washington, on September 17, 1924, "Fumi" was the daughter of Japanese immigrants from Kyushu Island. She responded to her Savior's call while in high school.  During her senior year, the U.S. entered World War II, and in 1942 her family was sent to an internment center in Minidoka, Idaho, where she was able to participate in various Christian activities.  
Following the war, when General MacArthur issued his famous plea for missionaries for Japan, she sensed the Lord's working in a desire in her own heart to help bring the gospel back to Japan.  In 1946 she married the Rev. George Y. Uomoto, who was also sensing the Lord's call to return to Japan (in God's providence, George would be the first Nisei [second generation Japanese immigrant] to return to Japan as a missionary).  They departed for Japan under the Committee's call in November 1951 with three children, and over the next fourteen years, the Lord would bless them with eight more children, one of whom, Murray, is also an OP minister (laboring as a missionary evangelist at Megumi Chapel in Yamanotera, Sendai, Japan).  The Uomotos officially retired from missionary service in 1988, but continued to labor in Japan until 1991, when they returned to the States and lived in the Seattle area.  George was called home to his Lord in 2004. 
Fumi was preceded in death by her husband of 57 years, George Y. Uomoto; a son, Calvin (Annie) Uomoto, Seattle, WA; a daughter, Ruth (Norman) Young, Mercer Island, WA; brother, Dr. Bright Onoda, Chicago, IL; sister, Toshiko (Hank) Nishimura, Bothell, WA; and parents, father, Sanjuro Onoda, step-father, Fujio Nakamura, and mother, Yaeko Shingai. 
Fumi is survived by two siblings; Hideo (Chieko) Onoda, Chicago, IL, Carol (Ken) Sagara, Kirkland, WA; nine of her eleven children; Lois (Paul) Lindberg, Ravensdale, WA; Estelle (Rob) Vollmecke, Ballard, WA;  Murray (Tsuruko) Uomoto, Sendai, Japan;  Earl Uomoto, Ann Arbor, MI;  Faith (Jim) Uyesugi, Redmond, WA;  Hope Uomoto, Federal Way, WA;  Grace (Rex) Currier, Fall City, WA;  Joyce (Charles Orange) Uomoto, Kent, WA;  Julie (Jeff) Davis, Plano, TX; seventeen grandchildren, and 10 great-grandchildren.
A memorial service will be held Friday, May 15, 2015; 4:00pm at Trinity Orthodox Presbyterian Church, 23211 Meridian Avenue South, Bothell, WA 98021.
In lieu of flowers, donations to World Relief, Kent, WA, will be appreciated. Alternately; donations may be made to Tsunami Relief and Ministry, Sendai, Japan, in care of Murray Uomoto.
 
---
Comments
My Grandma Nakamura said she admired her daughter, Fumi, for her faith. Fumi said she was willing to have as many children as the Lord would give them, even though the MD's advised against her having any more for her health's sake. ( Mom had already had five or six, by then, I think. ) Mom had 11 children total; and I'm grateful for my caring, loving siblings whom she and Dad raised. --Lois Lindberg
---