Ollie (Alice) Royer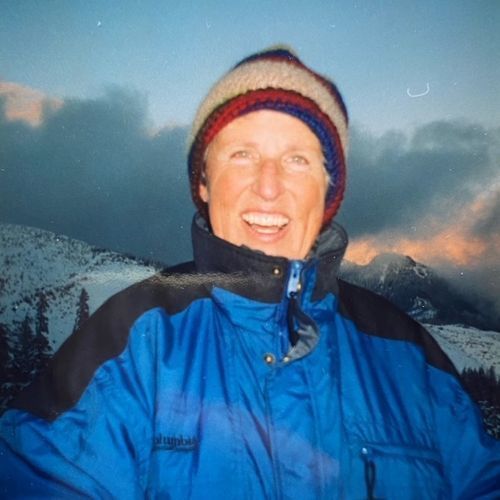 On Friday, August 20, 2021, Alice (Ollie) Royer, adventurer, traveler, nurse and mother, passed away. She was 78. Ollie was born in Ithaca, New York, to Catharine & Henry Detweiler. After graduating from high school, where she was Concert Master – she was a skilled violin player – she moved to Seattle in 1960 and went to the University of Washington where she studied Classics and Oceanography. Ollie met her first husband, Victor Case, in 1962, and had her first child, Michael in 1965. She was a Latin and Greek teacher in those days, rode a motorcycle and traveled the world with Mike, before returning to land in the Skagit Valley, where she found a house on Fir Island in Skagit County. Ollie met her second husband, Brian Royer in 1970 and they lived on a commune and then moved into a small house on Clear Lake, where her daughter Noelle was born in 1976. She became a Registered Nurse at Skagit Valley College and then she and her family moved to Curlew, Washington, in 1977. Ollie and Brian built a house, went back to the land and enjoyed having her sister Molly as a nearby neighbor. She worked in the Ferry County hospital as an RN. In 1984 Ollie returned to Western Washington and continued her nursing work. She was a nurse in many countries, too, on her vacations from work, including Australia, Honduras, Burma and Laos through the years. Ollie traveled to all of the continents on this planet, climbing mountains, scuba diving, hiking or rafting rivers. She broke both elbows at different times and had the privilege of getting airlifted out of the Grand Canyon after a rafting accident.
Ollie learned to scuba dive while in college in the 1960s and decided to learn again in Honduras in the 1990s. Scuba diving took her to many locations around the world, often with her daughter, Noelle. In the 1990s Ollie frequently traveled to work by bicycle and was Cascade Bicycle Club's Commuter of the Month one month in 2001. She learned to kayak and raft white water rivers in the Western USA in the late 1990s and rode rivers in her cata-raft until 2017. Ollie climbed Mt Baker in 1999 with her niece Susan and was always up for an adventure, be it in the salt water, fresh water or the mountains.
Ollie was active in political and social causes throughout her life and encouraged activism and intellectual pursuits in both of her children. She never hesitated to tell anyone her opinion on things great or small. She was an avid reader and the first in her immediate family to get a tattoo.
Ollie retired from teaching in the early 70s and then later on she retired from working at Harborview Medical Center in the 2000s and finally retired more fully in 2012 after working for Providence Hospice and Home Healthcare. This allowed her to travel more freely!
Ollie was able to see both of her children get married and celebrate their partnerships.

Ollie was diagnosed with Dementia in 2016 and moved into assisted living in 6/2018. She moved to Burien to be closer to her kids in December 2019. She moved into Memory Care in January 2021 and moved under the care of Providence Hospice (ably assisted by the staff at the Garden House) in March 2021. Ollie passed away on 8/20/21.
Ollie is survived by her children Michael (Barbie) Case and Noelle (Holger) Lindenmann; siblings John H. (Sylvia) Detweiler, Katie (Del Langbauer) Bunnell and Molly (David Robinson) Detweiler; nieces & nephews Susan Detweiler, Corrie Detweiler, Amy (Adam Wiener) German, Ross (Meredith) German,  Catharine Robinweiler and Alex (Beth) Robinweiler. Ollie was preceded in death by both of her parents, Catharine & Henry Detweiler, and her first husband, Victor Case.
If you would like to honor Ollie with a donation, here are a few that would honor her and her family:
Planned Parenthood of the Great NW, Hawaii, Alaska, Kentucky & Indiana
End of Life Washington 
Pasado's Safe Haven 
Southern Poverty Law Center
---
Comments
It is with great sadness that I learn today of Ollie's death. I never found the time to visit her after she moored from Ida culver though we did have a few meals together which Ollie insisted on paying for. Ollie had more integrity in her little finger than most people have at all. She was what used to be called a straight shooter. She was principled. She was fun. I admired her very much and am proud to have been honored with her friendship. Sending my deepest condolences to Ollie's family-
Lyn
---
What an amazing person Ollie was, what an adventurous life she lived, and what a loss she's no longer with us! Among her many other passions and vocations, Ollie was an avid reader and dynamic member of our small book club for many years - we miss you Ollie!
In sympathy,
Beckey
---
Always full of energy and spunk, Ollie will be missed. She was a special part of our community at the Seattle Burma Roundtable, and I hope to one day remember this tribute while looking out at the mountains of Shan State from the hospital she whipped into shape in Loi Tai Leng. Hers was a full life!

Ryker
---
Well done, good and faithful servant. What an adventurous and beauty-full life. I am so glad to have met you and felt your love through Noelle. May your memory be a blessing!
- Catherine Cuellar
---
I met Ollie while I was safely swimming at the end of my dock in Clear Lake. She lived in a cabin further down the lake, soon we were swimming the entire lake together. Ollie proceeded to lead me on to experience many grand adventures with an abundance of life threatening situations. She introduced me to her beloved river rafting friends and they have taken me down many rivers for which I am everlastingly grateful. I was with her when she was airlifted out of the Grand Canyon, lucky to be alive. I recently mentioned to rafting friends how many times Ollie almost died while rafting and they said,"That was on every river". We have traveled to Far East together, once to see bat caves and cross illegally into Burma to work in a refugee camp, and once travelling with my sister to Vietnam, down the Mekong Delta in a fisherman's boat, a narrow canoe with hammocks. into Cambodia to Angkor Watt and then on to Thailand. With, and thanks to Ollie, I went to Palau. We kayaked for a few days and then I got certified to scuba dive. I am forever grateful for the wonders I saw deep under water. We kayaked a lot at home too and in Canada around the Broken Island, to Haida Gwaii and other areas where we got ourselves into situations we felt lucky to have survived. Ones where you kiss the ground when you get out of the boat. This just describes a few of the adventures Ollie and I had together. Ollie loved adventure and had many more I was not involved it. I would have followed her anywhere. Now she has led me into facing death. Seeing her in the nursing home in her last days, was a lesson in grace. She beamed with a beautiful look on her face and every once in a while would exclaim, "WOW!" She responded to her loving daughter, Noelle, in the same way, "WOW!" I say WOW! to you Ollie and Thank You.
- Kathy Gowan
---
I met Ollie late in my river running days. I liked her immediately. She could swear like a sailor and was an awesome rower. I loved having her along on trips. We met other interesting folks through her as she had a large group of friends. Her stories entertained us in the evenings and there was always another trip or two on her near agenda along with the one she had just finished. She made every day count. What an inspiration she was to me, which I told her often. Her patients were very fortunate to have Ollie as their nurse.

I sure wish I had been more aware of her background. It seems she also had a brilliant mind and I can imagine her as an instructor, encouraging her students with her enthusiasm, no matter the subject.

Ollie was truly one of a kind. She grasped every ring flying by and held on for the ride. She inspired all of us to live more fully. I'm sorry she has left us behind but I have no doubt death was just another adventure for her and she's doing fine wherever she is.
Dianne Story Cunningham
---
I feel a great,deep loss from her passing. A unique woman full of adventure, spit, and vinegar. Our time together throughout the years as yakkers (whitewater), hikers,backpackers, mtn climbers, bicyclists, snow bunnies ( CC/shoeing), world travelers, and sisters in nursing has enriched my life. Most of all she was my friend . She will never be gone as my grandchildren are now hearing all my stories of "Adventures with Ollie" "WoW"
- Elaine
---
It is with great sadness, that I stumbled across Ollie's Obituary today. I will always remember Ollie as one of my longest kayaking pals. We had many great adventures on rivers all over the PNW and Idaho. My heart has been aching with her absence, but I know Ollie transitioned with the loving care and support of her family.

Joyce Stuart
---
Ollie was the larges and brightest personality I knew from the river. A tremendous loss for the many communities she served and in which she played. I will always cherish Ollie's spirit and fondly recall memories.

- Renée C Paradis
---