Myles O'Byrne
April 6, 1945 - October 21, 2021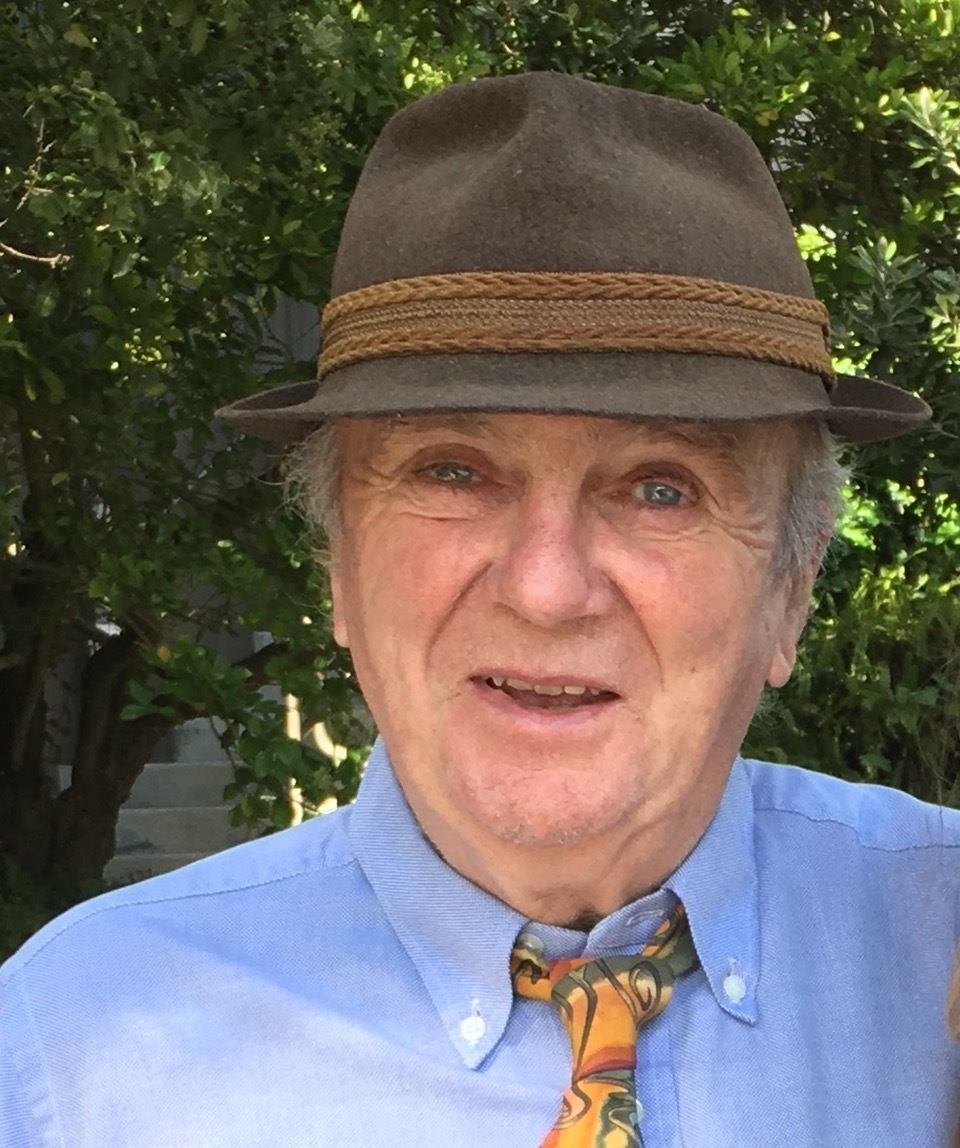 Myles O'Byrne passed away peacefully at his home in Seattle, Washington on October 21, 2021 following a short but valiant battle with cancer.  
Everyone knew Myles for his dry wit, sense of humor, and love of storytelling.  A proud Irishman, most people don't know that he was actually born in England (his mother was a nurse there during WWII)!  Maybe that's why he was so good at telling "British" jokes - which were really only funny because of his antics.  Myles arrived in Ireland as a toddler with a little British accent, much to the chagrin of his family.  He assimilated quickly, however, growing up in Dublin and Donard, Co. Wicklow.  
The first in his family to attend university, Myles studied engineering at University College Dublin and after graduation took an uninspiring job with the ESB (Electricity Supply Board).  When Boeing came to Dublin recruiting young engineers, he jumped at the chance to work for the aerospace giant.  In 1967, he moved to Seattle, Washington (USA).  While working full-time, he obtained his master's degree in electrical engineering, fully paid for by Boeing (those were the days!).  Myles worked for over 40 years at Boeing, surviving several economic downturns including the great layoff of 1969 (billboards in Seattle said, "Last one leaving, please turn out the lights").  He was very proud of his career at Boeing.
Shortly after arriving in Seattle, Myles sent a plane ticket to a beautiful young lass who he had met at a pub in Ballybunion, Ireland.  Joan came out for a visit, and stayed!  The plane ticket is still pinned to the wall in his office.  They were married in 1968 at Our Lady of Guadalupe, and enjoyed a wonderful 53 years together.  He loved the outdoors, exploring and traveling.  There were years of camping as a family in the local Olympic and Cascade mountains, annual trips to Sun Lakes with a crazy crew of English, Scottish, and Irish friends, epic road trips through the American Southwest, and several trips back home to Ireland.  He especially loved traveling with Joan - their explorations together took them to Alaska, China, New Zealand, through the Panama Canal, and several countries in Europe.  
Myles had a fantastic sense of humor, and was known as a bit of a prankster at Boeing. One of our favorites involved a co-worker who had "hello, how are you" signs in various languages all over his cubicle.  Myles offered to give him one in Irish.  The sign read, "pog mo hone".  Readers, we will let you look that one up! He also loved storytelling, and spent hours writing funny (and true) short stories about his childhood and family back in Ireland.  
Myles had a very full 76 years of life.  Everyone who knew him is thankful to have been part of his world.  He is survived by his wife, Joan, their two children Michael and Kathleen, and five grandchildren.  Michael and his family (wife Bhavesha, children Indira and "young" Myles) live in Seattle.  Kathleen and her family (husband Todd, children Molly, Keira, and Conor) live in San Francisco.
We will not be holding a service at this time, in hopes of having a wake in Seattle next summer when the weather is nice and we can safely celebrate together.  Our immediate family will also travel to Ireland next summer with Myles' ashes, where he wanted them to be buried with his parents in Hollywood, Co. Wicklow.  And of course we will have another wake in Donard!
In lieu of flowers or other remembrances, consider making a donation to the Evergreen Health Foundation*, whose at-home hospice services were invaluable.  Information can be found below.  Alternatively, do something that you know he would enjoy!  Plant some potatoes, have a pint, or play a round of golf in his honor - send us a picture.
We would also like to thank St. Anne's Hospital and Virginia Mason Medical Center for their care.  Every single service, staff, and medical team member who Myles and our family encountered was incredible, and the collaboration between the medical personnel was superior.  We are forever grateful for their service.
Please enjoy some memories written by his grandchildren, shown below.  We would also love your own comments and stories!
With love,
Joan, Kathleen, Michael, Todd, Bhavesha, Indira, Molly, "young" Myles, Keira, Conor and the canine grandchildren Rocky IV and Lilly
*Memorial gifts can be made to the EvergreenHealth Foundation, 12040 NE 128th St, MS 5, Kirkland, WA, 98034-3013, USA or by clicking on this link: https://evergreenhealthfoundation.com/donate/. Please designate "hospice services".
Stories from his grandchildren:
I remember when Papa came to stay with us for a week while our parents were gone. He had to drive us to school and every time we drove down this one hill near our house he would ignore the speed bumps and the entire car would bounce up and down. And every time he would be like "where did that come from" and laugh and we would all laugh and it continued to happen everyday. Now every time we go down that hill I remember those moments and it makes me laugh.
We had some old potatoes in the pantry that had started growing little sprouts. We were going to throw them out, but Papa decided to plant them instead. He showed us how to dig the holes and plant them, and we worked together in the garden for a bit. It was fun. I was pretty skeptical, but a few weeks later we ended up with a bunch of nice plants and some tasty (and big!) potatoes.
I remember when Papa would come visit us in San Francisco he would always take me on a walk to West Portal to get ice cream. My parents did the same but it was special with Papa because he would always let me get the biggest scoops on the chocolate covered waffle cones. I was so little I could barely eat half of it but I was so excited and so happy to get it so he always let me. Now every time I walk past the building where the ice cream shop used to be I remember those walks and the fun times I had with Papa there. 
I remember the time when a bird landed on Papa's head. It was trying to make his hair a nest, but there wasn't enough (hair). Aunty Bhavesha was like "protect the bird!" and Papa was like "get it off!". Nobody knew what to do and it was really funny. 
I remember way back when I was little Papa came to visit and take care of us while mom was giving birth to Conor. And one morning we came downstairs all dressed for the day with our backpacks ready for school and Papa was sitting on the couch watching TV. We told him we were ready to go to school but he told us we did not have school (even though we did). Instead he let us skip the day and watch cartoons. I will always remember how excited I was in that moment and how happy I felt to be staying home with my grandpa instead of going to school.
I remember all the times we went to the Boeing museum and he would tell us about the airplanes. We had so much fun there, and Papa was always telling us about his time working at Boeing. The story that stands out to me was the one about the guy who made the Star Trek "no intelligent life" joke in meetings. That always made Papa laugh his funny little chuckle-laugh.
Papa's favorite ice cream was Nestle Dibs.  For months there would be half-eaten tubs of Dibs in the freezer, then our local Thriftway (a grocery store) stopped selling them.  I remember that Papa even went down there to complain!  Luckily we found them at McLendon's (a hardware store) in White Center.  So any time we went there, we would grab a couple of tubs of Dibs for Papa.  And even though it was his coveted treat, he was always willing to share.
A great memory I have of Papa is him scaring me with his radiation mask. My dad and I had to go pick up Baba and Papa from the hospital as it wasn't ideal for them to drive. Dad told me to wait in the car while he got them, and I obliged. I was on my phone playing games when all of a sudden someone knocked on the window. I looked up to see Papa wearing a mask that you would see on a horror movie character and not on my 76-year-old grandpa. My heart skipped a beat as I was startled by him and then I realized it was my grandpa and not some crazy chainsaw wielding murderer.
---
Comments
I remember Myles from when I was 6 years old (now 45) as he and my dad had studied together in Dublin and worked together at Boeing. I have many memories of him and Joan visiting us in Vancouver and of us visiting them in Seattle, and when we lived in Dublin we would often go and stay at their house in Donard, which we always enjoyed. Joan and Myles have been good friends to my mum and dad for as long as I remember, and I was saddened to hear of Myles' passing. Sending our condolences and love to Joan, Kathleen, Michael, partners and grandchildren. Lots of love from Jenny, Nick, Oliver and Emily
- Jenny Slaymaker
---
Dear Joan and family, I loved seeing the photos, and reading all the history and stories about Myles and his 76 years. What a wonderful man who will be forever cherished by all those who had the privilege to know and spend time with him. I wish I had met him sooner! Very sad to see someone so full of life and laughter taken too soon. Thinking of you and sending heartfelt condolences, love, and hugs!
- Marilyn Watkins
---
Hello Joan❤️ I was sad to see Myles had passed. I sure have missed you guys since I left the shop. I still have the Sweater Myles gave me. I wish love and healing for you and a Big Hug from me to you…!!! Sheriann Nye/ Hairstylist/Ralph's
- Sheriann Nye
---
Myles and Joan have been our dear neighbors and friends for many years. We had to wait until Myles retired to really get to know him. Many dinners later with lots of good food and wine we got to enjoy Myles' Irish and Boeing stories. Much laughter and guffawing. When Myles was in full story telling mode, he would stand at the end of the table to make sure he had our attention. Myles loved to laugh at his own jokes and watch you laugh with him We will miss our friend Myles forever.
- Jane Tobin and Bob Harrington
---
Dear Joan and family, our sincere condolences. We have fond memories of our days in Marriage Encounter. You were a great couple and both brought a lot of wit and laughter to whatever we were up to. Blessings,
- Pete & Nancy Wright
---
Myles was my mentor at Boeing, starting with the 777 in about 1990. I shall be eternally grateful to him for his instruction, and will carry a bit of his being with me always. Also, I had the privilege and deep pleasure of being warmly invited by him and his family to their home and thereupon welcomed as a friend. Among my cherished images of Myles; Get the job done.; Don't take it too seriously; Freely and loudly dispense opinions; Find more amusement and less anger in absurdity; You can do it; Enjoy it all. I recognize the wisdom in this. These small things have become very important to me.
I will miss him.
Good health to Joan and family, and may the fond memories only grow better.
- Kevin Norby
---
Dear Joan & family, what a beautiful tribute to a wonderful man, reading about Myles & the lovely memories you all have of him is like a tonic in this horrible time in everyone's life. Your story is definitely a true love story. May you be content in the years ahead to have had such a long & happy life together & see him live on in his children & grand kids.
- Hilary Miley, Valleymount, neighbouring parish of Hollywood.
---
I remember going to Joan's with another art friend for a potluck lunch. Joan grilled hamburgers on the deck for us (delicious!). My contribution was very simple: strawberry Jello with fresh strawberries mixed in. Myles walked in and said, "Oh, Wobblies! Haven't had them in ages". It's Wobblies forever!
- Gwen Nichols
---
the grandchild's comments were priceless and you could feel all the love. we love the pictures as well. Myles was always so much fun to be with and he always had a twinkle in his eye and a wonderful laugh. we will
miss him but his memory and jokes live on
 love. Kate and Colm
---
Dear Joan and family,

What a charming story about your beloved Myles (Papa). These heartwarming memories, that each of you cherish, will always make you smile.

My kindest wishes to each of you,
Lanie
---
Sending you all so much love during this difficult time. He is gone far too soon. Your tribute to him is absolutely beautiful and I feel that I got to know him better through reading it. I love the memories and photos of him. He sure lived life to the fullest and was surrounded by love until the end.
My deepest condolences to all of you. Such an enormous loss.
Xoxo Alex (Blake, Amelia & Griffin)
---
Dear Joan and Family,
I can't imagine a warmer sendoff to a husband, father, Papa, and friend than that provided by your words for Myles. It's clear he brightened your lives and was generous with his love. I know the loss leaves a gigantic hole in your lives and I hope you will find some comfort in the memories of your adventures and laughs with Myles.
With love and sympathy,
Janice
---
I am one of Joan's artist friends, so I got to know Joan before Myles. When I was able to get to know Myles, I quickly realized that old saying is true: "Behind every great woman there is a great man." Myles was a wonderful person. He will be missed. I also know this to be true: Those we hold dear to our hearts will walk beside us the rest of our lives.
I enjoyed reading these tributes to him and seeing the photos. Thank you for that.
My best condolences to all of the family.
 
Jan Koutsky
---
Dear Joan & Family,

There are no words to express my deepest sadness for Myles' passing. He was one of the wittiest, charming, and cleverest people I have ever met! The time we spent together was certainly a great and memorable time, and I will always cherish it! Please accept my heartfelt condolences to you all. May God bless his soul!

PS: I have some pics of Myles that were taken at my Italian classes he attended and also at a class celebration dinner we had with other students as well. Please email me if you'd like to have them.

Giorgio Caioli (friend and ex-colleague)
---
One of my favorite memories of Myles was when he put up the singing fish at your front door. We always would try to get to the door without making it sing "Take me to the river..." and were never able to do so. Myles would answer the door with that smile in his eyes - and sometimes on his mouth - and we would always laugh.
We have been missing you both since the covid lockdown began but now we can't even look forward to catching up. We will treasure our memories and pray for your family in this time of adjustment.
Gretchen and Pat McCarthy
---
Dear Joan and family,
My deepest sympathy in your loss. Sending you love and many prayers at this most difficult time. Steve and I have the best memories of getting together with the two of you.
Stay strong, my friend!!!
Zena Pedersen
---
How lovely to read all those stories of Myles, thank you for sharing them with us. I saw Myles's "chuckle-laugh" mentioned and I could hear it, and picture his face!
Myles meant a lot to our family, having been good friends with our father since they were at university together in Dublin. Myles told us stories about our dad that we would never have known- often followed by the chuckle-laugh! Precious memories to us.
Through the generosity of Myles and Joan, Donard, Co.Wicklow is also part of our family history and we wouldn't have it any other way.
Sending you all so much love.
 
Katy Keenan
---
Dear Joan and Family:
It was an Honor to have had both of you in my life, especially in the Marriage Encounter Warrior days and when we did the addition to your home. We've lost contact since the late 80s but you still have a place in our hearts and prayers. May God's Peace be with you.
 
Greg Rafanelli
---
Myles is in my head a lot right now. I mostly picture him with his hat on...I guess that was to keep the birds out of his hair!
We have so many wonderful memories of him. Sitting around our dinner table, sometimes with our friends, talking of serious stuff and then having us in stitches with his stories and amazing mimicry. Lord Cholmondely always being a favourite of Graeme's.
I don't think Myles was a water baby . I see him on Tata Beach in Golden Bay. A hot sunny day and everyone jumping into the water to cool off . Myles had finally taken off his socks. The rest of his legs were brown by this stage so there was a white sock shaped patch on each leg. We were urging him to go in to the water. He would run to the edge and stand there ... shivering! ... in the heat. ""Go on Myles! Go in . It's warm! " Finally, after much dipping of toes, he took a fast run... ducked under, and then ran straight away out again. All that effort for one very quick dip. He could be so funny.
Speaking of socks, maybe Myles had a thing about them? Going boating with Graeme his big question was not about wearing a safety jacket or how many fish they might catch but " Do I have to take off my socks ?" We teased him about that for a long time!
One evening he read us some of the stories he had written. Sitting looking out at the sea, a glass of wine and Myles reading his stories is something I'll never forget.
Myles was also very kind and considerate. Knowing that Graeme - the Phantom Professor - was interested in aviation he went to such trouble to organise a tour of Boeing for him.
There are so many other lovely memories and we're lucky to have had such a terrific brother-in - law but are full of sadness to know he's no longer there.
Maggie and Graeme
New Zealand 
---
My husband, Frank and Myles met at Boeing when they were mutually new to Seattle, and became friends, which led to our being good friends with the whole family. We spent many vacations together, always sharing loads of laughs. Myles was a master at doing upper-class twit English accents, and Frank did a good Irish accent, and they were both hilarious. The only problem was that Myles would get close to the punchline and could not contain himself, and would start giggling, with shoulders shaking, and we'd be laughing at him, and he'd never finish the joke!
He was a very special man, and those lucky enough to know him, will never forget him, and he will remain in their hearts forever.
Love to Joan and family, with wonderful memories.
Heather
---
What a beautiful story, Sounds like you have been a very happy family over the years, My deepest Sympathy to all the Family on the loss of Myles. May he Rest in Peace...
My Parents are also buried in Hollywood..
 
Tess Enright
---
Hello Joan and Family,
I am so sorry to hear about Myles. He was such a charming lovely man. I met him about 10 years ago at on e of the Heritage Club lunches and subsequently we would share the same table at further lunches. We had some witty fun when we met with President Michael Higgins when he visited Seattle. I look forward to attending his wake later in the Summer 2022.
May he Rest in Peace.
With Love,
Brian Cullen & Jen Izutsu
---
His stories were so wonderful...I remember telling him about The Moth Radio Hour and how he could spread a story or two on the radio. I could never do justice by retelling one of his and never tried! (How many of YOU will be remembered in passing by the joy you shared with your mail carrier???)
Pat Shaffer
Mailma'am, retired
---
Sorry for your loss, thinking of you at this time. I can totally relate to Myles and his stories of Ireland and I being a Boeing employee also! R.I.P Myles
 
Patrick Francis Curley
---
Dear Joan Michael Kathleen and families we were really sad to hear Myles had passed away - we hope he didn't suffer too much or for too long - he was such a great character & it's clear to see by reading your written memories that you all loved him very much and had wonderful times with him
Wasn't he great fun sharing his ice cream that he loved so much and letting you have a free day from school when your baby brother was being born - he was the best ❤️
Myles came hone to Ireland quite often and he always called to see us in Wolfstown and our cousins in Piperhall
I remember him bringing beautiful necklaces and earrings made by the Indians in Albuquerque - he was so kind
The last time I met Myles was with my mother Treas Slattery and her twin Mona Slattery in Donard (they married brothers John and Pat Slattery)
Myles was their first cousin and they got on very well with him and with his parents Teresa and Mick
Teresa was a lovely lady and Mick was a gentleman
Mick had a great sense of humour and had that dry wit / as we say in Ireland 'Myles didn't lick it off the stones'
Teresa & Mick used call with Mona to Donard on Sundays to visit Uncle John Cullen and his wife Nan - Teresa was John's sister
Uncle John lived in the house now owned by Myles
My earliest memory of meeting Myles & Joan was in Piperhall soon after Michael was born
I also remember him calling to Wolfstown with Kathleen when she was a teenager
Teresa would keep us up to date by showing us the most recent photos she would receive from Myles
Joan it is so sad that you lost your life partner and your children their dad and grandchildren their papa / I hope in time you will remember him with a smile
Please keep in touch and let us know when you plan to visit Ireland - you will all have to come and visit us at our home and my brother John's home in Wolfstown
With kindest regards Cal
 
Cal Doyle nee Slattery
---
Dear Joan and family,
I offer my sincere condolences upon the loss of Myles. I met him once or twice through my mother, Rita Sexton. She adored him and would always tell me of his great wit and kindness. She placed great value upon your friendship. May he Rest In Peace.
 
Karl Sexton
---
Dear Joan, Kathleen and Michael,
Many years ago Kathleen was our babysitter. I had posted a note at Holy Names Academy asking if a West Seattle student would be interested in an infrequent evening caring for our three redheaded children. Kathleen answered the call and we got to know the O'Byrnes.
John and I send our deepest sympathy on the passing of your beloved husband, father and Papa. May he rest in eternal peace and may your loving memories of him sustain you in the coming days.
With affection,
Melinda Jankord-Steedman
John (Myles) Steedman (his mother's maiden name and the name of our first grandchild)
---
My Mother is Myles' First Cousin, (Jeanette Cullen Manscier Borg). Growing up, she always told us stories of how cute her young cousin Myles was, and his picture (included in your above post) definitely proves that! What a darling young lad he was. And so, of course, he grew to be a very handsome man.
We have VERY fond memories of Myles. He told hilarious stories, he had such an incredible wit, and he was a brilliant Irish Writer. He was definitely an Irish Gentleman. He was always filled with such charm and much kindness toward everyone.
(And I am delighted to learn that he, like me, was born in England! I did not know this before! I thought I was the only rellie called "a limey"!!!).
We were very saddened and shocked to learn of his early passing. "Only the good die young", indeed. We haven't read enough of his stories; we hope to be able to read more someday.
Our best wishes to Joan and family for comfort and peace. We look forward to celebrating his life with all of his family and friends at his wake in the Summer of 2022.
God Bless Myles.
Bless you, Joan and your family during this very sad and trying time. Much love and many hugs from your rellies,
Jim, Maria, Michelle & Michael Maher
---
Kathleen and I are deeply saddened to hear of Myles' death. Myles and I studied engineering at UCD in Dublin from 1963 to 1967 and we both joined Boeing upon graduation. I didn't survive the cancellation of the SST project in 1969 but Myles soldiered on at Boeing for over forty years. We lost touch for a while after I left Seattle but we renewed our friendship when Kathleen and I moved to Vancouver BC in 1982. Since then, we have had many get-togethers with Myles and Joan whom we cherished as the best of friends. We attended the weddings of each other's children, holidayed together and, as always, were entertained by Myles with his special brand of humour. He was a great companion with whom I shared a similar outlook on life and in whose company I always felt relaxed and at ease with the world. We'll miss him a lot.
 
Michael Byrne
---
When you are lucky enough to meet a person that comes in and out of your life at intervals. Then run into them again and start chatting as though you saw them yesterday, you have been Blessed.
That is how I feel about Myles. I met Myles through my Mother, they worked together and car pooled at Boeing. She was very fond of him and they laughed a lot
Later I met Joan, our daughters were a year apart. We became fast friends and Joan asked me to join her soccer team. I had never played but I had an amazing coach, that being Myles.
Every note that has been written about Myles in this thread, reminds me of how much fun he was and what an amazing role model he was for his family.
Joan, Kathleen and Michael, your families are in my heart and on my mind.
You are blessed to have such amazing memories that will help ease your sadness.
May you always see the twinkling of his eyes in each other.
Trish Maguire
---
I thought so much of you (Joan) and Myles but all these comments were such loves and hugs I could laugh and feel I had known you both for so much longer. Each share is a beauty and the thoughts are a bright spot in our crazy world!

Susan Killen
---