Charlotte Vanebo Holmes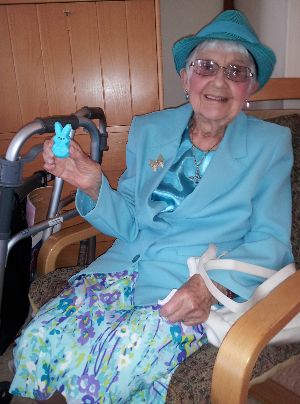 Charlotte Vanebo Holmes died on January 6, 2019 at the age of ninety-nine.  She was born to immigrant parents on February 8, 1919 in San Pedro, California.  Her father, John Georg Vanebo, was born on the Vanebo farm in Norway on January 5, 1882.  Her mother, Anna Elina Sten, was born in Portom, Finland on July 1, 1896. Charlotte had two siblings, John Vanebo and Katherine Kruger, who preceded her in death.
Charlotte was raised on the family farm in Gaston, Oregon.  She attended the one-room Lakeview School and Gaston Union High School.  She went on to graduate from Pacific University in Forest Grove, Oregon, with a major in Business Economics.  She later held jobs with the U.S. Employment Office, Oregon State legislature, and rail commission.
Charlotte met and married Charles C. Holmes, the son of Estonian immigrants, on August 9, 1947.  Together, they had three children: Christine Holmes Anderson, Ramona Holmes Bekey, and Juanita Holmes; and four grandchildren:  Carl Anderson, Carol Anderson, Justin Hunter, and Brandon Hunter. Charles preceded her in death on April 8, 2011.
Charles and Charlotte lived in Salem, Oregon for most of their sixty-three years of marriage.  They were active in the First United Methodist Church, Tre Kroner Lodge, and Sons of Norway. Charlotte was also active in the America Association of University Women and League of Women Voters.  Charlotte was a member of the Eberle Circle at church, and participated in social concerns and history & records work there. She and Charles were founding members of the Tre Kroner Lodge, and she was the editor of its newsletter, The Tidning, for many years.  
Charlotte had many hobbies during her life.  She was an avid gardener, and took pride in her hanging floral baskets.  She knit, crocheted, sewed, and embroidered. With the help of a cousin, she made her own Norwegian bunad, doing all of the embroidery herself. An excellent baker, Charlotte was famous for her many Christmas cookies.
Charlotte took a great interest in family history.  She wrote a detailed history of Charles' family in 1994.  In 2003, she wrote an equally detailed history of her own family.  Her children, grandchildren, and other relatives treasure these books, and refer to them regularly with family history questions.
Charlotte is survived by her three daughters, four grandchildren, nieces Mary McCollum and Judith McGuire and nephew Michael Vanebo.  She will be missed by many friends and relatives in Oregon, Washington, Finland, Norway, and Estonia.
A service will be held on February 9, 2019 at 2:00 p.m. in the Norse Home, 5311 Phinney Avenue North, Seattle, WA 98103.  In lieu of flowers, donations may be made in Charlotte's honor to the Norse Home.
---
Comments
---
My condolences to Charlotte's daughters and families. She was my supervisor at the Oregon legislature in the mid-seventies. I appreciated her professionalism and friendship and kept in touch with her over the years. I often would see her at the Christmas bazaars in Salem.
Dorine Mcteague
---
Our heartfelt condoleances to my dear friend Ramona and all family members. Charlotte had a fulfilling life and meant a lot to so many people. I am sure that she will be greatly missed , especially by her family. I will remember her with fond memories and wish our friends much strength with this loss. May your many many memories give you comfort and warmth.

Love, Rob and Marcia
---
My sympathies to all of Charlotte's family. I miss Charlotte's graceful presence at our League of Women Voter's meetings. She had thoughtful things to say. She was a lovely lady, always dressed so impeccably and beautifully. She greeted others with genuine care and a beautiful smile.
Cindy J. Burgess
---