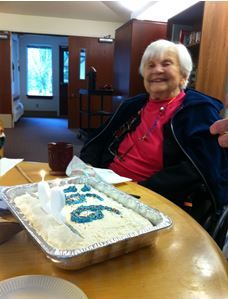 On February 6 we celebrated Edith's 99th birthday.  Her two grandsons Trygve and Haakon, her granddaughter Anne and her great granddaughter Sigrid were all there for a family party complete with hot and sour soup and carrot cake.  We didn't know this would be her last blow out.  

  Edith packed plenty into her 99 years.  As a child of 4 before she even learned English, she stood on a street corner outside her Chicago apartment  babbling in Norwegian to passersby, exhibiting her gregarious nature.  Some of this friendliness she learned from her father, who never joined a group that he wasn't in charge of within a year.  One such group was the Norwegian Singing Society of Brooklyn, New York.  In 1926, Edith and her mother accompanied the singers on a memorable tour to Norway.  The recounting of the ship crossing and visit to relatives has been a recurring family story, and has kept alive friendships with distant cousins going on three generations.  

   At age 13, Edith lost her mother to cancer.  Edith assumed household duties in the family boarding house, and became her father's fill-in bridge partner.  Somehow, she managed to have fun in school, and graduate at the top of her high school class.

   Edith bested several high school classmates to win a college scholarship to the New Jersey College for Women (aka Douglass College, affiliated with Rutgers) graduating in 1937 in the depths of the Depression.  She was lucky to get a $20 a week job selling books in a department store.  At the same time, she was taking an art drawing class at night, and her father realized how serious she was about studying art.  He agreed to pay her way to the Philadelphia Museum School of Industrial Art (PMSIA). 

   In art school Edith got a solid training in industrial design.  One class was invited to submit designs for Philco television sets, just new in the market.  Edith's design so impressed the judges she was offered a job on the spot.  Unfortunately, that opportunity was interrupted, as were her studies, by the outbreak of World War II.

   Shortly after Pearl Harbor Edith received a telegram from one Andreas (Andy) Faste, which read ...if I am not drafted, will you please come out and marry me? This was the culmination of a romance that some think was destined before my parents were born.  Grandpa Faste and Edith's father were friends who worked as engineers together at General Electric in 1916.  

  So in 1942, leaving family and friends, mom boarded a train for Seattle, where dad was working as a naval architect designing and converting ships for the war effort.  They were married in a room full of strangers, took a honeymoon drive over Mt. Rainier, then settled in a beach cottage on Vashon Island.

  My older brother Rolf came along in 1943.  I was born in 1945, just after the war ended.  Pursuing his interest in fishing boats, my dad took the family on a crazy side trip to Louisiana to try shrimp fishing.  Mercifully, that adventure failed, and by a flip of a coin we returned to the West Coast. Next dad went crab fishing in Alaska.  Mom stayed home with us kids listening to weather reports about terrible conditions in the Bering Sea.  Dad survived, got work in Seattle, and eventually we moved to the Edmonds  address now in the family since 1950. 
  During the early '50's Mom led Cub Scouts for Rolf, Brownies for me, took care of Grandpa Faste and if that weren't enough, gave birth to brother Eric.  She was an incredible mother.  But tragedy struck in 1958, when Andy died of cancer.  Left with 3 school age kids, Edith went back to school for her teaching certificate, and began a new career with the Edmonds School District.  Her best classroom days were in the Meadowdale High art department. Mom quit teaching after a series of levy failures decimated the arts programs.  

  Never one to sit idle, Edith enrolled in a class to make leaded glass windows.  She started getting commissions from friends and soon determined that she needed more training.  At the urging of Rolf, mom applied to the Pilchuck Glass School.  A new world opened. She went back 5 times.  At one session she built a small 9" square kiln that she could fire at home to slump glass over wire.  She made many "weavings" using this tool.  She had a personal exhibition "Wired and Fired" in Seattle at age 80. She continued making windows, filling St. Hilda St. Patrick Episcopal Church in north Edmonds, and creating her favorite ones for her own Edmonds Unitarian Universalist Church (EUUC).

  The congregation of the EUUC became Edith's extended family.  She loved line dancing, annual retreats to Seabeck, scrabble games, open  mike night, and monthly potlucks with the "Wild Women" (church women of a certain age who were single).  She contributed art for the annual art show, and served on several of EUUC's standing committees. 
 Finally, at age 98,  Mom moved into Brighton Court, a lovely assisted living facility just a few miles from her house.  It is like a grand hotel, with great food and lots of activities.  She enjoyed her time there, and managed the rehab from her first broken hip so well that she was able to go back there in just 5 weeks.
Unfortunately, when she broke her other hip this January, the rehab didn't go so well.  On April 28 she succombed to complications of pneumonia that just wore her out.  
Memorial gifts may be made to:
Edmonds Unitarian Universalist Congregation
8109 224th St. SW
Edmonds, WA  98026-8247
www.euuc.org
Pilchuck Glass School
240 Second Ave. S.  Suite 100
Seattle, WA  98104
www.pilchuck.com
A memorial celebration will be held in early June. 
---
Comments
Celebration of Edith's Life
7-9:30 PM on Sunday, June 12, 2016
Edmonds Unitarian Universalist Congregation
8109 224th St. SW in Edmonds
(from I 5, take 220th SW exit west to 76th Ave W., then left, south to 224th SW, then right, west on 224th SW to the church sign near the top of the hill, turn right and down to parking in back)
No flowers please, but do make a festive nametag for yourself.
Let us know if you have a memory to share, amfaste@comcast.net or 206 783-6963.
Bob and Andrea
---
Andrea and Bob,
I was saddened to learn of Edith's passing. She was my 5th grade teacher and then moved to MHS with all of us. Eric was a dear friend of mine as Edith became too as I got older. I spent many happy times at the house in Edmonds and then the house behind the white house that Eric remodeled for her. I shared a love of all things Norwegian with Edith. I was the 10 year old girl in the picture wearing the traditional Norwegian dress. She was quite a gal and I will miss her, her stories, her art and her wonderful love of life. I am blessed to have known her.
    
Nancy Canfield Burn
---
Andrea, As I sit down to write my Christmas cards, your Mom's name is at the top of the list. I Googled her name, and sadly found that she had passed away in April. She and my Mom, Pearl Holzhauser were childhood friends. My Mom passed away in 2006 and Edith and I continued to keep in touch. In fact, just last year she sent me some photos she had of she and my Mom. Recently, while cleaning out a closet, I came upon Hmongs that Edith had given my Mom. I have them at the framers as we speak. I will miss Edith. She was always had such a desire to live life everyday to it's fullest. I will miss her.
Sandy Holzhauser Mackey
---