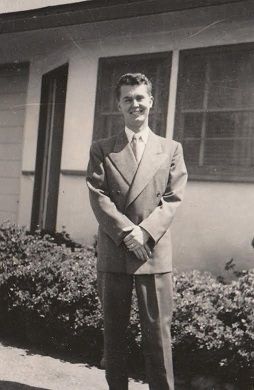 Albert Alden Ames passed away peacefully at home in Renton, WA on August 21, 2015. He was the only child of George and Claudine Ames and was born April 27, 1925. He is survived by his wife, Frances; daughter Kathy; grandchildren Justin Whipple, Nick Whipple, and Wendy Whipple; and great-grandchildren Madison Evanson and Amelia Ames-Reiten. 
After graduating from Renton High School in 1943 he went on to enter the Navy and later attended the University of Washington on the GI bill graduating with two bachelor degrees in chemical and electrical engineering. Eventually he became a supervisor at Boeing in the aerospace division and retired in 1987.
He was a gentle soul. He was always kind, always supportive; diplomatic and cooperative; funny, playful, and forgiving. He fully appreciated the simple things in life – good food, good books, good music; philosophy, poetry, and puzzles for the mind; watching the birds and caring for the cats to warm the heart. He believed in the best of people, the best of humanity, and maintained an optimistic outlook. After a conversation with him, people would always come away feeling better about themselves – such was his gift.
It was an honor to know someone with such quiet greatness. He was greatly loved and will be greatly missed.
---
Comments
Dear Frankie, Please accept and extend to Kathy our sincerest sympathy. Rest assured you are in our prayers. Bob is in The Mission Recovery Center recuperating from ruptured appendix. I'll keep this message from him until he's more on the road to recovery.
Bob and I have lovely memories of times spent with you and Bert. We cherish them. Fondly Renee
-Renee Jarmuth
---