Janet Edney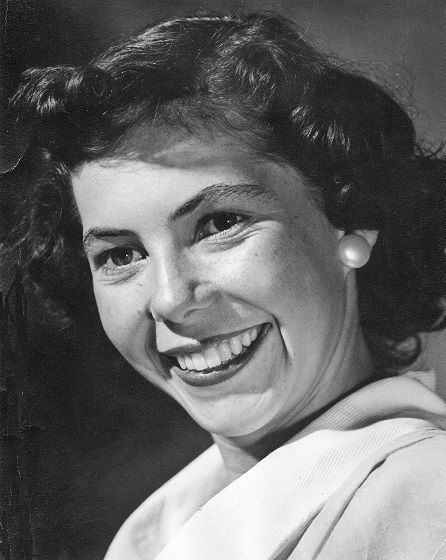 Janet Edney, age 89, was born in 1931 in Glendale, California to parents Charlotte and Elton Haring. Janet passed away at home peacefully in her sleep on November 4, 2020, in Shoreline Washington. She is survived by her husband Bruce, their two sons Kenneth and Tommy, grandchildren Dolan, Jeannie, Nick, Ian, Marina, and her sister Marcia.
Janet graduated from Glendale High School and Glendale Community College in southern California, then worked in the Savings and Loan business until she met future husband Bruce. He graduated from cross town rival Hoover High School and the University of California Berkeley with a BS in Mechanical Engineering. They married in June 1954.
Janet and Bruce lived in Washington since 1959 where she became a Travel Agent for Holiday House then an Airline travel Agent. She loved traveling. Her first big adventure was in 1972 with Bruce, and son's Ken and Tommy traveled through South and Central America. Then in 1976 the family bicycled for a month in Great Britain. More adventures included Africa as a Group Tour Leader in Kenya, then Mexico, Central America, the Galapagos, India, China, Europe, Norway, Australia, and New Zealand. Her whole family celebrated Janet's 80th Birthday in Hawaii.
Besides traveling Janet loved being involved in her grandkid's activities and adventures. She was also part of the Seattle Puget Sound Mudsharks girls Skin Diving Club called the "She Urchins" and the "Taints" bicycling club. The "Taints" had many local weekend and touring adventures in Washington, Oregon, California, Vermont, and Europe.
Janet's zest for life was surpassed only by her unwavering love for the "men" in her life: husband Bruce and their two boys, Kenny and Tommy. 
A celebration of life will be held privately within the family.
---
Comments
Jan was a great lady that I will always remember as loving, caring and fun lady in the 11th Ave Ladies group. She always looked for adventure and went on many different trips in her life. The world map in her kitchen with all the tacks pushed in where she had been in the world.-- yes she was a traveler full of beautiful stories. Bless you Jan you will be missed.
Dolores J. Moore
---
Jan was one of the nicest people I ever met. I first met Bruce at Honeywell in 1974. Shortly thereafter, my wife Joanne and I were cycling with Bruce and Jan. The friendship continued from there. She was always game for something and enjoyed a good party. Both Joanne and I will miss her very much.
Joanne and Jerry Bushey AKA Mothertaint and The Mechanic
---
Mi mas sentido pesame para toda la familia. Les mando un fuerte y cariñoso abrazo. Desde Mérida, Yucatán, México.
 
Guillermo Sánchez Rincón
---
Barbara, my wife and another "She Urchin" knew Jan well from their "Octopus Wrestling Days".
Bruce and I were military pilots.
A man named McGee wrote a poem that applies to her. The poem, titled "High Flight" could have been written for Jan.
It describes flying perfectly, concluding with "reaching out and touching the face of God.
 
Barbara and George Bechtel
---
"Mom".
That was the name she asked me to call her by when I first met her. It was 1971. I was a 12-year old Costa Rican boy, visiting Seattle for the first time, as part of a student exchange program. I arrived there at the end of November, to stay until the end of February 1972. I was nervous and a little homesick already when I first got there.
She was awesome, and so were "Dad", Bruce Edney, and my brothers, Ken and Tom, and "Princess", the dog, and I believe Spanky, the cat, and a tiny green Australian parakeet whose name I must confess I forgot…
She had a beautiful family, which evidently she ruled in a strict, but sweet manner. She arranged for everything, so that my stay with them was perfect in every sense; well, except maybe for the church matter… Probably following a request from my actual mother in Costa Rica, she arranged that her neighbors, the Ranciches (another nice family), would take me to church every Sunday morning. This meant that I had to get up early, shower and dress smartly, so that I followed the boring sermon and the prayers of a priest, in English, while seating on a bench next to three nice girls (not an easy task for a Spanish-speaking boy).
Anyway, the experience I had in Seattle was unforgettable. It was my first-ever Thanksgiving dinner (something I have now, every year, at home, with my wife and children, because we think is the most meaningful holiday). It was also my first-ever Christmas away from home; my first-ever snow season (starting right on Christmas Eve, to make it perfect). Also, my first-ever basement pajama-party, with sleeping bags, hot dogs, s'mores and tales of the bogeyman (:o); my first-ever downhill slide on a tube, with friends, on a frozen and slippery suburban street. Simply put, a long list of first-ever experiences.
The whole family revolved around her, and rightly so. She exuded vitality, joy, and love. It was my privilege to pay a visit to the Edneys, some 36 years later, with my wife and kids. We were going on a cruise to Alaska and I arranged to depart from Seattle, not Vancouver, to introduce my family to the Edneys hoping they would remember me. It was wonderful. We gathered for lunch at the same house I lived during those three months of my life that –in many ways– helped me become the person I am today. Then they took us to a baseball game, with her grandkids. So lovely, so healthy, so American, like the U.S. I loved so much and I hope will come back now, for the benefit of us all.
That trip probably closed a circle. I needed to see the Edneys again. Show them with pride to my wife and children, as an important part of my roots. I am glad I was able to do so.
No, it's the time to say farewell. Thank you Mom for all your nice gestures and the attention given to me when I was small and then, years later, when I was a parent myself!
Rest in peace, as I am sure you will live forever in the hearts of many people like me, around the world.
You were awesome!!
 
Carlos M. Valverde
 
---
Rest in peace Jan
Love Ralph and Lynda Olsen
---
My thoughts and prayers as I write this on Thanksgiving and reflect on the times on "11thAvenue" Jan kept us all together as she made sure we had a "date" for another get together. We had six, but are now down to three! Many many memories that we all have of those days. Jan will be truly and sincerely missed.
As always,
Jean Lystad
---
Dear Jan,
Memories with you and Bruce are especially impressive on my trip You talked to me in Denali National Park and told me to come home when I got to Seattle. That time was just the beginning of the world bike tour for 7and half years. I was impressed that there are such kind people in the world. In fact, you invited me home, and cooked me many dishes like pea soup. I can't forget that pea soup as well. How many days I stayed at your house, 5days or 1week or more. I loved seeing the comic-like chatter of you and Bruce. Any way you took care of me like a mother, and I longed for you like a mother living in the United States. Of course Bruce is like my farther. It was really nice to be able to meet again several years ago. I believe you are still laughing above the clouds. I like your smile.
yusuke ishida
---
Oh, so many wonderful memories of our dear Jan. She was one of the first neighbor ladies I met when we moved to 11th NW. She taught me how to take loooong walks and made sure I joined her every week day for many years when she wasn't traveling. And when she was traveling I walked any way because she told me I'd better or else. The llth Ave. Ladies remained dear friends even after some of us moved away. We so loved our Jan!!! Love always, Lynda Wiper
Lynda Wiper
---
All of us Taints in Richmond Beach held Jan up as the perfect wife and cycling supporter. She cared for Bruce on our long rides, and cared for all of us on the short ones. Cathy and I left town in 1994 while Jan was in full force, so I missed her 26 years ago. Always had the comfort of knowing she was still in RB, caring for the cyclists I had left behind. Regrettably, no longer. A sad day for Bruce and all of us as well.
 
Jim Shelton
---