Miriam "Mimi" Van Waters Pierce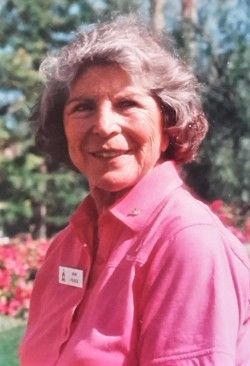 Mimi, a life-long resident of Seattle and cherished Whidbey Island, died peacefully September 26,  2016.  Mimi leaves behind a large family who will miss her dearly.  She is survived by her son George King, daughter-in-law Sally King, Naples Florida, her sister Nancy Breithaupt, Dayton, Washington, her daughter-in-law Cheryl Grunbock, Vashon Washington, as well as Alan Boyd of Mirabella in Seattle, her dearest friend and loving partner of the past 7 years.  Not to be forgotten her closest companion of the last 16 years, her Lhasa Apso, Sophie.  She leaves a multitude of nieces, nephews, grand nieces and nephews who she loved dearly.
Mimi loved life.  Her wit and humor were infectious. Growing up in Seattle afforded her the opportunity to head to the mountains and spend the day skiing.  She enjoyed the sport well into her 80's, often spending time on the slopes in Sun Valley. When her schedule permitted she retreated to her home on Whidbey Island where she loved playing games; spite and malice, scrabble, but most of all bridge.  She achieved the rank of Life Master and spent many fun hours competing at the bridge table.  Cooking, entertaining, and magnificent parties were beloved gifts she shared with friends and family. One of her greatest culinary gifts was her salmon sauce, which has been enjoyed numerous times by thousands of appreciative, hungry mouths!
Mimi graduated from Garfield High School and the University of Washington with degrees in Journalism and Education.  Toward the end of World War II, she served her country in the Marine Corp.  After the war, she returned to Seattle, married and raised two sons; George and Martin. Martin preceded her in death in 2010. During this time, she taught English and Speech at Mercer Island High School.  While there she began her "love affair" with the arts, producing and directed three stage productions. To support her family she left teaching and began a career in real estate, where she thrived.  A few years after her first marriage ended, she met and married her soul mate, Bruce Pierce.  They enjoyed three loving years until his untimely death in 1964.  After Bruce's death, Mimi began an active involvement with PONCHO, Bellevue Arts and Crafts Fair, Cornish School and eventually was named a director of the Pacific Northwest Arts Center, which was guiding the emerging Pilchuck Glass School.  In 1999 she became associated with the Pratt Fine Arts Center becoming a board member in 2001.  She was honored in 2008 with the Pratt Service in the Arts Award and in 2011 was voted the only lifetime Director of Pratt.  Through Pratt she found a group of individuals whom she grew to love and they in turn loved her.
Mimi had a major impact on the art culture in the Seattle area.  On September 29, 2016 she will be honored by the Museum of Northwest Art as a Benefactor of the Arts.
The celebration to honor Mimi's life will be held at the Sunset Club, 1021 University Street, Seattle, WA on October 12 from 3 p.m. to 6 p.m.  In lieu of flowers, the family has requested donations be made to the Pratt Fine Arts Center General Scholarship Fund:
1902 S. Main St, Seattle, WA 98144
She is loved and truly missed by her family, friends, and all the people she knew and loved. 
---
Comments
---