Russell Bauder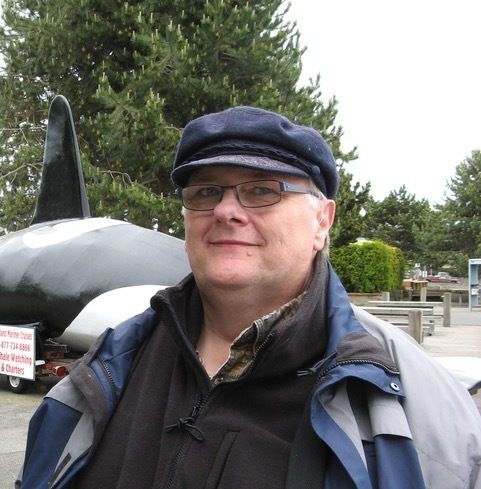 Russell Donald (Rusty) Bauder, 65, of Edmonds, WA passed away on Wednesday, June 28, 2023.  He was unexpectedly taken from us by a rare systemic bacterial infection. 
Russ was born on March 1, 1958 in Herkimer, NY to Russell S. and Kay Bauder.  He graduated from Fort Plain High School and Clarkson University where he earned a bachelor's degree in civil engineering.  During his 40+ year career Russ earned his Professional Engineer License and worked for both public and private firms.  In his last position he worked for the City of Seattle on the ADA team where he designed curb ramp retrofits.  He and wife Deborah were married in 1986 and had 2 children.  He identified as a Universalist Christian.
Russ recently commented that having kids is like letting pieces of your heart run about in the world.  But they weren't the only ones, Russ gave a piece of his heart to everyone he met (and even those he didn't, frequently commenting "watch yourself" if he saw someone in danger while he was driving).  We couldn't be cat foster parents because he would automatically "foster fail" any kitties placed with us "What do you mean they would want to take them back???"  When playing games, he would sometimes rather lose points than play a "meanie" card.  He may not have won the game, but that didn't mean he wasn't a winner. 
A true gentle man, he was the first to pitch in at church functions and wouldn't leave until the job was done.  He was the quiet person that once he spoke everyone would stop talking because they knew what he had to say would be important and invariably kind.  He had a very funny, dry sense of humor with a hint of mischievousness and could be downright goofy with those who knew him best.
Russ and his father would stop and read historical markers at the side of the road (yes, people actually do that!).  This planted the seed for his lifelong interest in history.  He had a special interest in the Napoleonic Era and Revolutionary war eras.  He expressed this interest by being a Revolutionary War reenactor, playing board and miniatures games and occasionally teaching biblical history classes.  He was a member of ATT Wargamers, Northwest Historical Miniature Gaming Society and The 2nd Connecticut Reenactors. 
Russ is survived by his wife Deborah Bauder, children Russell P. (Rusty) Bauder of Seattle and Sarah Bauder of Bellingham, Mother Kay Bauder of Clifton Park, NY, Sister Constance (Bill) Hathway of Clifton Park, NY and Brother Christopher (Mary) Bauder of Queensbury, NY.  He is predeceased by his Father Russell S. Bauder.
A memorial service will be held on August 17, 2023, at 2:00 p.m. at Edmonds United Methodist Church 828 Caspers St, Edmonds, WA 98020 which will also be livestreamed.  Memorial donations can be made to Edmonds Food Bank, 828 Caspers St L100, Edmonds, WA 98020.
---
Comments
I am glad to have known Russ and feel his loss. He was an usher at EUMC and was a regular presence prior to the pandemic. I mostly knew him through his wife, but also had good conversations with him about his work. Love to all his family!
Beth Lanie
---
We met Russ through my sister Linda and she (Linda) would tell me wonderful stories about the Russ and Debra family. We visited WA just a few years ago and so enjoyed our visit with family. Russ was a very good man and a wonderful addition to our family. You could tell his love for his children just by the way the spoke of him.
Love from, Aunt Sally or sister Sally Elmer-Hatfield
---
We haven't seen Russ (Rusty Donald) in such a long time, and are deeply saddened to hear of his passing. We were next door neighbors back in Fort Plain, NY and our families spent a lot of time together. We have fond memories of his kind and playful nature both with card games and playing outdoors as kids (my sister & I were a few years younger, but he was generous with his time). During the years since, we took joy in hearing about Russ and his family from Kay.

Our thoughts and love are with all of you - Debra, Rusty P. & Sarah, as well as Kay, Connie and Chris and your families.

Janice & Dawn Hayman and Aileen Mabie
---
Russ was one of my college roommates at Clarkson for several years. He always had a great sense of humor and was a wonderful human being. In the frigid weather of Potsdam we passed many evenings playing cribbage and sharing dollar pitchers of beer. It seems like such a long time ago. Sadly we have lost contact but I am very sorry to hear of his passing. Prayers to all his family and friends.
Mark Kopaskie
---