1927 – 2015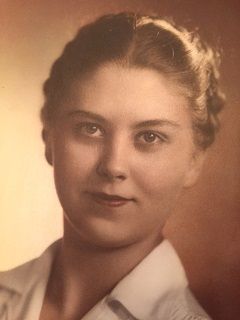 Sidonie L. Warne passed away on June 8th 2015 at the age of 87.
Sidonie was born in Auburn, Washington and was the only child of Neil J. and Erma L. Krumm of Bremerton, Washington.  Most of her young life was spent growing up in Bremerton.  She graduated from Bremerton High School and matriculated to Washington State University where she graduated with a Bachelor of Fine Arts in 1949.  Returning to Bremerton, she worked for a time at the local newspaper, The Bremerton Sun.
Sidonie was a natural born artist and her passion for color, texture, line and composition fueled an outpouring of artistic endeavors her entire life.  Her talents were appreciated early on when the State of Washington hired the young Ms. Krumm to provide color design and consultation for a Native American totem pole that, for many decades, stood on the capitol grounds in Olympia.  
While working at Boeing in Seattle, she met, and later married, Donald E. Warne.  During this time they lived in a houseboat on Seattle's Lake Union.  Following this period in Seattle she lived many years in Oregon and California raising her family and continuing her artistic endeavors.  She became a wonderful potter and sculptor creating many pieces that still adorn her children's and others homes to this day.  Eventually, Sidonie would take up calligraphy and it would become the central artistic passion of her life and a skill that she would develop to a very high degree.  She took classes from noted calligraphers and eventually taught classes of her own in Livermore, California and San Diego, California.  She loved to teach and, by sharing her own ardor, kindled the curiosity and skills of many of her students who continue to practice their art to this day.   Through her teaching she developed many wonderful relationships and friends that lasted for the rest of her life.  
She loved to write letters to her friends and family and they were always beautiful scripted works of calligraphy that were impressive and always treasured.  Sidonie loved and was devoted to her children and grandchildren.  A birthday was always celebrated with a beautiful hand-made card and a huge fold-out banner always lovingly crafted.  Walking into her home was always special.  The walls adorned with art, the shelves full of sculptures and curious hand-made objects.  Many of these pieces collected from a lifetime of travel such as her unique collection of vivid and expressive masks.  She loved to travel, especially China, where both the ceramic and calligraphy arts are of the highest order.
Sidonie returned to Washington and for the final 25 years of her life lived in Poulsbo in a house overlooking Hood Canal.
Sidonie is survived by her three children; Scott Warne, Shauneen Danielson and Neil Warne, grandchildren Shannon Danielson, Robin Danielson and Lindsey Warne and great-grandchild Alexandria Danielson .  A private memorial will be held by the family.
---
Comments
We took many calligraphy classes from Sid in San Diego. And both Sid and George Weinberg-Harter were founders of the San Diego Fellow Calligraphers. She was an inspiring teacher and a lovely person.
--Susan and George Weinberg-Harter
---
I was privileged to take just 1 class from Sid before she moved back to Washington. I am so glad she started the San Diego group along with several others because, I like so many others were influenced through SDFC in our development.
--Douglas Boyd
---