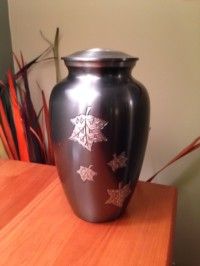 It started with an email, someone had an urn that they weren't going to be able to use anymore, they asked if we wanted it. My initial response was, no we can't use that. But after thinking a bit, and realizing this was not the first time this situation had presented itself, I went digging in our storage. We had several empty urns we couldn't sell, for one reason or another. Some had some imperfections, nicks and dings. Some were discolored a bit from sitting on our display shelves for a little too long. These urns were just taking up space. They might be useful to someone.
I took a couple of pictures and posted them on our website. "Free Urns"
I made a Craigslist ad for the "free" section. Within an hour of posting, I had people claiming every single urn. As is the case with free offers, a few people never showed up to claim what they said they wanted, but over half our free inventory walked out of the office by the end of the week.
I don't know what everyone will be using them for. I was only able to have conversation with one guy who wanted it for his dog's ashes. He was going to add his own artwork to decorate the urn he got from us.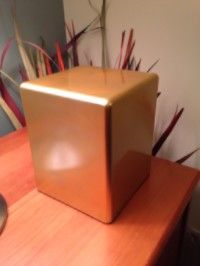 I called the person who had originally emailed me and told him what we were now doing. He was thrilled to bring his urn by to be given to someone else who might need it.
In addition to our urns, a company we frequently work with has made a similar offer. Memorial Gallery, a company based out of Gig Harbor that sells urns and cremation/remembrance jewelry, is kindly offering free, slightly blemished urns to those who can't afford one. You must mention People's Memorial to receive this offer. Contact them at www.memorialgallery.com or call them at 1-253-649-0567. Let them know what style of urn would be appropriate (for example, masculine, feminine, child). They will select an urn and mail it to you. Please note, the urn is free, but you must pay the shipping charge. 
So if you have an empty urn lying around that you want to donate to someone who might want it, or if you are in need of an urn or container, please let us know. You can drop by the office Monday through Friday 9-5, or email us.
You can see the free inventory available here.
"Free" doesn't mean it doesn't have value to someone.
Nora Menkin is the Managing Funeral Director at The Co-op Funeral Home of People's Memorial. She has been a funeral director since 2007.