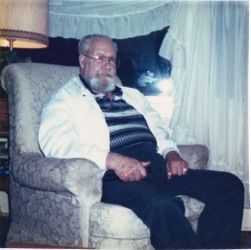 April 30, 1923 – March 1, 2014
Harold Kenneth Hubbard was a child of the depression born in Kelso, Washington to William "Henry" Hubbard and Lora Baker Hubbard and raised on a pig farm located in the shadows of Mount St. Helens. He was preceded in death by his wife Hildreth, brother Edgar "Quinton", his half-brothers David and Jack, and his half-sister Luella "Mable."
Ken began his many years of government service when he joined the Civil Conservation Corp (CCC) when he was 15 years old. Like many of his generation he volunteered for military service after the Japanese attack on Pearl Harbor enlisting in the US Coast Guard. During his service in the Coast Guard he piloted Higgins boats during several beach assaults including the Marianas, Saipan, Okinawa, and Iwo Jima. Among many of his various "War Stories" was how the steering wheel and column of his Higgins was "shot out from underneath him" in Okinawa.
A few years after his discharge at the end of World War II Ken joined a US Naval Reserve unit. Shortly after the onset of the Korean War in 1950 he was returned to active duty and was assigned to the USS Princeton (CV-37), an aircraft carrier in dry dock at the Bremerton Naval shipyard. A couple years earlier Ken met and courted Hildreth Tover. They had planned to marry before the Korean War broke out. When his Naval reserve unit was called up and he was assigned to the Princeton, Hildreth and Ken moved up their wedding plans so that they could marry before he had to ship out. Unfortunately, within weeks of their marriage he was critically injured during a shipboard accident, severely breaking his back, a leg and several other bones. Ken spent the duration of the Korean War in the Bremerton Naval Hospital recovering from his injuries. Two years after the accident he was medically discharged from the Navy.
After receiving his discharge Ken and Hildreth moved to Longview, Washington where he began a career as a meat cutter. He and Hildreth settled down and raised two children, – a daughter Karen Rae and a son Steven Trygve. They lived in Longview for several years but eventually moved to Seattle, which became their permanent home.
In addition to his children, Ken is survived by three grandchildren, Kenneth Trygve, Kelly Jean, and Gene Nathaniel, and three great grandchildren, Lorissa Jean, Claire Lousie and Dylan Trygve. Ken was much beloved as a father, grandfather, and great-grandfather but generally considered to be the "family uncle"as well. Family was front and center in Ken life. He had a extremely strong work ethic and did his best to instill this in all his children.
Ken took great pleasure in his many friends and hobbies. He was an avid fisherman and an accomplished wood worker. He excelled in whatever he put his hand to. In later years he learned to bake pies, cheese cakes, and a variety of breads – a gift many friends and neighbors took joy in and a great source of pride to him. Quite a little cake and pieman he became.
Service and fraternal organizations were a big part of Ken's life. He joined the Elks Club after World War II and became a life member of the Longview Elks. He was also a member of the American Legion's Seattle Lodge for more than twenty years. In 1996 he joined the North Central Kiwanis in Seattle. He served faithfully in several roles, once as President and served in several other club positions as well. Often as not, content to just toil in the background. He felt privileged to labor with his fellow Kiwanians particularly in their work with disabled children.
Ken was a patriot in the truest sense of the word. He was extremely proud of his family history of Service to his country. He often spoke of the family's history of Military Service. His grandfather served as a bugle Boy in the Civil War, His father served in the Spanish American War, His oldest brother David served in World War I, Ken and two other older brothers Jack and Quinton served in World War II, and then finally Ken served in the Korean War.
Ken was a man of strong quiet faith. He was an honorable man whose word was truly his bond. Harold Ken Hubbard will be sorely missed not just by family, but by all those that had the blessing and good fortune to know him.
A Memorial Service with full Military Honors for Ken will be will be held at Mt Tahoma National Cemetery on July 11th at 1115 AM.
---
Comments
Terry Pratt
Posted June 7, 2014 at 3:13 am
I was a "hippie" when I first met Mr. Hubbard.
A friend of Ken Sharpe and Dick Murry. Those of his generation were like a second family to me, I will never forget. God Bless Ken, you can show me some fishing skills when I see you next.
ShantiAna Bartlett
Posted June 7, 2014 at 9:08 am
True Hero, wonderful man, friend!
Baker, woodmaker, sweetness and stories that
what Ken Hubbard was made!
Heart felt hugs for all of the family and dear friends left behind.
His is truly missed, but when I think of him I smile.
Emily Kristjanson
Posted June 8, 2014 at 1:20 pm
I met Ken through Kiwanis and found him to be such a sweet man. I worked with him at the concessions stand at Shoreline. He kept things on task!!! I loved his wood working which was so beautiful. We have lost a dear soul and sympathy is extended to his family.
Emily Kristjanson
---