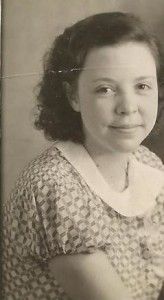 Josephine ("Jo") Baker died peacefully in her sleep on April 28, 2014 at Foss Home in Seattle, just six months shy of her 101st birthday. Born on October 29, 1913 in Great Falls, Montana, Jo was the youngest daughter of Charles and Margaret Kommers' five children. Her family moved to Tacoma, Washington in about 1923. Jo left school during the Great Depression and found housekeeping work, eventually for George Baker, and his ailing wife and young daughter. After George's first wife died, Jo and George were married in 1933, and together they raised George's first child and 4 more of their own, first in Tacoma, and later on Silver Lake near Eatonville, Washington. In 1975, after all the kids had left home, George and Jo moved to Canyon Terrace in Puyallup. After George's death in 1991, Jo moved on first to Willow Gardens in Puyallup, then to Merrill Gardens University Village in Seattle in 2010, and finally to Foss Home in Seattle in 2013.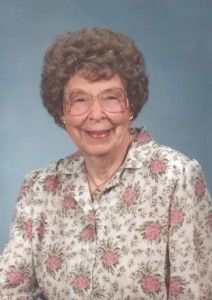 Jo will be remembered by all those that came in contact with her for her smile and her great outlook on life. Her answer to the age-old question of what the secret to long life was "Have fun!" She was always active in her church – in her younger years, as a Sunday School teacher, and later actively participating in various women's events. Another secret to her long life was her dedication to daily walking, as long as she was able. Not many could keep up with her in her retirement communities. Jo had a lifelong love of music, played several instruments including the clarinet, piano and organ, and loved to sing and dance. She enjoyed flower gardening, puzzles and card games, and kept up with correspondence and email well into her nineties. She will forever be famous among friends and family for her amazing blackberry pies, her sweet, uncomplaining nature, and her devotion to her family, especially her young great-grandchildren (who could get her attention even in her final days).
Jo was preceded in death by her five siblings, Gladys Kommers (Abel) Rigney; Ellen Kommers (Lawrence) Hess; Margaret Kommers (Henry) Scheidel, and Charles Hubert (Dorothy) Kommers, and by two grandchildren, Dale and Douglas Craig. She is survived by her adult children, Mary Baker-Hairston; Jerry Baker and wife Deborah Stephenson; Tom Baker and wife Linda; Mike Baker and wife Betsey; and Margie Baker and husband Gordon Hammond; as well as ten grandchildren, and eight great-grandchildren and numerous nieces, nephews, and extended family.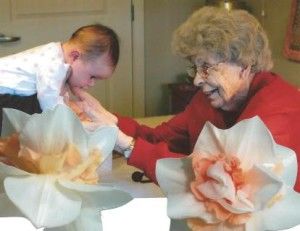 A memorial service will be held on Tuesday, June 10th at 1:00 pm at Summit United Methodist Church, 5316 104th St E, Tacoma WA, which church Jo regularly attended until she moved to Seattle. The family would like to express their appreciation to the staff at Foss for their caring attention to Jo in the last months of her life. In lieu of flowers, please send donations to Foss Home and Village, 13023 Greenwood Ave N., Seattle, WA 98133, or to Summit United Methodist Church, or to a charity of your preference in her memory.
---
Comments
Darryl Kommers
Posted May 9, 2014 at 6:00 pm
Never will forget when visiting her in the late 50′s.
She made us a cake that had money baked in it.
Darryl Kommers
TJ
Posted May 14, 2014 at 3:10 pm
Psalm 90:10 states that a normal life span is 70 years but if because of special mightiness 80. Ms. Baker certainly lived a long life and I'm sure was dearly loved by her family and friends. May you all find comfort and hope in our Heavenly Fathers promise to very soon bring about a changed condition to this earth where sickness and death will be done away with (Rev. 21:4,5) and there will be a bringing back to life instead of losing. (John 5:28,29)
Sharilyn Kommers
Posted June 10, 2014 at 6:10 pm
6/10/14 I am thinking of all of you, Aunt Jo's dear family, as today passes. I have looked at this posting several times. I will miss Aunt Jo! She was the sister my father was closest to while growing up. I didn't know some of the things in this post about Jo. I loved learning these things. My Dad, too, was an avid walker, which extended his life, I believe. She was the last immediate member of a large family. There are no replacements for people like her. I can't wait for the Resurrection!
My brother Darryl posted about the cake Aunt Jo made, with money in it. Since he was about 7 or 8 at the time of that visit, that cake made a big hit!!! He often spoke of her hospitality, even toward small children.
I remember playing cards with Aunt Jo on some visits in the 80′s and 90′s. It was fun, and she taught us some new games. I loved seeing her and my Dad together. I was able to get to know her better than my other Aunts; I was able to visit with her more. It is hard to realize that she isn't on the other end of a phone call. With gratitude toward God for creating people like my Aunt Jo, I hope sincerely for comfort for all her dear family. S.
---