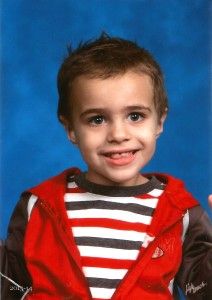 Harlem Halo Aliitama Anderson left this world on Monday, April 7th, 2014. During his 3.5 short years on this earth he touched many. He was the most loving and happy soul you could be blessed to meet causing all who met him to fall in love. He spent his days loving, jumping, exploring, coloring, snuggling, playing with cars and dirt and splashing in puddles. Words cannot express how deeply he is loved and cherished by his family and friends.
Harlem is survived by his mother Alexandra Anderson, his maternal Grandmothers Lisa and Heather Curulla, his maternal Grandfather Ethan Treber, His paternal Grandparents Kim & Steve Sweet, his Aunt Mackenzie Treber and his Uncle Jackson Anderson.
His sweet soul will be laid to rest on April 21st, 2014 at 11:00am at Calvary Catholic Cemetery.
---
Comments
[ Insert Comments ]
---