Lisa Kay Motin Starke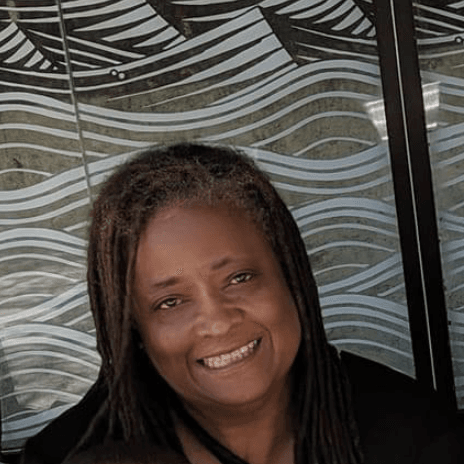 March 12, 1958 - Dec. 23, 2021
Born March 12, 1958, to June Mack and James Anthony Motin, Lisa Kay Motin lived to sing, dance, laugh and praise the Lord through all of the above. The middle of three children, Lisa ran track and later used her energy and creativity to become a founding member of Xi-Psi Chapter of Delta Sigma Theta Sorority, Inc. at Washington State University. (Her mother co-authored the national Delta Sigma Theta Sweetheart Song.) After college, she married Darryl Starke and moved with him from Washington to North Carolina and eventually Florida, where they lived in Boca Raton and the Orlando area. She worked as a writer and photographer. After they divorced, Lisa moved back to Seattle, just in time to witness the birth of her nephew. Lisa joined her mother (her sister later joined) as a member of the Seattle Chapter of The Links, Inc. where she served the chapter and community for many years; long enough to achieve alumni status. 
Lisa's love of children led her to obtain a Master's in Education, and she spent many years teaching for Seattle Public Schools, primarily Madrona Elementary School, which is right down the street from her beloved Madrona Grace Presbyterian Church. Lisa sang in the church choir, served as a ruling elder and used her skills as a photographer to take pictures of church elders that for years graced the church Commons. 
Surviving Lisa are her sister, Galen Motin Crawford; her niece, Shelby Allegra Goff; nephew Jameson Alan Goff; and a host of cousins in Washington, California, Alaska and New York. Lisa and Galen's younger brother, James Alan Motin, died in 1979 of sickle cell anemia. Lisa's mother and father also preceded her in transitioning from this world to the arms of the God. After a long struggle with numerous health issues, may Lisa rest in peace, and may her memory live on in the many individuals whose lives she touched.
A celebration of the life of Lisa Kay Motin Starke will take place on March 12, 2-4 p.m. at Madrona Grace Presbyterian Church. The service will be in-person and available via Zoom. Contact the church for the link.
---
Comments
I knew and loved Lisa as well. She was all that everyone has said about her, a lovely Christian woman. She was my sorority and Bible Study Fellowship sister. I will miss her dearly. My deepest sympathy, love and prayers to the family.
- Charlotte Ruff
---
Lisa taught two of my kids in Seattle schools. It was a powerful experience for my kids to see a Christian sister serving so lovingly and well in the public arena.
 
Mary Enstad
---
I will fondly remember my Soror, Link sister, and former colleague at Seattle School District. Lisa was a woman of service to her community. May she rest is power. I pray memories of Lisa bring comfort to her family and friends in the days to come.
 
Judge Faye R Chess
---
Good night , Dear Sister Lisa, May you sleep on in peace and in love. Lisa and I, were connected in so many ways over the years. We were active in our Delta Sigma Theta Sorority in the Seattle Alumnae Chapter she was in our pre-covid group picture. We also were Sisters in Service for the Greater Seattle Chapter of Links ,Inc, Lisa and her mother June Motin RIH and her sister Galen Motin Goff all served in both of those organizations together at one time. My fondest memory is of LISA teaching my grandson at Madrona Elementary and how encouraging she was when she served in that role. Her principal at that time Link Ernestine Rutledge was also a Delta and a Link Member, so Madrona Elementary was frequently given special attention, thanks to that powerful tag team. When Lisa was diagnosed with her illness she shared her concerns with me as one of her car pool drivers who use to drop her to her condo in Northgate after our Bible Study Fellowship Monday night meetings again pre-covid. We spoke confidently in that conversation about our love of studying the bible and our prayers that we would continue to savor the word and live for Christ. I am confident that LISA kept her promise and now can rest in peace. Winona Hollins Hauge, a friend and sister in Christ.

Winona Hollins Hauge MSW, LICSW, community Sister in service and family friend
---
My heart is aching. What a lovely summary of her life and the happy memories and happy times. I don't remember a time when I didn't know Lisa, and am grateful that I had the opportunity to get to know her better as an adult and Sister Link. Thinking and praying for you Galen, so sorry for your loss.

Juli Farris
---
I have many fond memories of Lisa. She was a kind, gentle, and creative soul. I served along side her in our Sorority and also in our Links chapter. May she rest in peace as she joins her mother, father and brother.
Sonja Greene Hampton
---
I will always remember Lisa as my Sister Link. She had a ready smile and as a kind and soft spoken person she could aways be counted on to offer a helping hand. My heart goes out to Galen and Lisa's entire family. Know that I as well as many others are sending you prayers and blessings in this difficult time.
Cherry Banks
---
I was saddened to hear about Lisa passing. She was always such a positive person and I enjoyed connecting with her at Links meetings. Praying for you Galen. Sending my condolenses.
Gayle Johnson
---
Rest In Peace my sister! You will be missed! I miss seeing you every Sunday at Madrona Grace Church being so excited to be in service one more time. Enjoying singing in the choir and serving in the church. Sending condolences to your loved ones.
Cynthia Dampier
---