Meme Victoria Luke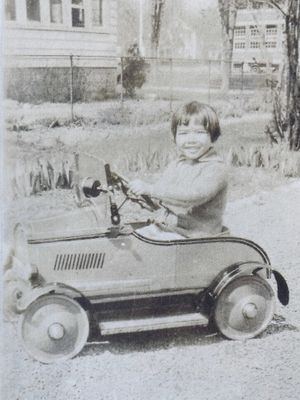 Meme Victoria Luke was born on March 3, 1922 to Ming Tai and Katherine Chen in their Glen Ridge, New Jersey home. She was the youngest daughter and second to youngest of seven children (five girls and two boys). In 1929, with the Great Depression, the family moved to Chinatown in New York City into an apartment building owned by her father.
 
In 1941, at age 19, she worked as a receptionist for author Pearl Buck's China Relief office, located on the grounds of the 1939 World's Fair in Flushing Meadows, New York.
 
In the summer of 1941, she traveled  with her sister Gloria to Chicago to attend a social event. There she met Henry Luke. Before this, Henry's father passed away in the fall of 1940. Henry went back home to Seattle to complete his father's business affairs. He then returned to Chicago and finished his last term at Northwestern Medical School in the summer of 1941.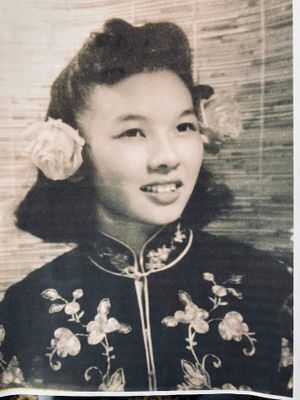 Coincidentally, he met the love of his life, Meme! They became engaged that winter and married in April 1942. Meme relocated to Seattle. This was the farthest she had traveled from New York. They had their first daughter, Katherine, born in 1943.  Henry enlisted into the Army and after Basic Training in Palm Springs, he was assigned to a base on the Aleutian Islands, Alaska for two years during WWII. When Henry left for Alaska, Meme, who was pregnant with their second daughter, went back to NYC and lived in an apartment with her sister, Ad, who also had two young daughters. Carolyne was born in NYC in 1944 and didn't meet her father until the war was over and he was discharged in 1945. The Luke family then returned to Seattle where Henry started his general practice in Chinatown. Their first son, Lowell was born in 1949.
 
In 1951, the family bought a house in the suburb of Bellevue, which was across Lake Washington from Seattle. The Enatai neighborhood was newly developed and young families were readily moving in. In 1952, the twins, Peter and Pamela were born and the Luke family was complete.
 
Henry and Meme were a devoted couple and you usually did not see one without the other. Although their interests were diverse, they were committed to one another so Mom accompanied Dad to the Husky and Seahawk games and Dad would go to an opera or orchestral concert with Mom.
 
Meme found the energy and time besides raising the children and running the household, to fulfill her creative and DIY  side. She copied and designed custom drapes she saw at one of her favorite restaurants, for the four large living room picture windows. She created template patterns of her favorite Asian paintings and turned them into hooked rugs which were then displayed as wall hangings . She was comfortable using tools such as her electric saw or drill and received several as birthday and Mother's Day gifts for her projects around the house.  Mom was a voracious reader and was very pleased with her extensive book collection, consisting mostly of biographies, history, art, travel and fiction. Her books were proudly displayed along whole walls reaching up to the ceiling and along long hallways. During the last 10 or so years she lived alone, we moved her five times and then she finally moved in permanently with Carrie in Hawaii, her many books (and bookshelves) followed her to each residence.
 
Every Christmas she would decorate the house but her greatest joy was her Christmas tree. First, she displayed a large decorated tree in front of a living room picture window and then she aligned a small lit tree on the flat roof above the LR tree so that it appeared the tall tree went through the roof. This was a fond memory for our neighbors years later.
 
Our Family was well documented because mom was behind the lens of a movie camera or photo camera. Her movie editor allowed her to splice and glue a movie story of our vacations and visits with friends and families. Her photos were assembled into photo collages becoming story books. Her trips she narrated into travelogs to provide details and highlights of her travels.
 
Meme demonstrated her natural travel agent knowledge and talent before home computers and the internet were readily available. Back in the 50s, 60s and 70s, with AAA trip tiks, guide books and maps she would plan out itineraries around sights and points of interests, routes and measuring mileage on maps. After Henry died in Dec. 1980, Meme pursued her passion for travel, her highlights included Australia with siblings, China with friend Rose, South America with friend Ceis, Nepal with cousin Alson and Lil, an extensive seven week driving adventure cross country with Carrie to visit family, friends and several National Parks and regularly visiting her sisters Ad, Glor and Viv, who lived in retirement in Spruce Pine, North Carolina, especially during the Autumn fall colors.
 
Walking was a hobby that she introduced to friends who became her walking partners on many trails in the Seattle and surrounding area. Her favorite was the 20 mile Burke Gilman Trail starting at Gas Works Park that extended northwest through Seattle north along Lake Washington to the northern tip and around through Lake Forest Park and Kenmore where the trail became the 10 mile Sammamish River Trail eventually ending at Marymoor Park in Redmond. They walked in 3 mile sections until they completed the entire trail.
 
Mom was a volunteer "candy striper" for 30 years at the Swedish Hospital, discharging patients. She would wear a pedometer to track her mileage (walking) during her volunteer hours.
 
In 2010, Meme moved permanently to Hawaii. Her daughter Carrie and family, Marci, Jon and Mike created a beautiful apartment downstairs which was inclusive of her books and bookshelves along one whole wall. They also built a custom window seat for her in the upstairs living room where she spent countless hours reading.
 
Carrie's friends, neighbors and church members welcomed and adopted Meme as family. She became everyone's mom and auntie. She felt very comfortable and safe living there. Carrie and Meme kept active, attending local plays and concerts, Hawaiian hula, gallery exhibits and in the summer the OBon dancing. They would meet with good friends and musicians Rose and Jerry and their band Java Jive to listen to songs from the 40s and 50s. Meme's favorite place on the big island was Laupahoehoe Point Park. Carrie and Meme would bring a picnic, go for a short walk then settle down on their special bench, eat their lunch and watch the waves break on the shore.
 
Family members and friends from the mainland would come to visit. Meme loved being the hostess and so appreciated them coming such a distance to see her.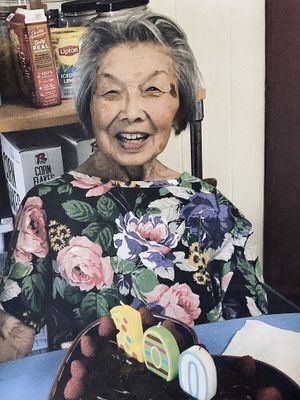 Meme celebrated her 100th birthday on March 3, 2022, which she thought was AMAZING!!! The birthday photo of her in front of the cake with "100"candles, she looked amazing. Even during her later years, Meme was happy. As her memory and grasp of words dwindled, she still found ways to express herself – "It was wonderful in every direction"
   
Mom died on May 16, 2022 in Hilo, Hawaii. She is survived by her five children -  Cathy Chow (Brandon), Carrie Luke-Knotts, Lowell (Ruth), Peter (Sunny) and Pam Okubo (Ron); 17 grandchildren and 10 great grandchildren.
---
Comments
---