Nancy Bruce Cox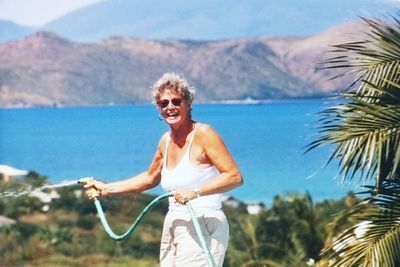 The world lost a force of nature on March 24, 2022.  Nancy Bruce Cox passed away at home in Seattle at the age of 78.  As her life drew to a close, she was surrounded by loving friends, family and caregivers.
Determinedly one to pave her own path, Nancy divided her time between Seattle, Martha's Vineyard, and Nevis.  She was like the Great Blue Heron migrating to the Caribbean in the fall and returning in the spring for tax season.  Nancy was an avid birder and always had a pair of binoculars at the ready.  Whether hiking in the mountains, gazing from her porch or traipsing through a marsh, Nancy could stop mid-sentence and point out whatever fine feathered beauty was passing overhead.
Nancy had an itinerant childhood growing up and continued to move around as an adult.  
The eldest of four children, Nancy was born in California and lived many places with her parents, Ted and Sally Cox.  This included Vancouver, British Columbia, Chevy Chase, Maryland and Grosse Point, Michigan where Nancy graduated high school in 1961.  After earning her BA in English from Grinnell College, Nancy spent a year becoming a francophone in Paris and then moved to New York City.  Seeking new experiences and travel, she became a Peace Corps volunteer in 1966 and served in Accra, Ghana.  While teaching in Accra, Nancy met fellow volunteer Ernie Sarason and became engaged.  Following their time in the Peace Corps, they got married and moved to Cleveland, Ohio where their daughter Alex was born.
Growing up a member of the Cox family meant Nancy was taught to fix things herself, that all good things come from Sears Roebuck and to live by the adage "waste not want not".  These values served her well as she learned to hang wallpaper from a dear friend in the early 70's and then ran her own paper hanging business in Newton, Massachusetts.
Nancy parted ways with Ernie in 1983 and moved to Connecticut with her new husband and Alex.  While living in Essex, Nancy took some classes at H&R Block and learned to become a tax-preparer.  In 1987 she moved to Martha's Vineyard and found kindred spirits when she started working at the woman-powered business Vineyard Tax Matters.  This close community of women created friendships for Nancy that spanned decades.
After separating from her husband, Nancy moved into the family home on the Vineyard where her parents and grandparents had retired years before.  She spent several years at North Tis working, traveling to Nevis and hosting college-aged nieces and nephews over the summer months.  
Nancy's heart always remained on the Vineyard with her deep ties to Cox family history and long-lasting friendships.  Everywhere she went she brought with her a love of a good party – if there ever was a dance floor you could be sure to find Nancy on it.
Affectionately known as Binga by her grandsons Nicholas and Ben Sarason, Nancy would play hours of cut-throat rounds of Bananagrams and card games with the boys instilling in them a strong sense of competition along with a healthy exchange of trash talk.  Binga and her love of games will be sorely missed.
Nancy is survived by her daughter Alex Sarason, her son-in-law Christian Sarason, her sister Barbara Cox Salkin, her brother-in-law Andy Salkin, her sister-in-law Pam Wagner-Cox, and many nieces, nephews and cousins. Nancy is predeceased by her siblings Gregory Cox (1946-2005) and Malinda Cox (1949-2019).  
Donations in memory of Nancy can be made to KCTS and to BiodiversityWorks of Martha's Vineyard.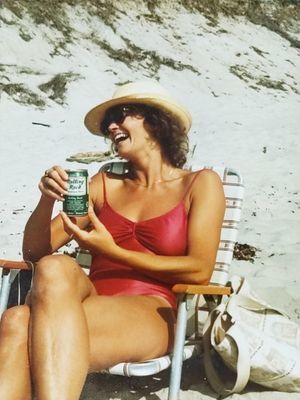 ---
Comments
The first sentence of this wonderful tribute to Nancy says it all - she was a force of nature. I will always remember her smile, her wit, her frankness, and her dynamic personality - and especially her love for Alex, Christian, Nicholas, and Ben. She will be missed but well remembered. My condolences to the family.
- Katy Keene Metell
---