Walter Bruce Barke
May 26, 1926 - May 4, 2020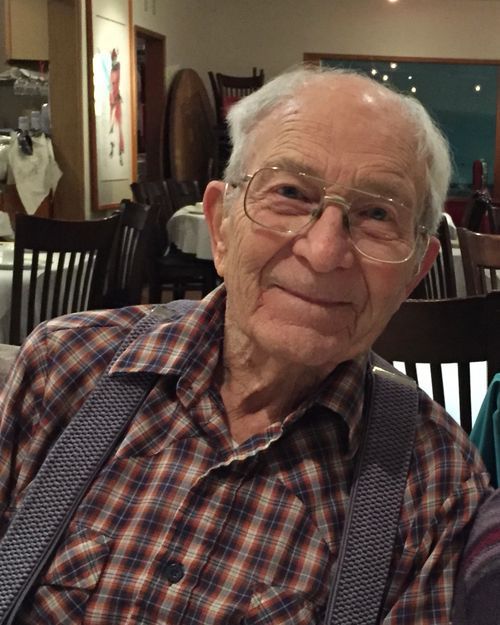 Our beloved father, uncle, grandfather, great grandfather and husband left us on May 4 at the age of 94.  His was a rich and varied life.  He had many interests and great talents.  His first interest was flying which prompted him to sign up with the Air Force. However, he ended up in the Navy where he had a chance to visit the Orient after WWll. 
Walter's other love was sailing and he enjoyed numerous trips with his children from his first marriage.
For 31 years he was employed as structural engineer by Burlington Northern Railroad, supervising repair and maintenance of the many R.R. bridges throughout 4 northwest states and the province of British Columbia.
He met his 3rd wife, Christa, while in his late 50s and decided to retire early so they could travel.  And travel they did:  5 cruises, trips to Europe and Hawaii, and many enjoyable RV trips with his FORD 150 and a fifth-wheel.
Meanwhile, he found a pretty piece of land on Camano Island, about an hour's drive north of Seattle and proceeded to build a nice comfortable house.  It functioned as a get-away from the big city.
While in his 80's Walter took up long-distance bicycling.  He joined the local club which organized a 200-mile ride every summer from Seattle to Portland, OR, called the STP.  The general participation is 10,000 members!  Walter took part in 7 of those; in his last one he was the oldest member.
In addition to his wife Christa, Walter is survived by his son Fred (Susan), daughter Martha Wyckoff (Hulett), son Ben (Robin) as well as other loving family members. Walter was preceded in death by his daughter Lee Ann Swanson (Doug), his sister Shirley and his nephew Karl Schroeder.
As requested by Walter, there will be no services.
Memorial contributions may be made to:
Nature Conservancy
74 Wall Street
Seattle, Washington 98121
---
Comments
Walt was my direct supervisor for a few years on the BN. He always showed a great respect for our work and laid out an intelligent thought-out plan. He would take the time to talk to those he led. Personal conversations were honest and always included plenty of friendly laughter. It was an honor to work for him. Go in peace, Walt.
- Tim Hoban
---
I am so sorry to learn of Walter's passing. We were bandmates in the Ballard Sedentary Sousa Band for many years. I very much missed his presence and gentle humor since he retired from playing. Loved that he and Christa continued to host a pizza party in their lovely backyard every year for the band after we played our concert at Ballard Locks. Would greatly appreciated a physical mailing address to send written condolences to his wife.
- Edith I. Farrar
---
Walter was a friend and neighbor who came to my rescue numerous times when house fixes were needed for which I'll always be grateful. It seems he could repair, fabricate or build anything. That he could still bicycle from Seattle to Portland (the STP) and build the house on Camano into his mid-80's were incredible accomplishments and much to be admired. He will be very much missed.
- Gail Travers
---
We met Walter at his wedding to Christa his wife. A great hushand, a enterprising man full of new ideas and a people person. Had some good times together. Unfortunately we lost contact as we got older. with deep Sympathy to his family,especially his wife, we hope to maybe reconect with her.

Dieter and Rosemarie Matthes
---
Walter, you were such an inspiration! We met Walter through hosting STP riders here in Centralia for over 20 years. Into our 10th or 11th year, Walter and his entourage were assigned to us. Little did we know what a wonderful friendship would grow out of that. From that point on, we only hosted Walter and his gang. Walter was almost always the first rider in his pack into Centralia College. A quick phone call and Gene was off to pick up the first wave of riders. There was always a cold Black Butte Porter waiting for Walter when he arrived. Many great evenings spent eating and sharing stories.
Even after Walter no longer rode the STP, we made a point of emailing, and visiting him and Christa.
Walter, we will forever miss you and your sweet smile. RIP.
    
Alice and Gene Coakley
---