Ellen A Squillace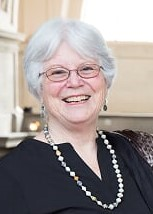 Ellen A Squillace, loving mother to Rachel and Ralph Squillace and sister to Susan and George Carow and Catherine (Kitty) Lozier, passed away on February 12th at home in Shoreline at the age of 81. She was born to Wilmer (Bill) Stewart Carow and Marguerite (Maggie) Bjur Carow on December 29th, 1937 in Spooner, Wisconsin, and was raised in nearby Mercer. Ellen was a teacher, wife, sister, mother, Unitarian, friend, and believer that we are all on the same collective path and should share both burdens and joys.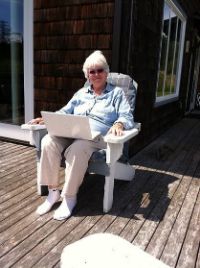 Ellen was a scholar from the beginning, graduating with high achievement from Ann Arbor High School in Michigan. From there she received a scholarship to Milwaukee-Downer College where she graduated in 1959 with a degree in History and English. Ellen continued to excel, receiving a Woodrow Wilson Fellowship to attend graduate school at the University of Washington in Seattle. There she met her future husband, Ralph Rosario Squillace, in the kitchen of a boarding house while she was arguing against unjust prejudices of the landlady against female boarders. They married in 1961 and shared love, partnership, and a fantastic sense of humor. They both avidly rooted for the Seahawks and Mariners until the end of their days together.
A lifelong student of history and politics, Ellen spent 25 years teaching English, math, and social studies in the Edmonds School District north of Seattle with an amazing group of colleagues, who continued to be the bedrock of her social life along with the Edmonds Unitarian Universalist church. She was devoted to the ideals and value of education, becoming a strike captain for a major teacher strike in Edmonds and fought for a better education system for teachers and students her entire life. She walked with her friends and family to protest global policies of the World Trade Organization at its meeting in Seattle, as well as marching against the Citizen's United decision. She believed that of all things a society should do, first was the effort to invest in every individual to learn to think and communicate well so that collectively the intelligent efforts of everyone could create a better society, a better country, and a better world.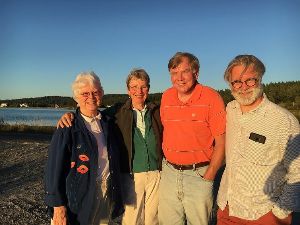 Her natural passion for politics, civics, and teaching continued after retirement, when at the age of 65 she volunteered with the Peace Corps, something her sister Catherine had done decades before. She lived for a year and a half in Vladivostok, Russia, just after the Yeltsin revolution, teaching business students English writing at the university there at a time when Vladivostok was essentially politically independent -- and independently lawless.
Everywhere Ellen went she touched people with her sense of humor, her intelligence, and her commitment to friends and family. When she returned from the Peace Corps, she and her youngest sister Susan lived together and built a retirement cabin on Lopez Island until Sue was diagnosed with terminal cancer. Along with her siblings, Ellen spent the remainder of Sue's life supporting her, traveling with her, worrying about her, and celebrating her until she passed away. She lived the remainder of her life socially and well, dealing with the vagaries of age and decline as we all must with good humor until the end, February 12, 2019. She will be missed forever.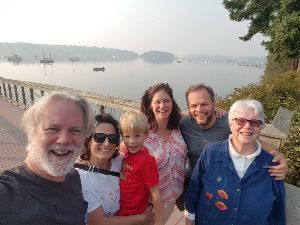 A memorial will be held on Sunday, June 30th at the Edmonds Unitarian Universalist Congregation (EUUC), 8109 224th St. SW Edmonds, WA 98026 at 1:00 p.m. Donations in her name can be made to: The Edmonds Unitarian Universalist Church.
---
Comments
---
We are only just learning of Ellen's passing. Such sad news. We met Ellen in Vladivostok where we were posted as staff, and accompanying family for Peace Corps. I remember many a fun dinner with Ellen discussing politics and prose. A great woman with a kind heart. Condolences to you all.
Alison & David Reside
---
I've known Ellen since 1965 and have witnessed a person who was truly a great and caring individual who walked the talk and who, along with her husband Ralph, inspired me to try to be a better person. Her political activism was from the heart, and although she will be missed, I can honestly say. It was an honor to know her.
- Ron Johnson
---
Much love to Aunt Ellen
Margaret Dore
---
Just now accidentally learning that cousin Ellen died.?
Phylis Elsing
---
Me and my mom were hosting Ellen during her Vladivostok period. She was to me like a grand mom (babushka). Rest and peace. Love
Dasha
---
Looking through a 1971-72 Madrona Jr High Memory Book where I started as a librarian. And decided to check on Ellen- with whom I shared a birthday. Have such wonderful memories of her and so appreciated her intelligence and love of life. Carol Cotter, Charlotte NC 1/5/21
- Carol Cotter
---