Maribel Amundson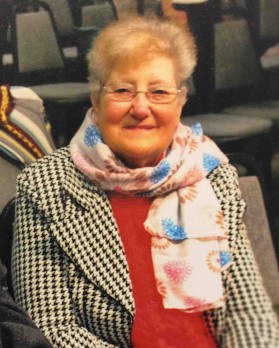 Maria Isabel Amundson, known to friends and family as Maribel, passed away on May 22, 2018 in Seattle, WA at the age of 74. Born in Madrid, Spain is 1943, she left her beautiful home at age 23 to start a new adventure in America, docking in the New York harbor. From there, she moved back and forth between the states of Georgia and California before finally settling in Seattle in 1977.
Maribel was baptized as one of Jehovah's Witnesses on July 17, 2004 and was an active member of the North Seattle Spanish Congregation. Maribel loved Jehovah very much and used her "talents" to give everything she had to her God, despite severe health problems. Her other love was everything Spain, the beach, the coast, flamenco dancing and of course, the food!
Maribel will be lovingly remembered by her three children, son Alberto Claramonte (and his wife Tammy) of Alcalá de Henares, Spain; Mari Claramonte of Madrid, Spain; and Carolina Decker (and her husband James) of Seattle, WA. She will also be remembered by her grandchildren, Kyle, Cameron, Jathien, Mara and Jakob. She is preceded in death by her husband Dennis Amundson; her father Agustin Alcaraz Martinez; her mother, Dolores Alcaraz Godoy; and her brother, Agustín Alcaraz.  
A memorial service is scheduled for Saturday June 9, 2018 at 2pm at Kingdom Hall of Jehovah's Witnesses, 9240 6th Ave NW, Seattle WA 98117
---
Comments
Maribel was a fine example of faith by being loyal to Jehovah right to the end. She will be missed. Looking forward to welcoming her back in the resurrection soon! (Revelation 21:3,4, John 5:28, 29)
Sosha Pifer
---
I am truly sad that Maribel is gone. I sorely miss her and her wonderful daughter, Carin. Carin, if you read this please contact me at kolomona at kolomona.com
Kolomona Myer
---
The most beautiful woman in the world. She was my first best friend and my partner in crime. When I was getting bullied in school, abuelita was always there with something to make me feel better; be it watching tv, reading me a story, or making me some chicken noodle soup, she had so much love in her heart that still staggers me down to this day. I can't wait to see her again, more beautiful and healthy than ever, when "pain and suffering will be no more." (Revelation 21:4)

Jathien Decker
---