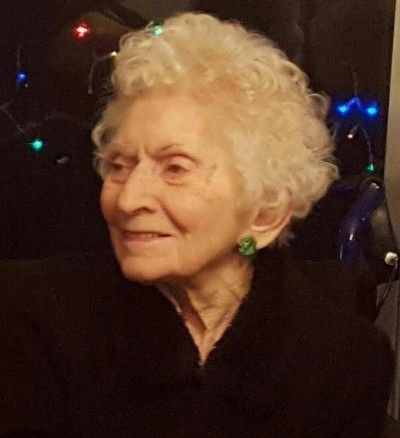 December 2, 1919 – January 24, 2016 

Helen, age 96, passed away peacefully at home with her loved ones by her side. She was born in Tacoma, WA, to Ernest and Mary Sellers Loyd. Her parents had both come from Kansas and loved Tacoma where Ernest was stationed at Fort Lewis before going to World War I. Helen attended Lincoln High and UPS in Tacoma, and then transferred to the University of Washington in 1939. She was an art major and was inducted into Lambda Pho, national art honorary, during her senior year. In 1940, she met "brilliant" John Sherman, who was working on his Ph.D. in Geography where Helen worked as a part-time secretary. They were married in 1941, and had a "grand" 55 years of marriage. 
While their four children were young, Helen taught preschool. Then she began helping her husband with his maps and finally began illustrating textbooks for UW Press. In 1968, Helen began working with Janice Krenmayr on the first Mountaineers trail book. From then on, she devoted her time to the trail books working with Ira Spring and Harvey Manning. She also worked with Erin and Bill Woods on their bicycle books for the Mountaineers. Helen took some of the hikes to be sure her illustrations were accurate. She did maps for several textbooks later, but after her husband's death, in 1996, she spent her time with her five grandchildren and her great grandchildren. 
In 1964, John began building a summer house on Whidbey Island and by 1968, it was finished so the whole family enjoyed time at Whidbey Shores and have many wonderful memories.
Beautiful Whidbey Cabin Sunset 2015

Whidbey 2015

Whidbey Love 2015
Helen was a 67-year member of the University of Washington Faculty Wives Club and was active in the Hi-Lites Garden Club for many years. 
Helen is survived by her two daughters, Mary Wood (Steve) and Barbie Graves (Dave). She is also survived by five grandchildren: John Newell (Heather), Ryan Newell, (Lillian), Gillian Wood Cook (Rob), Courtney Graves (Daniel Martinez) and Erin Graves Zatine (Drew) and seven great grandchildren: Kaya, Gavin, and Fox Newell; Mason and Bryn Cook; and Brayden and Adelyn Newell. 
She was preceded in death by her oldest daughter, Connie Newell, who died of cancer in 2008 and her son, John, who lost his life in 1967 in Vietnam. Her granddaughter, Rebecca Graves, died of SIDS in 1982, and her great grandson, Cameron Newell, died of complications at birth in 2010. 
A Memorial Service to celebrate Helen's life will be held on February 27, at 1:00pm, at the Wedgwood Presbyterian Church, 8008 35th Ave NE, Seattle, WA 98115. 
Helen was a kind and loving woman with a smile full of sunshine that she shared readily with all who knew her. She will be remembered for her sense of humor, strength, and fortitude. 
In lieu of flowers, donations may be made to the University of Washington John C. Sherman Endowment Fund, or a charity of your choice.
2012 Christmas picture with Mom

Bryn Wood and Fox Newell hugging
The snow melts on the mountain
And the water runs down to the spring,
And the spring in a turbulent fountain,
With a song of youth to sing,
Runs down to the riotous river,
And the river flows to the sea,
And the water again
Goes back in rain
To the hills where it used to be.
And I wonder if life's deep mystery
Isn't much like the rain and the snow
Returning through all eternity
To the places it used to know.
For life was born on lofty heights 
And flows in a laughing stream,
To the river below
Whose onward flow
Ends in a peaceful dream,
And so at last,
When our life has passed
And the river has run its course,
It again goes back,
O'er the selfsame track, 
To the mountain which was its source.
So why prize life
Or why fear death,
Or dread what is to be?
The river ran
Its allotted span
Till it reached the silent sea.
Then the water harked back
To the mountain-top
To begin its course once more.
So we shall run
The course begun
Till we reach the silent shore.
Then revisit earth
In a pure rebirth
From the heart of the virgin snow.
So don't ask why
We live or die,
Or whither, or when we go,
Or wonder about the mysteries 
That only God may know.
                         - W. R. Hearst
Connie Newell at Ryan and Lillian Newell's Wedding

Connie

Twins - Courtney and Rebecca (deceased) Graves

Double Rainbow from Mom's Deck

Gma (17) and her Sister (Aunt Lil) (16) at a local fair showing their parents Loyd's Rhode Island Reds eggs

Mam (Gma) and Fox Newell
Gma and Courtney

Gma and Doris
Lovely Couple-John and Helen Sherman

Mam and Heather Newell

Gma and Kaya - her oldest grandchild
Gma and Luna - her favorite little dog

Gma and Mason Wood
Happy Mom

Mom - a Young Beauty

Barbie, Mom and Courtney

Barbie, Mom, Daniel and Courtney

Barbie, Wanda (Daniel's Mom from London) Courtney and Mom

Gavin Newell and Mam
Gma with Johnny and Fox

Mary, Gma and Barbie
Gma with Great-Grandkids

Newell Family - Christmas 2015 with Mam

Gma, Rob Cook and Mason
Cook Family with Gma

Helen in College
Dad - the Professor

Johnny - the Marine (deceased)
Ladies of the Sherman Clan

Mothers Day 2015 at Palisades
Mt. Rainier from Mom's Deck

View from Mom's deck

Whidbey Island Cabin Beach
---
Comments
---