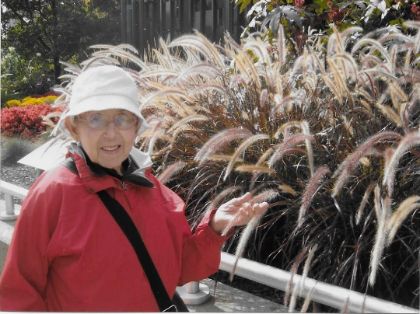 Lotte was born April 1, 1937, in Ione, WA, to Franklin and Mimi Forrester.  She passed away peacefully in her Seattle home at Horizon House on July 29, 2015, in Hospice care and with family nearby.  The first of four daughters of the Congregational Church minister's family, Lotte grew up in small communities of Washington State, graduating from Lincoln High School, Seattle, and the University of Washington. 
From an early age, Lotte could 'make the piano sing'.  And sing it did, from her soul right through to her fingers.  She was the church organist during high school and later as an adult.  At the University she majored first in piano and music education, then broadened her interests to include history and language arts. She graduated in 1959 with degrees in history and music.  Her University writing classes led to a disciplined philosophy toward the art of writing.  Lotte believed that writing 'is one of the most important things a person can do.  Keeping a journal, writing letters-even in the days of email- the hard business of hammering out your ideas on paper is a worthwhile activity.'  After a visit from Lotte, the hostess knew there would be a thoughtful, hand-written thank you note in the mail. Her wit and succinct, clever style shone through in her personal accounts of childhood memories and her snappy letters to the editor. 
Lotte was one of those rare individuals who actually enjoyed teaching junior high age kids.  Her teaching career spanned 30 years.  She taught in Sumner, Santa Clara County, CA, and Okanogan before returning to the Seattle area, where she taught junior high English, Social Studies and French (with French cooking written into her lesson plans) in the Edmonds School District.  She retired in 1989, and then volunteered at day care centers through Literacy Day Care Links program, reading to children.  
Soon after Lotte returned to Seattle, she met George Graham through a college roommate whose girlhood friend had married George's brother.  They were married in 1968. She continued to teach and completed a Masters Degree in Education.  In 1974 with her kidneys damaged by an earlier illness, she had to start dialysis.  For a time her dialysis was done at home in the evenings after she had taught a full day.  While Lotte dialyzed, George prepared a gourmet dinner and she corrected papers or chatted on the phone with family.  Always an adventurous spirit, Lotte took several trips where dialysis was part of the itinerary.  A float trip down the Salmon River, with dialysis on the river bank in the evenings, Lake Powell house boat trip with George, and a cruise to Alaska expanded her boundaries. 
During those years Lotte found strength and joy through her participation in the Plymouth Church Choir.  She could always 'find laughter, wonderful music and kind friends' at choir practice and on Sunday mornings.  The caring community of choir, member and staff of Plymouth Church were a great help to her following George's death in 1985. 
In 1989 Lotte retired and took a chance on a kidney transplant.  The transplant was wonderfully successful, lasting far longer than doctors had predicted.  It gave her the freedom to travel:  France, England, Scotland, Australia, New Zealand, Fiji, Toronto, more frequent visits to family and jaunts with her sisters.  She had time and energy to serve on church committees and outreach programs, to enjoy the city's offerings of symphony concerts, theater and art museums, and to make music with friends.  Lotte moved to Horizon House in 1999. 
She had many a gig at Horizon House, but her favorite was playing for Memory Support on Fridays.  She hated to miss it, and planned for it, keeping in mind seasonal themes, searching out tunes from far away times and places that could trigger a response from some who hear different music now.  It pleased her to see a foot tapping to the music, or hear a voice ring out with lyrics from the past.  Even when she had been referred to Hospice care and did not have the energy to play for the many Horizon House activities, she said she would not give up Fridays at Memory Support. 
Family was important to Lotte and she thoughtfully kept in touch with sisters and extended family, remembering birthdays, acknowledging accomplishments and sending encouraging messages in her kind, spirited manner.  Her bulletin board was covered with replies and pictures from admiring family.  She enjoyed spending time with her sisters; in recent years, jaunts to places with family history. The music of Lotte's life lives on in the hearts of those who were privileged to know her and hear her piano sing.  Her life-tunes of thoughtfulness, wisdom, faith and love will play on as those who love her celebrate her life. 
Lotte is survived by three sisters, four nieces, six nephews, six grandnieces and seven grandnephews.  Donations in Lotte's memory may be made to Music Funds at Plymouth Church, Seattle, or Horizon House Memory Support Musicians.
A Memorial Service will be held on Sunday, Aug 23, 2:30 PM at Horizon House in Seattle.
---
Comments
---