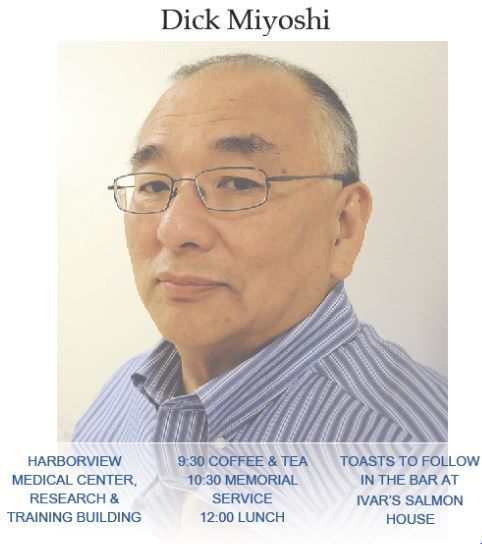 DIRECTIONS AND PARKING
If you are not familiar with the Research and Training Building at Harborview, here is a link to a map:  
http://www.uwmedicine.org/harborview/Documents/HMC%20Campus%20Map.pdf
The closest parking lot is the underground lot in the Ninth and Jefferson Building.  The entrance to the parking lot is off Terry (at the yellow P2 on the map).
---
Dick Miyoshi died of pancreatic cancer on December 16, 2015. He was 67.
Dick was a Clinical Professor at the UW in both the Department of Psychiatry and the School of Pharmacy.  He served Harborview Medical Center as a psychiatric clinical pharmacist, among other roles, for almost 40 years.  He is deeply missed, not only by his own family, but also by the family of staff at Harborview Medical Center, and by the many, many faculty, trainees, staff members, and patients he taught, mentored, and cared for. 
Dick always described himself as "just a farm kid."  He grew up on the family farm in Auburn, the oldest son of Hank and Mosi Miyoshi.   His accepting, generous, realistic and irreverent approach to the world was shaped by his Buddhist upbringing, and he often expressed gratitude for the example his parents set of living in a way that unpretentiously embodied those principles.  He graduated from Kent Meridian High School in 1966. He almost went to California for college on a Judo scholarship, but fortunately for us, one too many dislocated shoulders closed that opportunity.  He went first to Green River Community College and then to the UW, where he graduated from the School of Pharmacy.  He supported himself through school by full-time bartending, mostly at Ivar's Salmon House. During college he was also the informal and irreverent mentor for a cohort of younger students who came up from the Valley or visited from Japan to study at the UW, who remember him as an invaluable, always reliable source of help, advice, and sardonic humor.
His first pharmacy job was at Harborview, in a then-new program that put clinical pharmacists out on the hospital floors to work directly with patients and doctors. He began in surgery, worked on the burn unit, became interested in the treatment of pain, and found that that led him to psychiatry, which became the work he loved.  He acquired a comprehensive and nuanced knowledge of psychopharmacology, but his interests went well beyond this, and he also became expert at helping clinicians help their patients more globally.  He was the go-to consultant for difficult clinical questions not only at Harborview, but for psychiatric clinicians throughout the region.   He was a valued member of Harborview's Ethics Committee for almost 20 years. He was a superb teacher, and his insight, caring and humor made him a sought-out mentor and friend to decades of faculty and trainees in both psychiatry and pharmacy. 
Dick was embarrassed but honored to receive multiple teaching awards from the psychiatry residents over the years.  Harborview named him Employee of the Year in 2009.  In 2015, he received the Department of Psychiatry's Tucker Award, "for his outstanding skills as a teacher, and his dedication to education throughout his career."
Dick took pleasure in language and its power.  He loved theater, irreverent humor (Candide, S.J. Perelman, Monty Python), volleyball (especially pitting "age and guile against youth and speed"), and smoking cigars while pruning unruly shrubbery.  
He is survived by wife Susan Woyna, brothers Tom and Harry Miyoshi, and nephews Dwight and Robert Miyoshi.
In place of flowers, please consider a gift to one of these organizations he supported:  Seattle Repertory Theatre, ACT Theatre, The Seattle Public Library Foundation, or Keiro Northwest.
---
Comments
It was a pleasure knowing you. You will be missed at volley ball. Always fun playing with you.
-Jose Luis Mejia
---
The world of psychiatry has benefitted greatly by your presence in it! During my 28 years as a psychiatric nurse at HMC you enriched my life and contributed significantly to the expansion of my psychiatric skills and knowledge of medicine. Although I've been retired for over 11yrs, friends and family still view me as valuable resource for advice about psychiatric meds.
I remember those volleyball games on Fridays behind the old 3MH inpatient ward in our younger years. I have missed you, but will not forget you, Dick!
Karen Huntsberger RN, 3MH, 5WA 1976-2004
---
How many patients you helped. How many psychiatric professionals you helped train. I think often of my days at the med clinic at Harborview Mental Health Center with you and John Brinkley. And the times you answered my questions on the Medcon line in later years. Never impatient. Always ready to answer a question and help solve a problem.
You will be missed.
Judy Kaplan
---
It was a long time ago when we worked on 3MH at Harborview... those were the days! You used to tease me about being short blonde and thin... I'm still short! You were quite a guy and i'll never forget you. --Corkey Junkin, Mt. Shasta, Ca.
---