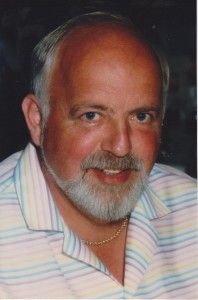 William "Bud" Kenneth Johanson passed at the age of 79 in his home. Born to Bill K. Johanson and Mabel Jackman Weaver in 1934, he'd lived in Seattle his entire life.
A member of Mars Hill Church in Ballard, Plumbers Local 32, and a Navy veteran, he also loved all sports, fishing, and hunting.
Survived by his wife of nearly 42 years, Joyce Carol Johanson; sons Michael Johanson (Terry), Steven Johanson (Sandy), and Chris Johanson; daughter Anita Lynn Johanson (Rich); sisters Donna Smith (Gene) and Mary Ogle (Neil); 10 grandchildren and 14 great-grandchildren.
Celebration of life will be held May 3, 2014 at 11:00am at Anthony's at ShilsholeBallard 6135 Seaview Ave NW, Seattle, WA 98107.
In lieu of flowers, the family requests donations be made to High Five Sadbh Guild, Seattle Children's Hospital c/o 910 24th Ave Seattle, WA 98122.
---
Comments
L Detert Anderson
Posted April 13, 2014 at 7:30 am
My sympathy to the family.
As the Ballard Class of '53 representative for the Golden Beavers, I need to make sure this is the same Kenny Johanson from our class. I try to publish information in the Beaver Log which will be published again in September. Thank you,
Lou Ann
Posted April 13, 2014 at 9:11 am
Dear Joyce,
Sad news, you are in my prayers.
Hugs, love. Lou Ann
Rick & Mary Coulter
Posted April 13, 2014 at 9:36 am
So sorry to hear of his passing. Bud was a great guy. He will be missed.
Patty Guttu
Posted April 13, 2014 at 2:57 pm
Although both George Manke and I have been gone from Seattle now 14 years, we both want to send our condolences to the family as there are many times during the years we think of and talk of Bud. I knew him through both my life partner George and our bus 355 rides, and Kim Holmes. When relating a story of good feelings. Bud, in fact, told George right after I had gotten off the bus, "George I think she more than likes you, you know". George at that time did not know this and it probably help start our now nearly 27 years of bliss. He was such a sweet man and will be missed by many.
George Manke and Patty Guttu
Vero Beach, FL (772) 713-3164
Michelle Bouvier
Posted April 14, 2014 at 8:01 am
Dear Joyce and family,
I am so very sorry that this world and you have lost such a good man. I pray for you to find strength and courage through this painful loss.
Bless you,
Michelle
L Detert Anderson
Posted April 15, 2014 at 7:22 am
My nephew Steve Detert confirmed that this is our 1953 classmate. Steve went to school with Kenny's son Chris.
PJ Rowe
Posted April 16, 2014 at 5:25 pm
Very sorry for your loss to the entire family.
PJ Rowe
kathryn draper
Posted April 16, 2014 at 7:51 pm
He was a good man and a great neighbor.
Carol Lagoe
Posted April 19, 2014 at 12:16 pm
The Bud I will always remember was a kind,sweet and sincere man. He will be missed!
Marianne Bagley
Posted April 22, 2014 at 4:43 am
Dear Joyce, so sorry to hear of your loss. I lit a little candle for Bud here and paused for some wonderful memories of all the meals we shared down through the years. I will never be able to pass Patty's Eggnest without the two of you in my loving thoughts. Bud was a true gentleman and always kind to everybody. I will miss his quiet conversations and the sparkle in his eye whenever he was out with the Holy Angels from Ballard. May he rest in peace. hugs and lots of love from your school chum, Marianne
---
Comments Closed