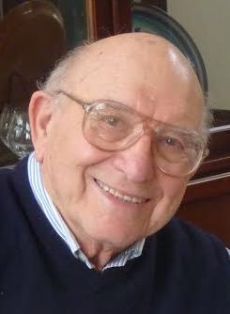 Herb Reif embarked on his final journey when he passed away peacefully on March 18, surrounded by his loving family. He was born in Madison, California on September 25, 1927 to Emilie and Arndt Reif. His early years were spent exploring the hills and woods and attending a one-room schoolhouse near Susanville, Oregon. His spirit of adventure was further kindled at the young age of 10 when he spent a year traveling with his parents by steamer through the Panama Canal and eventually to Dresden, Germany to visit aunts, uncles, and cousins. He graduated from high school in Baker City, Oregon in 1946 and joined the Army. Herb spent his army life serving in the occupation of South Korea at the end of WWII, leaving prior to the outbreak of hostilities. Following military service, he attended Perry Technical Institute in Yakima, and graduated as an electrician in 1950. Herb went on to enjoy a 38 year career with Seattle City Light.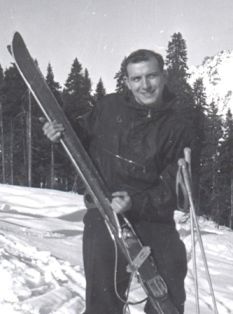 Herb was most at home outdoors, venturing throughout the Pacific Northwest to hike mountain trails, walk seashores, ski powder snow, climb Northwest peaks, explore the San Juan and Gulf Islands by kayak, cycle country roads, and camp by car, bike or backpack, often setting up ingenious combinations of rain tarps to keep dry. Some of his deepest friendships arose from the shared escapades of these adventures. He remained active into his 80's, continuing to hike, bike and bird watch. Herb was passionate about the preservation and protection of our natural world so that others could enjoy the beauty of this corner of the world.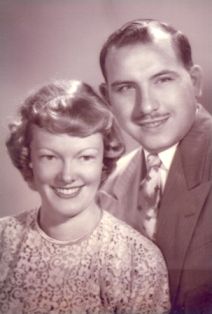 His biggest adventure, though, was meeting the love of his life, Anabel, at a work party for the Mountaineers' ski lodge. As they both said, it was love at first sight and it never faded. After spending the early years of their marriage living on a house boat on Portage Bay, they moved to Wedgwood to raise two daughters and were happy introducing them to the wonders of nature. Later, they shared this love with their three grandchildren, taking them on many hikes and kayak trips. They also frequented plays at the Seattle Rep and Intiman, and took numerous trips to Europe and around the US and Canada. His unwavering devotion to his family and their well-being was a hallmark of his life.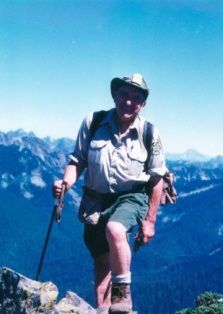 Herb also strongly believed in giving back to his community through volunteering. In his early years, he worked on the ski patrol at Ski Acres, with search and rescue teams with Seattle Mountain Rescue Council, and for the Mountaineers. In later years, his civic involvement increased when he participated in the Wedgwood Community Council, the board of Wedgwood Pool, and the advisory board for redevelopment of Magnuson Park. Herb and Anabel worked for many years on the Justice and Peace Committee at Our Lady of the Lake Church, helping Hmong refugees and advocating against nuclear proliferation. After retirement, he spent 20 years as a Backcountry Ranger volunteer for the US Forest Service in the Alpine Lakes Wilderness, as a Travelers Aid at SeaTac Airport and participated in eagle counts along the Skagit River. Herb's legacy is this spirit of giving, embodied in his stewardship of loved ones and the world around him.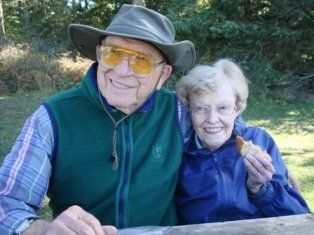 Herb is survived by his wife of 60 years, Anabel, daughters Heidi and son in law Dave, Wanda and son in law Ralph, grandchildren Emilie, Haden and his wife Carly, and Owen. He was preceded in death by his brother Walt during WWII, shot down in his last mission for the RAF in a Lancaster bomber over Cologne, Germany.
A celebration of Herb's life will be held on April 13, 2014, at 2pm at the Graham Visitors Center, UW Arboretum Botanic Gardens, 2300 Arboretum Dr E, Seattle, WA 98112. In lieu of flowers, a donation can be made in his name to plant trees in his memory at https://www.americanforests.org/ways-to-give/cart-on-behalf-of/.
---
Comments
Sue Medjo
Posted April 6, 2014 at 4:22 pm
Heidi, Wanda – Sending my condolences at the loss of your Dad. I remember when we were small Heidi, he took us up to the Mountaineer's lodge during the summer – we got to hike around all the wild flowers – it was something I had never experienced before.
Recently, when at my folk's place your Dad walked by and we chatted for a while – he was a very proud papa! Best wishes to you all.
Kay
Posted April 7, 2014 at 8:26 am
Herb and I met on the #64 bus but we did not exchange names -only stories. On his way home from volunteering at SeaTac, Herb learned that I was also a Mountaineer and thus started a friendship. When I got on bus in downtown Seattle we would sit with each other or near each other and had abut 15-20 minutes to talk about Herb's knees, years of back country volunteer work, trails to hike, how he met his wife, the time a good friend drove him up to Mt St Helens when he could no longer hike, the light rail vs. the bus, and of course the Mountaineers.
I am not sure how many years we chatted together. Herb's SeaTac schedule varied and I eventually moved on to the #76. As we are both avid hikers Herb was a role model for me and his bum knees were just not fair!
Herb was a lovely, lovely man and I will miss our bus talk exchanges.
Kay Theis
Janie Yakovlevitch
Posted April 9, 2014 at 1:00 pm
What a fulfilling life, and inspiration to us all to truly engage with the possibilities. Herb served as an example that life is intended to be lived with purpose and intention throughout our entire life. His daughters are a testament to his influence as a mentor and teacher.
May he continue, through his spirit, to be a source of light to us all.
Patricia Locati
Posted April 9, 2014 at 6:06 pm
Heidi and Wanda … Just before your dad passed, he said that he was "ready to go" … which is absolutely incredible … because how many people are really ready to go when it's their time? It's obvious that your dad knew how precious life was … as he lived fully and without regret. The gifts of his passing continue.
Heidi Bornholdt
Posted April 13, 2014 at 1:18 am
Liebe Heidi und Wanda,
wir sind sehr dankbar mit Herbert viele schöne Tage verbracht zu haben. Am meisten bleibt unserer Familie die gemeinsame Fahrt durch den Yellowstone-Park von 1988 in Erinnerung.
Herbert wird immer in unseren Herzen sein.
Heidi, Holger und Kinder
Claudia Kiel
Posted April 13, 2014 at 2:47 am
We met 2 times. One time in Germany in 1977 and a 2nd time in Seattle in 1990. I will never forget his warmth and will always remember the times we shared! My thougths today are with the whole Family. Many hugs to you from Germany!
Sigrid Kossinna
Posted April 13, 2014 at 6:16 am
Today we are with your family in our thoughts. I will never forget the wonderful time I have spent with Herb and the whole family in Seattle and in Berlin. I never forget the time in Seattle, where Herb and Anabel showed me the wonderful nature around Seattle and the beautiful City of Seattle, the Indian Reservation, the Salmonledders, the Mount Rainier Nationalpark etc. It was an unforgettable time for me – thanks very much Herb!
Yours Sigrid and Erhard from Berlin
---
Comments Closed