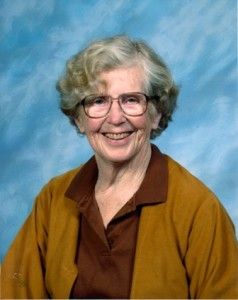 Virginia was born 7/7/25 to Madge and Ira "Monty" Montgomery in Faribault, MN. She died 1/21/14 at Ida Culver House- Ravenna in Seattle, WA. She is survived by long-time partner Bob Dreisbach; children Don Reid (Betsy) of Corvallis, OR; Kathy Reid-Russell (Kent) of Seattle, WA; Rick Reid (Deborah Wheatley) of Spokane, WA; grandchildren Lisa Reid and Sarah Brown (Ryan) of Kalispell, MT; Alyssa Le Blanc of Los Angeles, CA; Ian Russell and Rye Russell (Heather) of Pittsburgh, PA; Robin Reid of Athens, GA and Ethan Reid of Spokane, WA; great granddaughters Shannon Brown of Kalispell and Cora Russell of Pittsburgh, PA.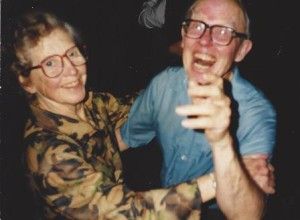 During 40 wonderful years Bob and Virginia enjoyed folk dancing, hiking, climbing, skiing, camping and traveling to Europe. One week before her death she was dancing at Waltz & etcetera's Monday night dance. She was active in the Mountaineers, Skandia Folk Dance, Shoreline Unitarian Universalist Church, and the Rolling Crones. Singing and playing her flute with the Rolling Crones was a huge source of pleasure for Virginia. She loved singing at Thomas Anastasi's Wednesday night gospel Good News Singing at Shoreline UUC. She also volunteered in the church office and kitchen. She enjoyed her many friends, some of whom were in both the Crones and SUUC.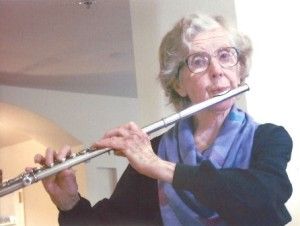 Virginia was an accomplished flute player. As a high school student she took the bus into the big city – Minneapolis – for private lessons. As the only child of two teachers, she was a serious reader and student. In college she earned bachelor's and master's degrees in music education. As a young married woman she was proud to earn extra money teaching music at Sunday school. She taught her children to play piano and read music before they went to school. There was always singing and playing music in the household.
In Philadelphia, where her husband Jack Reid was attending graduate school, Virginia was active in civil rights/fair housing efforts, taught Sunday school at Delaware County Unitarian Church, co-led a Girl Scout troop and was a Boy Scout/Cub Scout den mother.
In Seattle, Virginia worked as a psychometrist in Rehabilitation Medicine at Harborview Medical Center for 23 years. The Pacific Northwest provided easy access to the outdoor activities she was passionate about. Virginia was very social and made friends through all these activities. She is missed by family and friends alike. A memorial service will be held at 2pm on Saturday, February 15th at Shoreline Unitarian Church, 14724 1st Ave. NE, Shoreline, WA. This will be a celebration of life. Please wear whatever color/attire makes you happy or reminds you of Virginia.
---
Comments
Janet Williams
Posted February 5, 2014 at 2:48 pm
What a beautiful obituary. I will miss hearing your stories about how much fun you have had with her in these recent years. Peace be with you Virginia, I will miss you!
BJ Bullert
Posted February 9, 2014 at 9:32 am
Virginia inspired me, and many others, that we can dance no matter our chronological age.
Kathy Reid
Posted February 11, 2014 at 3:27 pm
Thank you Janet and BJ.
Patrick McMonagle
Posted February 12, 2014 at 1:45 pm
I testify to her energy, as one of the people she danced with in her last week. What a delightful person. Wishing peace and love onto her family.
The Austins
Posted February 12, 2014 at 5:51 pm
Even tho we were at Ida Culver only six months ,
Virginia quickly became our closest and dearest
friend . We visited daily, and the saddest part of
leaving Ida Culver was leaving Virginia's daily
friendship . But we stayed in touch until the time of her death .
We are missing her so much .
Trella Hastings
Posted March 9, 2014 at 12:58 am
I was shocked to just learn of Virginia's death tonight, March 8, 2014. I would like to have been to her celebration of life had I known. My late husband, Art Nation, worked with Jack in bioengineering at the UW. Art and I taught them how to dance in their kitchen. My sincerest condolences to the family, children, and especially Bob.
---
Comments Closed