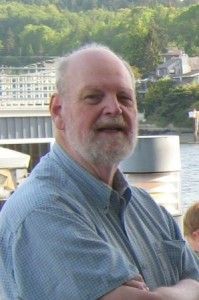 Lonnie Gerrald, 70, passed away at his home in Ballard on Sunday, January 19, 2014, following a long struggle with a neurological ailment called Multiple System Atrophy.
Lonnie was born in Miami Beach and spent his formative years at various ports on the eastern and southern seaboard with his career Navy family. He graduated high school in Kodiak, Alaska, but went back to his father's family home in South Carolina for college. He obtained a Masters Degree in Chemical Engineering from the University of South Carolina in Columbia. His first job was with the Westinghouse Nuclear Fuel Fabrication Division in Columbia, S.C., but in the early 1970s he moved with his young family to the Tri-Cities where he worked for Jersey Nuclear, Exxon Nuclear and Siemens. On behalf of those companies, Lonnie holds patents for the manufacture of fuel assemblies for commercial nuclear fuel reactors.
While in Richland, Lonnie was active in scouting and light opera, and served as treasurer of his church. After he moved to Seattle in 1993, Lonnie consulted on nuclear fuel safety issues around the country and in Europe. In 1995 Lonnie joined his son Peter at an Internet consulting company in Seattle doing computer programming, which was a great interest of his in later life.
Lonnie met his wife, Kathy, in high school in Kodiak, Alaska. Together, they were married for 47 years and had three children: Ben Gerrald, of Oklahoma City; Pete Gerrald, of Seattle; and Maria Gerrald, who recently relocated to Sweden. Lonnie also has two grandsons (Roan and Grant, of Seattle) and two sisters (Gwen Goldsberry of Richmond, TX, and Frieda Blanchett, of Westport, MA).
Thanks to all our friends and family for their support over the last few years. Also, our sincere appreciation to Providence Hospice of Seattle.
---
Comments
---
Comments Closed