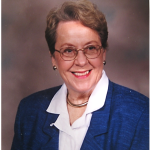 Beloved mother, grandmother, sister, and friend, entered the church triumphant on January 9, 2014, at the age of 83. Born September 3, 1930, Lois grew up in Port Lavaca, Texas, the third child of four born to Samuel and Olivia Tisdale. During her teen years, Lois became a valued volunteer for the U.S. Army Air Forces by serving in the Aircraft Warning Service, III Fighter Command. She and her sister spent many hours during WWII in a coastal tower watching, recording, and reporting every plane that flew overhead.
Graduating from the University of Texas in 1951, Lois was a member of Alpha Gamma Delta sorority and the Orange Jackets honor service organization. She married the late Rev. Dr. J. Allen Smith in August, 1951, and together they embarked on a life of service and ministry to the Lord, which included pastorates served in Refugio, La Marque, and Sherman, Texas (including campus ministry at Austin College in Sherman), prior to their move in 1975 to Second Presbyterian Church in Little Rock, AR.
An educator by training, she was a teacher and director of several preschools in Texas and Little Rock, concentrating those efforts in the years after her children were grown. A lifelong Presbyterian and elected Elder, she was a member of Second Presbyterian Church where she enjoyed serving as a Sunday School teacher, in women's circle groups, and especially as a member of Pastoral Care. She was courageous in adversity, generous with her love, and a great witness to the Christian faith.
Lois moved to Seattle, WA, in 2007 to be nearer her daughter. She is preceded in death by her husband, the Rev. Dr. J. Allen Smith. Surviving are her children, Martha MacKinnon (Rick) of Washington; James A. Smith, Jr. (Pam) of Arkansas; and Philip B. Smith (Lisa) of Louisiana as well as seven loved grandchildren: Jim, Matt, and John MacKinnon, Katelin, Sarah, Sadie, and Riley Smith. Also surviving are sisters, Sammye Diebel of Texas; Olivia Cragin of Washington; and brother, Samuel Tisdale, of Texas, as well as many nieces, nephews, and dear friends of many years. The family would especially like to thank Olivia and Marinell Iliuc, the amazing caregivers at E.T.D. Senior Home Care in Bellevue, Washington, who faithfully provided a loving, caring, and comfortable home for our mother during her final year, as well as Providence Hospice, Seattle, for their support.
A memorial celebration of her life will be held at Second Presbyterian Church, Little Rock, AR, on February 17, 2014. In lieu of flowers, memorials may be made to Second Presbyterian Church (Pastoral Care), 600 Pleasant Valley Drive, Little Rock, AR 72227; or Ferncliff Camp and Conference Center, 1720 Ferncliff Rd., Little Rock, AR 72223; or Providence Hospice of Seattle Foundation, 425 Pontius Ave. N. #300, Seattle, WA 98109.
---
Comments
Gordon Smith Family
Posted January 14, 2014 at 11:57 am
Dearest Martha Claire, Jim & Phillip and your families,
Please know that you are all in our thoughts and prayers at this very difficult time.
"Most of all the other beautiful things in life come by twos and threes, by dozens and hundreds. Plenty of roses, stars, sunsets, rainbows, brothers & sisters, aunts & cousins, comrades & friends but only one mother in the whole world." ~ Kate Douglas Wiggin
Your mom was a wonderful, sweet, gentle soul ~ she will be remembered and missed.
With love & prayers,
Gordon, Jerrie, Kasey & Christian xoxoxoxo
Scott and Melanie
Posted January 20, 2014 at 7:58 am
Dear Martha, Rick, Jim, Pam, Philip, and Lisa and your families,
We are sad but very proud to have know Aunt Lois. Of course for me, Scott, i have lots of great memories of her being the center of our visits to you guys in Sherman. As time went on she was so welcoming to our family as we visited and she would not only support us in Little Rock when we were there but was a good communicator and supporter at long distance. We never felt far away from her thoughts, prayers, and life. I hope I can be a little bit as happy, caring, and thoughtful as she was for our family.
With our love,
Scott and Melanie
---
Comments Closed