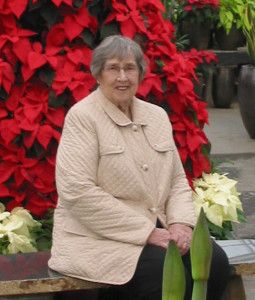 Helen May Paul (nee Thorn)
May 2, 1921 – January 2, 2014
Helen May Paul suffered from aortic valve stenosis and on January 2, 2014, at age 92, died peacefully at home surrounded by her family.
Helen was born on May 2, 1921 in Kings Valley, Oregon, the youngest child of Frieda and Julius Thorn.  She moved to Seattle, Washington with her family when she was a year old and spent her childhood in Seattle.  The first Seattle family home she knew was on Whitman Avenue, but the family moved from here when the home was taken over by the construction of the Aurora Bridge.  She lived the rest of her childhood on Sunnyside Avenue at Green Lake.  She graduated from Roosevelt High School and subsequently worked for Carnation Milk Company at the old plant (now University Village) and for Crescent Spices Manufacturing Company as a comptometer operator.
On January 10, 1943, she married the love of her life, Carl "Bud" Paul, at the Evangelical United Brethren Church at the foot of Queen Anne Hill.  They honeymooned at Stevens Pass and then traveled together as Bud participated in glider pilot training in Lubbock, Texas, Fort Wayne, Indiana, Louisville, Kentucky and Fayetteville, North Carolina.
At the end of WWII, Helen welcomed Bud home with their first child and son, Carl.  They lived in a home built by her father at Lake Ballinger. A few years later the family expanded with the birth of daughter, Joan, and son, Mark.
In 1957, the family moved to Woodway, where Helen lived for the next 56 years.  Here she raised her family, served on the election board for many years, and attended Woodway Community Reformed church and later Lake City Presbyterian church.
She loved her family and celebrated the events of their lives, including the marriage of her son Carl to Shelley, the birth of her only grandchild, Amanda, the marriage of Amanda to Joe and the births of her two great-granddaughters, Sophia and Sydney.
She was preceded in death by her husband of 57 years, Carl A. Paul; her son Mark Paul, all of her siblings: Percy Thorn and wife Irene, Inez Thorn Storrs Jacobsen and husbands Paul Storrs and Jake Jacobsen, Ralph Thorn and wife Henrietta, Bill Thorn and wife Gladys, Dorothy Thorn Sivesind and husband Norman and all of her in-laws: Ruth Paul, Mae Paul, Ora Paul, Owen Paul and wife Millie, Jim Paul and wife Michele.
Helen is survived by her son, Carl Paul and wife Shelley, daughter, Joan Paul, granddaughter, Amanda Paul Downs and husband Joe, and great-granddaughters, Sophia Downs and Sydney Downs.
Memorial Service on Saturday, February 8 at 11:30am
Lake City Presbyterian Church
3841 NE 123rd Street
Seattle, Washington 98125
---
Comments
Les Patton
Posted January 21, 2014 at 12:25 pm
My wife Donna and I , newly married moved to Seattle from South Dakota and worshipped at Ist E.U.B. on south Queen Anne hill. We were greatly blessed by Bud and Helen and watched their children grow up. The Paul and Thorn family's made us feel special. Donna is home with the Lord. Perhaps she greeted Helen when she arrived home in Heaven. Les Patton.
Lani Mobius
Posted January 25, 2014 at 9:05 am
Helen and Bud were special friends that I met through my dear friend Joan Paul. I remember many times filled with laughter. Helen was always filled with joy and had a beautiful smile.
My thoughts and prayers are with the entire Paul family.
Gary and Kristi Thor
Posted February 7, 2014 at 9:50 am
Our thoughts and prayers to the entire Paul family. May Helen Rest-in-Peace in the arms of The Lord. Joining the rest of her family in a place of happiness, peace, and love.
---
Comments Closed