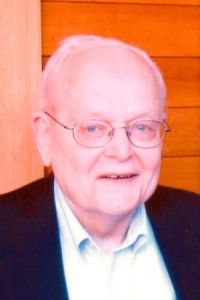 1931 – 2014
Warren Weatherill, age 82, passed away on February 18th in Seattle, WA. He was born May 14th, 1931 in Ann Arbor, MI to Philip Weatherill, a University of Michigan chemistry professor, and Elizabeth Hall. Growing up, he loved playing pick-up football with friends and University students near campus and he remained a loyal Wolverines football fan his whole life. After the school year, he spent his summers on Orr's Island in Maine, where he enjoyed sailing with extended family.
Warren attended Bowdoin College, class of 1953, and received a master's degree in aeronautical engineering from MIT in 1955. He moved to Seattle in 1960 to work for Boeing in Flutter Research, retiring in 2002. His first residence in Seattle was the old College Club on Madison, where he made many enduring friendships, one of which included a 20-year standing squash game every Monday night.
Warren met his wife Francie Hume, an artist and occupational therapist, in Seattle and they were married in 1964 in Rockport, Massachusetts. The engineer and the artist were a perfect compliment to each other, collaborating on many woodworking, art, and photography projects and also sharing a love of classical music and opera.
Warren was a lifelong athlete and in addition to squash, he was an avid biker and tennis player. After retirement, he was a fixture at adult tennis classes and participated in many weekly doubles matches. Besides sports, his other passions included photography and woodworking. He shared his love of woodworking with a retired pediatric surgeon, one of his childhood friends, and their partnership produced many cherished pieces of custom furniture and wooden toys.
He was preceded in death by his wife Francie, and is survived by his daughter Robin, son Philip, and brother Robert. A celebration of life will be held Saturday at 11am April 5th at Plymouth Congregational Church.
In lieu of flowers, donations may be made to Seattle Music Partners, either online at seattlemusicpartners.org or by mail: Seattle Music Partners, 4533 Sunnyside Ave N., Seattle WA 98103.
---
Comments
Megan Kelso
Posted March 4, 2014 at 9:50 am
Robin and Philip -
your dad had a great life. I know you dearly miss him.
xo,
Megan
Ed Meyer
Posted March 5, 2014 at 10:59 am
Warren was an inspiration to me, professionally and personally, for most of my 34 years at Boeing. He will be missed.
Mark Catalogna
Posted March 6, 2014 at 1:14 pm
Robin and Philip,
I know you will miss your dad so much, but it
appears he had a very wonderful life and family
in you guys and your mother. Our prays are with
you both.
Mark and Susan
Louise Maier
Posted March 7, 2014 at 5:40 am
Phil and Robin,
Your dad was a wonderful man, deeply centered and calm in a way that quietly touched everyone in his presence.
I will always fondly remember him reading on the porch at Seacroft, in the hammock or around the corner in the quiet spot that he loved.
Love to you both,
Lou
Mindy Hume
Posted March 9, 2014 at 2:54 pm
Robin and Phil, this is a beautiful obituary for a wonderful man. Of course, my only memory of Warren is at Seacroft. I feel privileged to have spent time with him there last August. He will be missed.
Love, Mindy
Sheila Heen
Posted March 18, 2014 at 5:05 pm
As a longtime friend of Robin's, I loved hearing about her dad second-hand over the last two decades. Always a thoughtful word or kind deed, a patient smile, and especially some ingenious engineering fix to a nagging household problem. He gave you guys so many gifts of his attention and company and unwavering, quiet devotion.
Steve Waszak, MD
Posted March 23, 2014 at 4:43 pm
Dear Robin and Phil, You both know that your father was one of my best and dearest friends. It is hard to find words to express how much I miss Warren. But I know you understand this. Missing your father will be one of the things that brings us closer together in much the same way that he would bring his friends closer together whenever we were with him. I will never forget how kind he always was to me. He is a father to be very proud of. I will keep his memory in my heart always.
---
Comments Closed