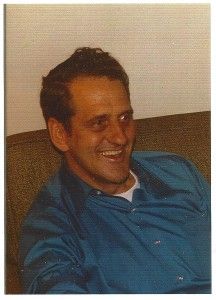 Wilson A. Barnes passed away peacefully at home on April 16th 2014. He was born in Seattle on June 29, 1920, the third child of Wilson E. Barnes and Mary (McCaughan) Barnes. He had four sisters, Helen, Jacqueline, Patricia and Margaret. Growing up in Seattle, he attended Sacred Heart and St. Alphonsus Catholic schools. Economic conditions of the Depression era, forced him to leave school at the age of 13 and work to help support his family by delivering telegrams and performing assorted odd jobs. As an apprentice at Charlie Minaglia's Downtown Garage, he learned his lifelong trade of automotive mechanic. In his early 20's he enlisted as a Merchant Marine and served honorably throughout the Second World War before returning to Seattle. During that time, he met and married Anne Kramer with whom he raised five children: Wilson, Maryellen, Patrick, Teresa and Brion. To support his family over the next thirty years he worked primarily in automotive repair at various locations. A dutiful son, he took both his mother and father into his home in their declining years. In the 1960s, he ran the repair shop for the Gray Top Cab Company and became an owner of three taxi cabs before retiring to private life. He had a life-long love of the outdoors and fished and hunted throughout Washington, Montana, Wyoming and Colorado for many years.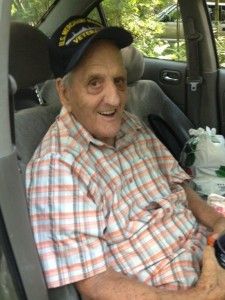 Wilson was an avid golfer and competed in amateur tournaments in Seattle. Football was another passion and he was an ardent supporter and season ticket holder of the Seattle Seahawks. After suffering a stroke, he lived at home supported by his daughter, Maryellen, sons, Bill and Patrick, daughters-in-law, Maura and Juliana and other family members. He dearly loved the sun and up until two years ago, he would take his wife, children and spouses, along with other family members for a vacation to Palm Desert. A proud patriot, on his 90th birthday at a family gathering, he was presented with his wartime medals by Commander McCadden of the United States Coast Guard. During the last year of his life, he was lovingly cared for by Ratu Waqetia, to whom the Barnes Family will be forever grateful.
Of the things he loved, his family was the most important. His devoted wife Anne, children, grandchildren, great-grandchildren, parents, siblings, and relations were the cornerstones of his life and he always worked hard to support his family. Dad was a loving father, devoted husband and a friend to all he knew. He shared whatever he had, whether time, talent or financial aid with not only his children but many in need. To his children he demonstrated and passed along important values, such as generosity, hard work, thrift, honesty, loyalty, self-reliance and unconditional love. Bless you Dad. We will miss you forever.
---
Comments
Maura Barnes
Posted April 24, 2014 at 7:06 am
I will miss you Wilson. You were always kind to me. I remember you singing to my babies, " Did Your Mother Come From Ireland and all the other beautiful Irish American songs you would sing when I was homesick. Thank you for all you have done for me and my Irish side of my family. You taught my children good life and work ethics. Gone but not forgotten
Charlotte King
Posted April 27, 2014 at 10:46 am
Anne-
This is Fred King writing for Charlotte King, a friend of yours from The Curiosity Shop. She sends her condolences and prayers to you and your family.
Rick Paylor
Posted April 27, 2014 at 5:40 pm
Dear Bill Jr. and family. Your family moved into our neighborhood after WW-II and after I turned 16 and got my first car your Dad was a huge support especially when I decided to put a 'souped-up' V-8 in my 1948 Ford convertible. He let me use your garage and all his equipment and tools for the project. He always had the answer for my vehicle problems and was willing to help me…no charge! I always appreciated it and we talked about it whenever I dropped by in recent years to reminisce about those 'good old days'. Sad to not be able to drop by this year and see him. My condolences to your Mom and Family. Rick Paylor
Ann Marie Berg
Posted April 29, 2014 at 7:09 pm
Anne and family,
So sorry to hear about Wilson passing away. My prayers and thoughts are with you and your family.
Love you,
Ann Marie
Ed Tobey
Posted May 3, 2014 at 4:55 pm
To all of the Barnes family,
I was saddened to read of the passing of Mr. Barnes. It has been awhile since I saw him, but I certainly have many fond memories of our neighbor from when I was growing up.
I was working at painting my parents house one summer, that three-story monster with a huge wall on the south side, along our shared driveway. The wood was weathered, and it was hot work. I needed to coordinate the use of the space with the comings and goings of the taxis that needed repair. Mr. Barnes certainly had stories to share to entertain me, and then set up some speakers so I could listen to the music from his tape. His one Eddy Arnold tape. Over and over and over and over. I probably could sing it all from memory still.
He also was supportive of my dad's building of the sailboat in our back yard. I remember hearing suggestions about how to get it out of the back yard and down the driveway when it was finished.
Mr. Barnes was also supportive of other neighbors, including Miss Peer, who lived on the other side of our house. As she aged, he helped enable her to continue to live in that house.
"This time and three more times will make four times altogether that I've done this." "Goodness, gracious, …., Agnes!" I still remember many of the things he said.
May God bless each of you. There will always be an empty spot now, but it will be filled with lots of good memories.
Leona LaPorte
Posted May 4, 2014 at 8:15 pm
On behalf of the Blanchet Class of 1961, we extend our most sincere condolences to the family of Wilson Albert Barnes. You are being kept in our hearts and prayers.
Linda Coley
Posted May 5, 2014 at 10:43 am
Dear Annie Barnes,
Sending sincere condolences your way. May God bless you and your family.
Sincerely,
Linda Coley
(an old YOCS co-worker)
---