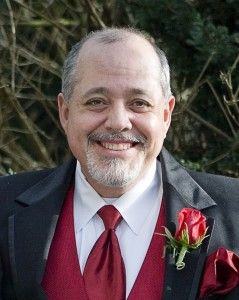 Age 55
Born Aug. 4th, 1958 in Los Angeles, CA to Clifford F. Davies and Lydia Davies
Scott passed away April 7th, 2014 in Seattle at the VA Health Care of Puget Sound after a courageous battle with end-stage liver disease. After many months of treatments, tests, meetings, and evaluations, he was finally placed on the liver transplant list July 5th, 2013. Tragically, a fast-growing liver cancer developed in the last few weeks of his life, and he went swiftly to be in the arms of Jesus!
He was a Veteran, serving in the US Navy from June 1976 – June 1980
He met Shelly Elaine Gunn in Winthrop, WA on Aug. 13th 1980; married Oct. 11th, 1980 in Twisp, WA and were Married for 33 wonderful, happy years! After living in the Methow Valley for a handful of years, they made Shoreline area their home, where they successfully raised their two wonderful sons!
He attended Shoreline Community College from Sept. 1985-June 1986 , receiving his Certification in Culinary Arts, eventually realizing his dream of becoming a Chef in the Seattle area. His most recent success in the industry was as the Executive Chef of Seattle's new Nordstrom's Flagship store for their Grand Opening in 1998.
In 1999, his life's journey took a different turn, and he became a proud member of the Local Union 440, where he learned a new set of skills, becoming certified in many other facets of the construction trade.
In addition to Shelly, he is survived by two sons: Seth Christian – 30 yrs. (Sara Miller Davies); and Samuel Caleb – 22 yrs. and 3 grandchildren, Hannah – 10, Aiden – 9, and Ebin – 4.
He is also survived by one sister, Cheryl Striepe and her husband Harald Striepe, niece Bryn and nephew Byron.
He is preceded in death by both his parents, and Shelly's brother, Kevin McGowan.
Please consider being tested for Hep C. It is a hidden disease and new drugs are available today – with more coming to market soon – making treatment shorter, more effective, and less toxic than the previous standard of care, even for those who already have cirrhosis.
Also, please consider becoming an organ donor. Organ and tissue donation and transplantation provide a second chance at life for thousands of people each year. You have the opportunity to be one of the individuals who make these miracles happen!
Memorial Service will held on May 3rd, 2:00 PM at 
 Elim Baptist Church, 2410 N 46th Street, Seattle WA. 98103
---
Comments
Allen Briski
Posted June 26, 2014 at 10:43 pm
I worked with Scott at the Holiday Inn in Everett and Sea-Tac and followed him to Nordstroms flagship. I have been trying to find him all this time because he was a mentor to me and it was him who inspired me to want to be a Chef. I really miss him and I am sad that the day I find him online only to learned that he has passed. I miss you and there Will always be a place in my heart for chef Scott Davies.
---