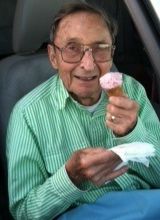 Richard Sacksteder, beloved husband, father, grandfather and friend to many, passed peacefully at home on April 10, surrounded by his loved ones. Richard lived every day of his 92 years to the fullest with joy, enthusiasm and humor. Richard was born on a snowy January 12, 1922, to Perry Oscar and Germaine Henrietta Sacksteder. His mother named him after Richard the Lionheart, whom she had read about as a girl in Belgium. He went by 'Dick' most of his life, but preferred his given name in his later years. Richard was born in Dayton, Ohio, eldest sibling to his 3 dear sisters, Jacqueline, Lois and Mary.
When Richard was 6, his father and a family friend decided to move their families west to Portland, Oregon. Off they went in two Studebaker touring cars, navigating from pole to pole across Montana, as the highway didn't go all the way through. Their friends settled in Portland, but Richard's family headed up to Seattle, his father eventually starting the Pioneer Products Company. The whole family, kids included, worked stirring cornmeal mush and making tamales. By high school, Richard was delivering fresh tamales to their customers before school every day. This prepared him for the busy life he would someday create with his future wife Barbara!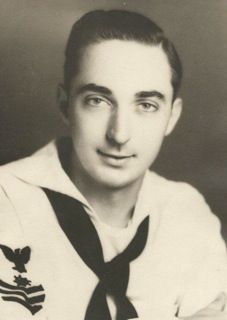 He graduated from Lincoln High School in Seattle in 1940 and attended the University of Washington. After spending a summer as an exchange student at the University of Oslo and in Geneva, he traveled with friend Hugh Brooks to North Africa where, among other adventures, they met author Paul Bowles in Algiers!
His studies were interrupted by WWII but, thanks to a 10-hour navigation course he took at the UW, he was assigned right away to a navigation post and served as Quartermaster aboard the USS Laurens. Although a peaceful man, Richard's Navy career was a very meaningful part of his life, and in later years he and Barbara helped coordinate annual reunions for surviving USS Laurens crewmembers.
After the war, Richard returned to school and met his future wife, Barbara Steele, in a folk dance group at the UW. During the summer of 1950 they and 11 other students led by Gordon Tracie toured Sweden and Denmark in a cultural exchange program, demonstrating American folkdancing (with one student, Bill Holm, demonstrating Native American dance) and falling in love with Skandinavian folkdancing. He, Barbara, and another dance couple, John and Marilyn, toured Europe by bicycle before returning home, again setting the pace for the extensive travel he and Barbara would do all their lives.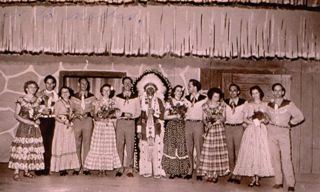 Upon return to Seattle, he and Gordon cofounded the Skandia Folkdance Society, which is a thriving Seattle institution to this day. He and Barbara married in 1951 and had 6 children together – Randi, Liv, Colette, Denise, Lane and Annette. Sadly, Denise died just before her first birthday due to a congenital heart defect. Richard happily spent his career in the Shoreline School District, starting as an elementary teacher and principal, and eventually becoming the district's first Director of Instructional Materials, creating a first class audio-visual and instructional resource department for teachers. His children also greatly benefitted from what they considered their personal resource library during their school years!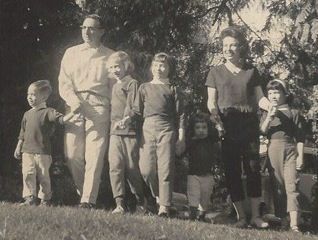 Outside work, he kept busy throughout his life remodeling their small home to accommodate their growing family and many hobbies. Richard was incredibly creative but never thought of himself as an artist. You would disagree after viewing his totem pole carvings, oil paintings, stained glass, photography, lathe-turned pens and bowls, hand-built guitar, and the personalized lunch bags he drew for his children. He loved music and took up classical guitar as an adult, serving for many years on the Board of the Classical Guitar Society. He and Barbara continued their lifelong association with the Skandia Folkdance Society and danced with their friends well into their 80's.
Richard was a cheerful and playful father, drawing stars and moons on his kids' palms in ink, musically illustrating bedtime stories such as The Three Bears on his guitar, telling Rane Stories in which the kids all had alter-egos (Landi, Riv, Rolette and Ranette – Lane being the only boy got star billing as Rane!) He built sand boxes and swingsets, made Tooth Fairy and Birthday Fairy trails, endlessly flipped one after another of his kids, their cousins and friends over his head while lying on the living room floor, and made everyone laugh at the dinner table despite Barbara's attempts to teach table manners. He had a love affair with ice cream and would literally unwrap the block of ice cream and slice it into 6 pieces (Barbara wasn't a fan after working in an ice cream parlor during college!) before settling with the family to laugh over a favorite TV show like Get Smart or Rango.
After retirement, he and Barbara traveled extensively in Europe and Asia, making friends everywhere they went. They lived in Taiwan teaching conversational English to high school students for six months. Back home, they opened their home numerous times to international students and friends. In 2002, one of Richard's dreams came true when he, Barbara, their 5 children, several spouses, and 4 grandchildren traveled to Belgium and France together, visiting his mother's birthplace and family. Richard and Barbara spent many weekends, year-round, at their summer property on Samish Island, where they had honeymooned.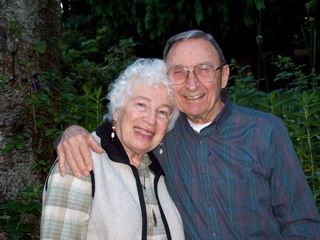 Right to the end, Richard had a genuine curiosity about life and others, his favorite question being, "So what are you doing for fun these days?" On the day of his passing, his family lunched at his favorite Chinese restaurant and opened a fortune cookie in his memory. It read, "Tomorrow will be a good day for trying something new." Undoubtedly, he is enjoying whatever new adventure he has moved on to! Richard will be greatly missed by many.
Richard is survived by his wife of 63 years, Barbara, daughters Randi Olson (Neal), Liv Greene, Colette Sacksteder (Michael), and Annette Sacksteder (Sanoe), his son Lane Sacksteder, his grandchildren Aislyn Greene, Aleia Greene, Erik Olson, Lucas Olson, Sequoia Johnson Sacksteder, Christian Sacksteder, Aaron Sacksteder, Angel Jacoby, Eva Jacoby, Allen Jacoby, and TJ Jacoby, his sisters Lois Marion and Mary Markley, and numerous cousins, nieces, nephews, and friends.
In Richard's memory, please live life fully and with joy, learn, travel, and do many kindnesses for others. In lieu of flowers, donations may be made in his name to the Skandia Folkdance Society, Seattle Classical Guitar Society, or any foundation that encourages and facilitates learning and travel, especially for children.
A celebration of Richard's life will be held on Sunday, May 18, 2014, from 1pm – 5pm, at the Edmonds Senior Center, 220 Railroad Ave, Edmonds, WA 98020, (425) 774-5555
---
Comments
janet seymour olson
Posted April 14, 2014 at 6:01 pm
Mr. Sacksteder was a favorite teacher of mine, in 8th grade in Arlington, Wa, in 1952.Then the Jr. High in Arlington was in an old three story building, and if I remember correctly he was the only male teacher in a staff of long-time women teachers. It couldn't have been an easy year. He was also my first male teacher, and I enjoyed his fresh approach to learning.
When I was taking Ed. classes through Seattle Pacific in 1961, I took a summer class in Shoreline District, and Mr. Sacksteder taught a session. I introduced myself to him as a former student. He graciously chatted with me about that Arlington year, What a pleasure it was to see him again. I graduated from SPU in 1961, and my husband and I both taught school in Wenatchee, Wa. where we live.
I am so sorry for your loss. He was a wonderful father. Your account of his life tells of his life long teaching and learning, to his children and to so many others. I am grateful to have been one of his students.
Sincerely, Janet Seymour Olson
Gloria Bowers Kraft
Posted April 21, 2014 at 11:04 am
Sorry about your loss. I grew up believing and still do that you were a wonderful family and Dick was a man to be admired. My father, who respected few men, placed Dick above himself and next to Scoop Jackson. My condolences to the whole family and I do remember those precious little girls from many school functions and enjoyed reading your Christmas newsletters as they grew up.
Barbara Monks
Posted May 15, 2014 at 10:53 am
Our children all attended Hillwood School and
Dick was a very fine principal. I also knew him when working on the Shoreline Historical Museum. We now live in Poulsbo, WA
Michele Ohge
Posted May 15, 2014 at 7:10 pm
my condolences. I'm sorry that I will not be able to attend the memorial. Hugs to all.
Paula Jones (Dahl)
Posted May 17, 2014 at 7:13 am
I also attended Hillwood Elementary and have a picture of Dick, Miss Breuer (my first grade teacher), and myself in front of the school, after being the 9,000,000th person at the Seattle World's Fair. He was a very sweet, kind, and friendly man with a great laugh I remember. I went on to become a teacher too and coincidentally my first teaching job was at Hillwood teaching third grade. When Hillwood closed I moved to Syre Elementary. After staying home with our two children I went back to teaching in the Issaquah School District, where I currently teach 5th grade. Your wonderful tribute to him truly illustrates what a special man he was. Thank you for giving us a walk through his very full and lovely life. My sincerest sympathies to your dear family.
---
sinceres condoléances s est avec beaucoup de peine que nous avons appris le décès de dick nous sommes en retraite et s est en tapant votre adresse que j ai eu ses informations .depuis votre dernier passage nous pensons très souvent à vous un lien de famille avec Dick et votre famille J espère recevoir une réponse de votre part bon courage à vous je vous embrasse famille eble perrin
---