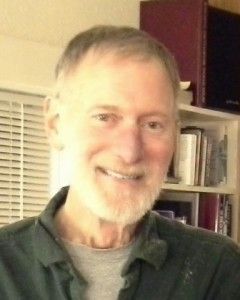 Eugene Arthur "Art" Daughters, Jr., 69, passed away April 30th in Seattle, with his loving wife Judy at his side.
Art was born at Walter Reed General Hospital in Washington D.C., November 3, 1944. After World War II, his parents, Margaret Stiles Daughters and Eugene Daughters Sr., brought him home to Seattle.
Art was a graduate of Queen Anne High School, class of 1962. He earned a Bachelor's Degree from Whitman College in 1967 and did graduate work at UCLA.
Art is survived by his wife, Judy Ensign Daughters, two sons, Peter Erickson and Patrick Daughters, stepdaughter Heather Fitzstrawn, brother John Daughters and sister-in-law Cathy Lykes, and sister Helen Minahan and brother-in-law Mike. He was preceded in death by his brother David. Art's wit and wisdom will be greatly missed by all who knew him.
                                                               A memorial gathering will be held at a later date.
                                                               Remembrances may be made to Northwest Harvest.
---
Comments
John Daughters
Posted May 10, 2014 at 11:36 am
SOMETIMES WHEN YOU SMILE
OUR FAMILIES HUG
SOMETIMES WHEN YOU LAUGH
OUR PEOPLE HOLD HANDS AND DANCE
AND THE LOVE WE ALL HOLD
IS SHARED AND GROWS
TO SPREAD WINGS AND ENFOLD US ALL
– Art Daughters
John Daughters
Posted May 10, 2014 at 11:49 am
To me Art is still a boy. I was in high school when he was born, and being our family's first grandchild we all doted on him. He was adorable and of course brilliant. We all marveled at everything he said or did as he was truly exceptional.
He had such a sharp sense of humor – always made me laugh. I shall miss him greatly.
- Aunt Ellen
cathy lykes
Posted May 12, 2014 at 6:15 pm
Art was my brother-in-law but I always called him my brother. He meant that much to me. We shared many hugs and many laughs through the years. He was an intelligent man with a keen sense of humor and I will miss him so very much.
Heather Fitzstrawn
Posted May 12, 2014 at 9:47 pm
I have too many memories of Art to share here.. But the most prominent being when he and my mom first met. He would ride bikes with me, REALLY fast down small roads in Port Orchard where Mom and I lived at the time. Or let me go to work with him in his Semi and I would sit on the "Dog House" and we would eat bad food in Tukwilla. Last but not least, WAY before he taught me to drive, we would do donuts in his beloved Sirocco in the snow, unbeknownst to Mom..
Silly but good memories of letting caution to the wind and youth . He was a great and loyal father and husband.
Susan Shih
Posted May 14, 2014 at 7:36 am
Mark and I used to bump into Judy and Art in various places in West Seattle. Our sons, Patrick and Gregory attended a few years of school together. Art always, always had a book in hand, quite an intellectual. I see he graduated from Whitman, where Gregory also went.
Andrea Hayford
Posted May 14, 2014 at 11:09 am
While attending a history class at the senior center with my dear friends, John Daughters and Cathy Lykes, I got the chance to spend time with John's brother, Art. Art had a low key but wickedly droll sense of humor and wonderful smile. He was a very kind man and it was a privilege to spend time with him. My sincere condolences to his entire family. Andrea Manolides Hayford
Bill Scarvie
Posted May 14, 2014 at 9:57 pm
It's a summer Saturday night in 1965—the night before the big Seafair hydroplane race. Art and I planned to watch the race on TV, but our plans were in jeopardy. We hadn't laid in a stock of beer. Washington blue laws prohibited alcohol sales on Sunday. Watching the race without beer was out of the question. What to do. Desperate times call for desperate measures.
New plan: We'd drive to Portland, buy the beer, and drop in on my college roommate, Dan, who lived in Beaverton. It was perfect. The race would be on KING 5, which was part of a three-station network: Seattle, Spokane and, most importantly, Portland. Surely the race would be simulcast on all three.
Off we went. Four hours later we arrived unannounced, beer in hand, at Dan's door. He and his parents graciously invited us in to watch the race. We settled in, cracked open beers, turned on the TV, and dialed in the sister station. The race was scheduled to start shortly.
We waited. The starting time came and went. No race. The Portland station wasn't broadcasting the race. Inconceivable! My fault. I blew it.
Art was his usual easygoing self. We laughed it off, finished our beer and headed back to Seattle.
There's no moral to my story. Just a fond memory of two friends having a good time.
Rest in peace my old friend. I'm holding your family in my heart.
Barbara Amies Lyons
Posted May 15, 2014 at 7:29 am
Thank you for sharing memories of Art as a grown-up! I always admired him in my senior English class. Why he wasn't in honors English, I'll never know! I'm so gratified to hear that he had sons, a wife, a step daughter, and a loving family. Those things are a reward for a good life!
Naima Peterson
Posted May 15, 2014 at 9:25 am
Art was a wonderful person, always offering a smile and a hug. He has been called home and is smiling with his new teeth down on us everyday. Thank you Art.
Malayka Young
Posted May 15, 2014 at 5:05 pm
"The life given to us by nature is short, but the memory of a life well spent is eternal."
May Art's memory live on through the love of his family and friends. We will miss your quiet wisdom and infectious smile.
Lee Stiles
Posted May 19, 2014 at 9:37 am
I am so sorry to read of Art's passing. He was my oldest cousin, I saw him from the opposite viewpoint of Aunt Ellen. His sharp wit, intellect and physical size and strength were all a little intimidating. A perfect oldest cousin! Connie and I hope to join the memorial gathering! Wishing his family peace.
---