Dale E. Johnson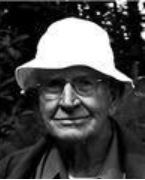 Dale E. Johnson, 86, a longtime resident of Yakima, passed away Wednesday, February 9, 2011, in Seattle, WA.
Dale was born in Klamath Falls, Oregon, on April 23, 1924, to Sidney and Pansy Johnson. He attended Klamath Union High School and was enlisted in the U.S. Army from 1943 to 1947 as a "Replacement" soldier for the 102nd Infantry. He was a rifleman and investigator in both Germany and Belgium. 
He attended the then named Washington State College on the G.I. Bill and graduated with a bachelor's degree in Entomology.  Dale met the love of his life, Charlotte, in a college dance class. Dale wooed and won Charlotte's heart with his charm, persistence, and No. 2 pencils, they married during spring break on April 4, 1949. After college, Dale and Charlotte moved to Yakima in 1951, where he worked as an Entomologist for Farmers Supply, Snokist Growers, and Washington State University Extension Program, and as a private consultant for many fruit orchardists in the Yakima Valley.
Dale was a lifelong learner and had many interests, including place names of the Northwest, nature, animals, and insects, and had a special fondness for butterflies. He was voraciously curious and interested in life. He was kind, gracious, and respectful of everyone he met. Dale kept a daily journal his entire adult life and made entries to the end. He loved living in the Yakima Valley. He enjoyed traveling to Klamath Falls in order to visit his family and to honor his mother and father. He and Charlotte also enjoyed traveling to the Oregon and Washington coasts until he could no longer make such long drives. 
Dale joined the Unitarian Universalist Church of Yakima in 1953, where he participated, and volunteered for numerous activities enthusiastically for many years. He was a longtime Democrat and avidly worked on local, national and Washington State campaigns and initiatives, and was a lifelong supporter of the American Civil Liberties Union. As recently as a few years ago, his picture was in the paper along with other fellow Peace Activists at a rally in Yakima. 
The most important thing to Dale was his wife, Charlotte, and her well-being and his three daughters. Dale was a devoted husband and father and leaves behind his wife, Charlotte of 62 years, daughters Rebecca H. Johnson and Pamela H. Johnson, both of Seattle, daughter Laura H. Johnson, son-in-law Sultan Mohamed of Seattle, and sister Maxine Hicks of Klamath Falls.
He was predeceased by his father and mother Sidney and Pansy Johnson and his brothers Hoy Johnson and Dean Johnson.
A private service will be held at a later date. Remembrances may be made to ACLU or the Unitarian Universalist Church of Yakima in Dale's memory.
---
Comments
---