William Fuller Rollo Kaye
December 4th, 1946 - August 17th, 2017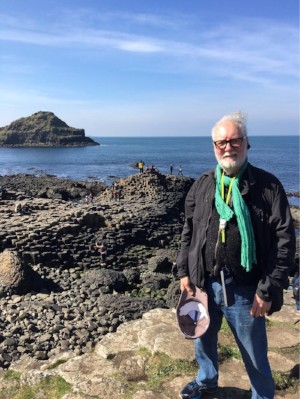 Bill Kaye, beloved son, brother, uncle, nephew and cousin of the John and Ruth Kaye family, passed away in the Capital Hill community of Seattle. A career social worker and mental health case worker in downtown Seattle's Frey apartments, he worked for the Catholic Archdiocese of Seattle community services outreach and the Plymouth Housing group.  Through these organizations his passion for giving back was fulfilled.    Bill was understanding, compassionate, friendly and gifted – he had many friends from all walks of life in Seattle.  In his many years in Seattle, he was a resident of Queen Anne, Ballard, North Seattle, and Capitol Hill.    Attending Woodrow Wilson High School in Washington, DC, he became a mathematics whiz and subsequently enrolled in Carnegie Institute of Technology.   In 1968, he joined the Army and went to Vietnam, serving in the Central Highlands of South Vietnam as a member of the 4th Infantry division.  He received a bronze star for valor.  The next years eventually led him to Reno, Nevada, where he enrolled in the University of Nevada Reno as a music major.  Upon graduation, he left Reno for Seattle where he began his career working in small jobs, eventually leading to his career in social work.  He was a Mac computer tinkerer, and was a contributing editor to "macworld".   In these early years in Seattle, he joined the Mennonite Church with his beloved Peggy, who died in 1989.   He was always giving back, helping family and friends whenever they needed it.    His parents John and Ruth Kaye came to live in Capital Hill, and he moved close to be near them.    In 2003, John passed away and he supported Ruth until she moved back east to be near his Brother Ted's family.    Bill was an advocate for social justice and supported many causes.  He was compassionate with the plights of the poor in Central America, and traveled with veterans groups and by himself to El Salvador and Guatemala.   He went to Vietnam in 1996 and traveled by road from Hanoi to Ho Chi Min City.   Other amazing adventures included traveling from Beijing to Moscow on the Trans-Siberian railroad,  Canada, Ireland, Egypt, Jordan, Europe, Ecuador, Galapagos Islands, Peru and several US cross country trips visiting out of the way places in the Northeast, South East, and his most favorite, the beautiful northwest.  Bill was a dedicated member of the Seattle International Film Festival, Veterans for Peace, and numerous Vietnam veteran affiliations.
To know Bill was something special - he was a great listener and sympathized with whomever would be telling him their stories.  He was funny and laughed at himself!  "Goog", a nickname that stuck from his days in Italy as a kid, could recount every detail of a story, and laugh as if it was new!  His family was very important to him.  He treasured his expanding family circles, and you were lucky to have Bill suddenly show up or trek across country just to see you.   He was the rock to so many people, but never desired anyone to look after him.  He was the handyman to his condo mates, trusted friend and enabler to his Carnegie Mellon fraternity brothers, problem solver for his Mennonite clan, close confidant to his Vietnam veteran friends and family, and a stalwart of his men's movie club group.
Bill leaves behind his mother, Ruth Van Hoosen Kaye, a brother, Ted Kaye, sister-in–law, Debbie Kaye, a nephew, Andrew Kaye, a niece, Sarah Kaye Johnston, 6 great nephews and nieces, an Aunt, Carolyn, and many, many cousins!
Bill would wish everyone peace and love, and he will be sorely missed.  May God Bless you Bill Kaye!
Donations in lieu of flowers can be sent to Low Income Housing Institute.
---
Comments
Bill Kaye, and my husband Bill Distler, were dear friends for many years. They both were Vietnam Veterans, film lovers, and spent countless hours discussing world events. Last November, both Bill's traveled together to Standing Rock, with a group of Veterans, it was a life changing trip for both men. It breaks my heart to have lost my own husband, Bill Distler very suddenly this past June. Bill Kaye, of course, attended his funeral. To lose Bill Kaye, two months later is deeply, sad. The comfort I do take, is thinking of them together, carrying on their conversation's that they loved, sipping coffee, and watching the ultimate film... Us, with all our love, angst, joy, pain, fear, and hope! You are missed.
Lisa Distler
---
French Leger and I send our condolences to Bill's family and community of friends. He was a welcome visitor after we moved to southern NM and were homesick for Seattle. I remember hiking with him through the White Sands dunes. He helped us prepare for our 2013 trip to Viet Nam, having gone on a tour there himself, several years earlier.

In Seattle, we looked forward to seeing him at Steve and Brooke's parties. Bill and I were both social workers and SIFF devotees, so we never ran out of things to talk about. During the past three years, he often joined French and me at Olympia Pizza on Capital Hill to watch Cleveland Cavaliers basketball games and eat "happy hour" pizzas.

Bill was a gentle-man who was compassionate towards the dispossessed, respectful of women, dedicated to peace. We will miss him very much. Bill Kaye, Presente!
    
Ruth Sabiers, Santa Fe, NM
---