Sylvia Nussbaum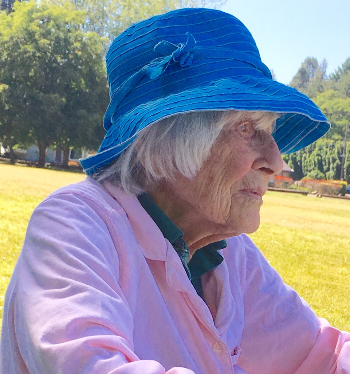 Sylvia Nussbaum died on Friday January 25 from a viral respiratory infection.   She was born in New York City April 10, 1918, to Sol and Sarah Robbins, Jewish immigrants from Russia.   She grew up in the Bronx and Brooklyn, graduating in 1936 from Hunter College, followed by an MSW at Tulane University.  Returning to New York, she met Jacob Nussbaum at a social work conference and they married in 1943.   Her sons Berl and David were born in 1945 and 1948.
She was a social worker in the New York City school system from the 1950's to the late 1970's.  She was smart and organized,  focused on what she could do for each child,.  Her husband Jack was a private practice clinical psychologist.  After retirement she and Jack lived in Florida and New York until they moved to Seattle in 2002 to be near their son Berl.   Jack died in 2011.
Though their working life was in the city, Sylvia and Jack shared a great love for the outdoors and for walking and hiking. In Manhattan they strolled daily in Central Park. In 1962 they purchased a former dairy farm near New Kingston, NY, where they spent summers and weekends over three decades, hosting friends and family, walking in the Catskill Mountains and reforesting the hillside.  Later, they found a succession of unconventional offbeat beautiful places close to nature to reside and walk.  During the winter months through the 1980s they lived in a trailer campground in Key Largo, Florida, close in the mangrove and just feet from the water.    Sylvia did yoga in the mornings and walked miles with Jack on the flat backroads nearby.  They spent  spring and summer in New York City, Ashfield MA in the Berkshires, and Shirley, NY, a stone's throw from the Fire Island National Seashore.
Sylvia's great devotion was the raising of her sons and the lifelong support of her husband, the great love of her life. Jack, a great story teller, kept her laughing for many, many years.  They traveled the nation and the world in adventurous ways throughout their lives.
Sylvia was very close to her New York area family.   Her prodigious memory and affection made her a natural if self-appointed hub, too, of her extended family.   She opened her Manhattan apartment, and her New Kingston home,  to uncles, aunts and cousins from all over the world and maintained contact with them for years.  She had an extraordinary ability to remember details of their lives.  When she and Jack traveled she enjoyed not the just the man-made and natural world, but family: in the US, Argentina, Brazil, Israel, England and Russia. 
She was a literate, articulate woman, deeply interested in the world around her and widely read.  She loved to laugh and had a subtle, often ironic sense of humor.   Her love of Yiddish and Jack's prodigious talent and broad knowledge of it added a dimension to her life and laughter. Sylvia took great joy in preparing food for family and friends, and passed that joy on to her children and grandchildren. She knitted for her whole life, producing beautiful sweaters and as her vision declined, dozens of hats she gave to family, friends and helpers. 
While her deafness grew in her last decade, the online New York Times, email, Skype and Facetime were her windows on the world till her final days.     She was an intrepid user of her Mac computer, undaunted by technology, and would spend many hours if necessary to make an application work and to understand it.  
Sylvia is survived by her brother Norman and his family, and by her sons and their families.
---
Comments
---