Gary Lynn Breitenbucher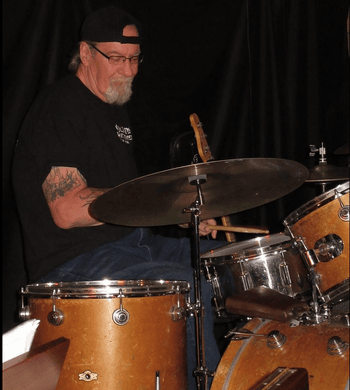 Gary Lynn Breitenbucher, a son, our brother, a father & grandfather departed this world early Christmas morning, December 25. 2021.
He was the eldest son of Jack & Ruth Breitenbucher born October 13, 1952, in Seattle, WA.
His parents moved to Mt. Vernon, WA. from Seattle when Gary was young. In-between a move to Chicago, IL, he would grow up in the Skagit Valley where he would live most of his life.
He attended Mt. Vernon High School & Skagit Valley College where he discovered his passion for music and along the way gathered many musicians with the same passion. He opened up our teenage world to the music of Savoy Brown, CSNY, YES, Cream, Jimi Hendrix, Queen, Led Zeppelin and many more bands of that era.
Gary had many passions in his life, his music, Harley Davidson motorcycles and his family of friends that he gathered along his journey. His talent for music, mechanics and making lifelong friends came naturally to him. He may have even performed your marriage ceremony.
He was a self taught, accomplished drummer from a young age when he brought home a red snare drum / cymbal kit. As his talent grew he would go on to play with many bands either by joining or self made. He played & traveled with Randy Bachman of BTO (Bachman-Turner Overdrive) for several years, was a regular at many of the local Blues festivals. In September you could always count on Gary to host his annual Oyster Run festivities for all of his friends, their bikes & his family.
Gary was most proud of Gary B's Church of Blues which gave many talented musicians a place to jam, meet up, improvise and enjoy many styles of music.
Gary created a lifestyle that he lived by. If you were his friend he loved you with his whole heart always greeting you with a huge hug and a story. Gary lived and departed this world on his own terms. He wanted everyone to know that he loved them, that he was richer for having shared music, laughter and adventure with all of you.
And if you listen very hard
The tune will come to you at last
When all are one and one is all
To be a rock and not to roll
Gary was preceded in death by his loving parents Jack & Ruth Breitenbucher. Gary is survived by his son Kory Breitenbucher, daughter Madison Vanderhouwen and granddaughter Aurora. Brother Jeff Breitenbucher and sisters Denise Breitenbucher and Sandra Tate and nephew Vance Tate and best friend Buster Brewer.
---
Comments
The significance of "Gary B's Church of The Blues" cannot be overstated whenever there is a discussion of music culture in NW Washington. Tracing its origins to the mid-1980's, Gary B and Laurette Langille and Andy Badd Dog sowed the seeds for an enduring Jam that snowballed from Fairhaven to The Buffalo to The Dakota Creek Roadhouse in Whatcom County before rolling through Evelyn's, Moe's, The Castle, FUBAR and The Conway Pub in Skagit County. At this point Gary's health began to decline and Jeffery Morgan took the Jam to The stump in Arlington. This is not to mention the numerous "spinoff" jams that came and went. It is also important to mention that The Mount Baker Rhythm and Blues Festival seemed to be an annual "Pro Bowl" held as an "after hours jam". As a result, the friendships, marriages and the bands that were formed over the years is a VERY long list. and includes five NW Counties. I even reconnected with musicians I hadn't seen since the 1970's. No doubt, Gary was a cranky old fart, but if he took a shine to you, it was golden. I'll miss you Gary. You were good to me.
- Tim Maloy
---
A well remembered student and friend. I will miss connecting with him and his music. Denise and family...my deepest sympathies.
- Mark Pearson
---
Absolutely one of the best people i have ever met moved up there from Texas and always felt like family when you were around Gary B prayers sent to the family
- Bryan Dykes
---
Thank you for sharing your talent, your stories and your friendship. Drum on brother, Gary B.
- Dano
---
Sandra and family I am so sorry to hear of your devastating loss. The obituary was beautifully written and gives me insight into your brother. He was his own man, like you Sandra your own woman. Please accept our deepest condolences sending prayers that God will bring you and your family peace. Love you Dusty and Quintin.
- Dusty McMillan
---
Such a beautiful message … my heart goes out to you Denise, Sandra and Jeff. We all have such great, cherished memories as our parents we not just related, but best friends too! Who could forget the Monopoly games? Or the times with our trailer? I am so grateful for the memories and that I call you cousins. Mere words certainly can't take away the sting of death, but we can band together in the wonderful memories we've shared in life. This message comes with so much love ….. Debbie
 
Debbie Reece
---
Loving condolences to Gary's family and friends. He was truly one of a kind and will be missed.
 
Leslie Speedy
---
Sorry for your loss Denise and family. May Gary rest in peace.
 
Linda Walde-Wood
---
B will be missed, that smiling face the great attitude on and off stage will always be a fond memory as long as I live.

John Malone
---
I remember first meeting Gary in the mid 60's, he was a kid standing by the stage at a Mount Vernon YMCA dance. Standing there in his jeans jacket watching the drummer. From there on a good time was had by all, much due to Gary promoting it! RIP big guy.
 
Craig Adams
---
We lost a brother, but heaven is lucky to have him. Rest In Paradise my friend!
 
Michael Shyra
---
He was a great man and friend always joking and playin with smile. It was an honor to play with him and the band. May peace be with you.
 
Richard King
---
The Huff's send there love and prayers to all of Gary's family and friends .... He will truly be missed ... I will miss his hugs and sitting on his lap .... RIP my friend !!! <3

Fawn Huff
---
Gary surely be missed! He truly loved with all his heart and had a heart of gold! Ride In Paradise Brother! Until we meet again I love You sweet man ❤️
 
Karen Milton
---
My Big Brother Gary.
The Bear.
Grumpy Old Sum Bitch.
My Friend...
May The Winds Guide Gary Safely Home......
 
Pat Ailles
---
Will hear you playing when I see you again cuz.
 
Terry reece
---
My Life Long Bro.
We used to joke about never stealing chops only borrowing them from each other. Brother Gary B,
I borrowed as much from you as you ever did from me. Love you forever my man. Sorry I didn't get to visit in the final days. Peace out GB
The other G
 
Grant Springer
---
Gary certainly made his mark. He always had a smile and hug ready. He was a generous musician, and it was an honor and pleasure to know him. He will be missed.

Andy Brown
---