Florence "Flo" Kelton Lentz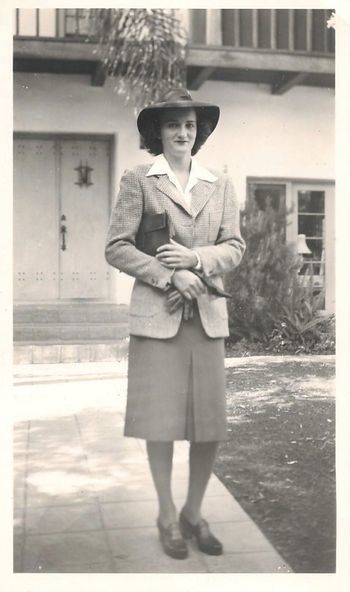 August 1921 – December 2021
Florence "Flo" Kelton Lentz passed away on New Year's Eve at her home in Seattle Washington, after celebrating her one-hundredth birthday just months before.
She is survived by her four children, Libby Lentz Davison of Tucson, Flo Lentz of Seattle, Barb Lentz (Steve Ashorn) of Reno, John Lentz (Shelley Lentz) of Whitefish MT, nieces Eileen Kelton Thorning, Christine Nelson Kramer, six grandchildren (Chris, Jen, Laura, Cap, Merritt, and Rachael), and two great grandchildren (Michael, Samantha).
Flo was born into an Army family (Corps of Engineers) at Fort Belvoir VA, and spent her childhood in Ithaca NY and Memphis TN. At the age of fifteen, she sailed with her family to the Philippines and China, where travel and life on an Army base broadened her world view.
Flo enrolled at Bryn Mawr College in 1941, and majored in Economics. In her senior year, she was invited to complete a top-secret college class in cryptanalysis, and then worked as a "Code Girl" in Washington, D.C., for the U.S. Navy through the rest of World War Two. Her job was to help decode intercepted messages from Japan. During her time in the Navy, she met her future husband John Merritt Lentz and followed him to his hometown of Marysville OH, where she was welcomed by his family and friends.
In Marysville, Flo taught her four children to read, swim, sew, play croquet, and love the outdoors. Every Christmas meant a new book. To her children she whispered, "There's a big world out there, go find it!"
For over twenty years, Flo taught second grade at Edgewood Elementary. She valued community service, started the first Girl Scout troops in Marysville, was active in Presbyterian Church groups, and supported the Carnegie Library and the Municipal Swimming Pool. There she met her closest friends – together affectionately known as the Ladies of the Pool - every summer day for decades.
In 1986, after the death of her husband John, Flo drove with her brother Ed Kelton cross country to Seattle WA to start a new chapter in her life. She loved Seattle and the Pacific Northwest. Here she continued to contribute her time - as a ranger at Discovery Park, an officer at Magnolia Presbyterian Church, a board member of community organizations, a member of PEO, a tutor of English to refugees, and an active member of Bayview Retirement Community well into her 90s. On one project, Flo interviewed her fellow World War Two-era residents and published a compendium of oral histories for the entire community to enjoy. For years, Flo volunteered as a poll worker, her final time for the election of President Barack Obama in 2008.
Flo loved to travel, especially through the Western states and National Parks, and had a particular fondness for Glacier National Park, near her son John's family. She never shied away from exercising – hiking, kayaking, or combing the rugged beaches of Washington State, and always maintained a healthy lifestyle. She was an avid reader and kept mentally sharp with crosswords, jigsaw puzzles, sudoku, and card games.
For a long time, Flo maintained contact with all her grandchildren and great grandchildren. She even took to Facebook in her late 80s. She always embraced the partners of her loved ones with open arms, and knew the names of best friends and neighbors. She had a wry wit and a way with words, sometimes penning limericks and always maintaining a prolific correspondence with family and friends nationwide.
Flo's family and friends will forever miss her positive attitude, cheery demeanor, her compassionate heart, sense of humor, and love of life. It was sweet to spend time with Flo. She will be truly missed.
A memorial service in Seattle will be scheduled for the Spring.
Donations in Flo's name may be sent to the Magnolia Presbyterian Church at https:// www.magpres.org/online-giving.html or the Bayview Manor Foundation at https://www.bayviewseattle.org/about-us/bayview-foundation/donate/
Submitted by Laura Peterson - San Juan Capistrano, CA
---
Comments
Beautiful life, and a lovely collection of photos. She held the family together with love for all. Thanks for sharing these stories.
- Libby Davison
---
---