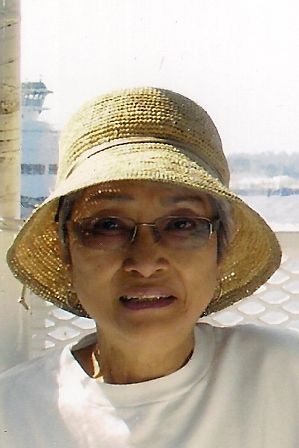 Tomiko Pauline Okano passed away peacefully on March 28, 2014, at her home in Seattle. She was born on July 3, 1936, in Hood River, Oregon, to Masaji and Haruko Kusachi. The fifth of seven children, she was almost 6 when she and her family were incarcerated during World War II, as part of the Government's plan to remove Japanese Americans from the West Coast . The family spent the war at Tule Lake, California, and Minidoka, Idaho. While they were in camp, an even more personal tragedy struck—Tomi's mother passed away.
After the war, she and her family returned to Hood River, where her father had a farm and an orchard, and the family would often go fishing in the Columbia River. One of her fondest memories was of sitting in one of the fruit trees during the summer, eating a big, perfectly ripe peach.
Tomi graduated from high school in 1954. Majoring in Foreign Languages, she graduated with Honors from the University of Oregon in 1958.
Tomi moved to Seattle where she worked as the cashier at Liberty Bank in the Central District for several years.
In 1971 she married a widower, Philip Okano, and moved to his home on Bainbridge Island. Always interested in seeing the world, she became a travel agent, working at a travel agency in the downtown Bon Marche and at Island Travel on Bainbridge. She and Phil had a good time traveling all over the world, including when she organized and led a bus tour to Japan that included family members and friends from Bainbridge Island.
Tomi and Phil also restored a Japanese tradition: making mochi at New Year's. Family and friends would gather at Phil's dry cleaning shop, where the rice would be cooked using steam from the dry cleaning equipment. Then it would be pounded in a Japanese mortar with wooden mallets before being shaped into smooth sweet rice balls. This event subsequently evolved into the famous Bainbridge Island Japanese American Community's annual mochitsuki.
Unfortunately, the marriage did not last, although Tomi would continue to remain close to both of Phil's children. In 1987 she went to Japan to study Japanese and teach English, a job she would later call "the most enjoyable and satisfying work I've done." While in Japan, she suffered her first bout with cancer.
Returning to Seattle in 1991, she bought a small condo in the Eastlake area. She started working as a travel agent again, this time for Gutmann Travel Service, near Sand Point in Seattle. She continued to travel as much as she could. Unfortunately, cancer struck again, but again, she beat it.
Upon retirement, Tomi continued to live an active life. She enjoyed tai chi and took Japanese calligraphy lessons. She volunteered at Kokoro Kai, an adult day care run by Nikkei Concerns. She took field trips through Nikkei Concerns and regularly went out to lunch with a group called the Lunch Bunch. She tutored immigrants in English as a second language. She was active at the Buddhist Church, volunteering to help out in the kitchen at such events as the annual Bon Odori. In addition, she was a talented artist.
She could often be seen at the University District Farmers Market, shopping for farm fresh vegetables, fruits, and flowers. She was a big Mariners fan and enjoyed going to the Seattle Symphony. She continued to travel – her last trip was to Bali in Indonesia.
Unfortunately, cancer struck again and this time, she couldn't beat it. Her family is especially grateful for the excellent care she received from The Polyclinic and, at her retirement home, from the wonderful staff of Merrell Gardens at First Hill and Providence Hospice.
She is survived by her six siblings, Kimiko Calhoun, Sadako Uyeda, Fred Kusachi, Sachiko Kusachi, Mutsuko Thomas and Seiko Kusachi; her two step-children, Pamela Okano and Mike Okano; nephews Stephen Uyeda and Peter Eng; a step-granddaughter, Christine Pugh, and Christine's 3 children.
A service in celebration of her life will be held at the Seattle Betsuin Buddhist Church, at 1427 South Main, on Sunday, April 13, 2014, at 2:00 pm.
---
Comments
Jane Conrad
Posted April 6, 2014 at 2:34 pm
I knew Tomi for about 6 months, as her real estate agent. I grew very fond of her and her sisters, what a great group they were! She was a lovely person, always kind. Ienjoyed my many visits with her, and am very sad that she is gone. Thank you for writing such a wonderful article, there were so many things in there I didn't know about her. We had a good laugh over the fact that when I tried to mention her in texts or emails, Spell Check would always make her name "Tomato". I will remember, and miss her, very much.
Sheila Trumbull
Posted April 6, 2014 at 6:17 pm
Tomi and I were in the same Breast Cancer Support Group at Swedish Hospital in the early 90′s. Our group kept in touch for several years and I have seen Tomi at the Symphony more recently. She had amazing courage and strength and I feel privileged to have known her.
Megumi Sherrill
Posted April 8, 2014 at 1:18 pm
Tomi-san
Thank you very much for your volunteer work with Kokoro Kai Friday for past 10 years. All of us really miss you.
---
Comments Closed