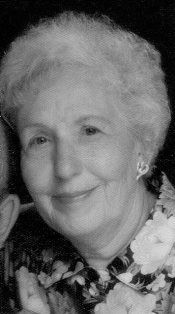 Helen S. Weston was born April 18, 1923 in Ely, Nevada to John and Maria (Lanzarotti) Pescio. She passed away at 90 years of age on March 21, 2014, while in hospice care at her daughter's home in Seattle, Washington.
Helen lived in Ely for 86 years before moving to the Northwest to live with family. She attended White Pine County High School and Woodbury College School of Business in California. After working in several government positions, she found a career as a records manager with the Bureau of Land Management.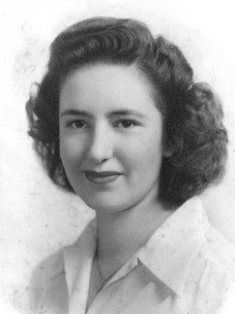 Helen was married to Arthur H. Weston for 61 years and raised two daughters. She was predeceased by her husband Art, her brother John Pescio Jr. and his wife Anne, and her granddaughter Angela Napolitano-Seed. She is survived by her daughter Diane Rebholz and her husband Gary Rebholz, and granddaughters, Katherine Wolfla and Kristine Wolfla. She is also survived by her daughter Dorene Napolitano and her husband Patrick Napolitano, grandson Christopher Napolitano and his wife Darcy, great-granddaughter Eilanna Weston.Helen.1Napolitano, granddaughter Jennifer Napolitano, and great-granddaughter Isabella Napolitano (daughter of Angela Napolitano-Seed, deceased 2011).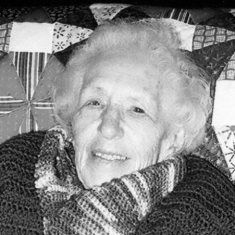 Helen was a loving wife, mother, grandmother, great-grandmother, and a kind and giving friend. She was an exceptional homemaker who will be remembered for her innovative cooking, her hand-dipped chocolate cherries, and her homemade bread. She cultivated a beautiful garden, filled with flowers and bountiful produce. With her frugal nature, nothing was ever wasted! Three years ago, she took the trip of her lifetime on a cruise to the Mediterranean, where she was able to visit her father's birth place in Genoa, Italy; and to witness the beatification of Pope John Paul II.
Helen was proud of her home in Ely. While she enjoyed the green Northwest, she missed the cold winters and hot summers of Nevada and her friends back home. Our family would like to thank all of her friends in Ely for the kindness and assistance that they offered her during her final years living at home.
---
Comments
Jennifer Russell
Posted March 27, 2014 at 1:07 pm
An angel has her wings as my Aunt Helen begins her new life. She was a wonderful nurturer and I have such fond memories of being welcomed into her kitchen to learn how to cook. She was patient and kind and loved children. I will also miss her laugh.
Sending virtual hugs to the entire family until we see each other again.
Love,
Jennifer
Susan Hall
Posted March 27, 2014 at 3:38 pm
Oh Helen, I will miss seeing you up on YOUR HILL tending to the flowers you so lovingly planted amongst the sage and rocks of Nevada. Your friendship is eternal. Sincere Condolences to your dear daughters and family.
Love Susan
Cheryl Brown
Posted March 28, 2014 at 3:30 pm
love, hugs and best wishes to your wonderful daughter Diane
Barbara & Don Lasch
Posted March 28, 2014 at 4:15 pm
A life well and fully lived and a departure surrounded by the family she loved and who loved her in return. May loving memories of you stay with them forever.
Gordon Holt
Posted March 28, 2014 at 4:17 pm
Our thoughts, sympathy, and prayers go out to Diane and her family.
Dan Witmer
Posted March 28, 2014 at 6:40 pm
Diane, so glad that among her many accomplishments, your mother brought us you!
Chuck Bradley
Posted March 29, 2014 at 1:57 pm
My prayers and best wishes on behalf of your beloved mother, Diane, and on behalf of you and all the family. May your mother rest in peace, and God bless you all.
Erik Neumann
Posted March 30, 2014 at 7:10 pm
It was an honor to meet Helen and I'm glad she got to experience us playing music with her daughter Diane during several lively rehearsals at Diane's house. She was always very sweet to say that she enjoyed hearing us play.
PETER Crudo
Posted March 31, 2014 at 11:07 am
Some 25 years ago I had the privilege of meeting Helen. It was in her home she loved so much. I remember sitting at her kitchen table talking about her family. Her mom and dad, who came from far away and her children who were far away. I knew that when my eyes met Helens I was in the company of a very bright woman. One of my favorite places to see is Ely. One of my favorite people to visit was Helen. After Helen moved to live with her daughters, I went back to her beloved home to reminisce about her and Art. In the back yard was a deer gently eating a plant. I'm sure she was aware the plant was provided by another gentle soul—–Helen
Kathy Llewellyn
Posted April 15, 2014 at 5:12 pm
Dorene,
I'm so sorry to hear of the loss of your Mother – my heartfelt condolences go out to you and your family; you are in my thoughts and prayers.
May God be with you and watch over you during this difficult time.
Love,
Kathy
Comments Closed