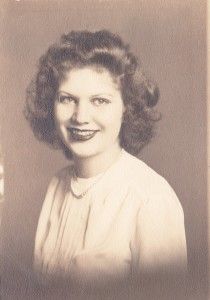 Sheryl V. Martinis (Hays), born December 1, 1926, passed away peacefully on February 12, 2014.  Sheryl is survived by three of her four children, Jeri, Dale and Berrie, and three grandchildren whom she loved very much, Della, Dillon and Daniel, and many wonderful friends.  Sheryl's first husband Vernon R. Montgomery and son Douglas predeceased her.  Special thanks to her Inglewood Bridge friends, who gave Mom much joy in her last years.  Per Mom's wishes, there will be no service.
---
Comments
the johnsons
Posted March 17, 2014 at 7:26 am
To Dale, Jeri, and Berrie,
Dorothy Johnson (formerly of Seattle, near your old house) and daughters Lynn (Penn), Patsy, and Nora, send their heartfelt wishes and sympathy to you. Dorothy and Sheryl kept up with each other through letters and occasional visits through many years. We all remember Sheryl so fondly. Dorothy is housebound now, being cared for by Pat, but she remembers the many good times that she and Sheryl had. Lynn Pat, and nora, remember walking up the hill to your house and spending many hours there.
---
Comments Closed