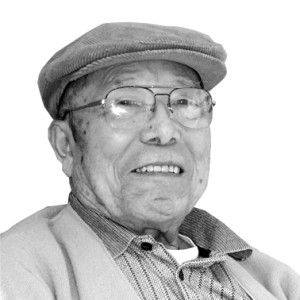 Masao Yamaguchi passed away peacefully at the age of 95, on February 8, 2014.
He was born May 13, 1918 in Seattle, Washington. His parents Kumakichi and Sugano Yamaguchi raised Masao in Miyajima, Hiroshima prefecture, Japan. In his late teens, Masao journeyed back to the United States and worked as a farm laborer and domestic helper in Sacramento and Pasadena, California. During the Second World War, Masao enlisted in the US Army and served in the Pacific war and later in post-war occupied Japan where he met and married Sumiko Iida in Kyoto, Japan. They were married for 67 years until Sumiko's death in 2012.
Masao was a quiet, gentle person and spoke without harshness or criticism. He endured hardship in his life, having a dual identity (US citizen with strong ties to Japan) and encountered bigotry and racism during WWII, was hindered by language barriers (Japanese was his first language) and sought to fit into the American culture. Even with these challenges, he was always a loving, courteous and courageous individual, welcoming and helping anyone he met.
Early in his career, Masao worked as a landscape gardener, on crab boats in the Alaskan Aleutians and later as a seafood processor at the Main Fish Company on the Seattle waterfront. He enjoyed fishing, foraging for mushrooms (particularly of the matsutake variety), chanting Japanese poetry (Shigin), playing golf and faithfully watching Mariners baseball.
He was a life-long member of the Hiroshima Club, Gojikai and the Seattle Betsuin Buddhist Church.
He is survived by his children, Jim (Karin Lo), Barbara (McMillon), Marvin (Dianne Graham) and Paul (Le Thuy). Grandchildren Maya Dammand (Jon), Abe McMillon, James McMillon Jr. and Sophia Yamaguchi. Great grandchildren Samantha and Alexandra Dammand. Also, Sumiko Uyeda (sister) and Chizuko (sister) living in Japan.
During Masao's final years, he lived at the Concejo Adult Family Home and was under the loving care of Lolita McDowell and Heide Snell.
Remembrances may be made to the Seattle Betsuin Buddhist Church.
---
Comments
Carolyn Grham
Posted February 20, 2014 at 8:10 pm
Masao was one of the most memorable people in my life, for his sweetness, and gentleness, and sense of joy, despite life's hardships. I will always remember his smile, which expressed everything. He will be missed so much.
Carolyn Graham
---
Comments Closed