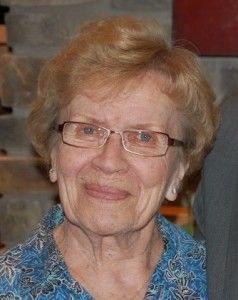 Liisa Anneli Keranen (Koli) was born the youngest of three children and only daughter in Oulu, Finland, on December 22nd, 1925 and died in Seattle, WA on February 15th of 2014.
Liisa, known as Mummi (grandma in Finnish) to her grandkids, an endearing name adopted by almost everyone afterwards, was a free spirit from an early age and lived life on her own terms throughout it. Many have described her as radiant and a source of light, with sparkling eyes and a welcoming smile.
As a child Liisa was pampered by her father and by her own words was a "good" girl. Her parents purchased a summer home in a rural part of Finland and actively farmed there during the summer, setting a lifelong love of plants, gardening and wandering. Liisa would often take the wooden row boat out for trips by herself, following lakes and waterways that seemed to go on endlessly. Occasionally she would set out for several days at a time, sleeping on beaches or at friend's cabins along the way.
When she was fourteen Russia invaded Finland in what was to become a five year pair of wars ending in 1944 when she was eighteen. She experienced and witnessed first hand the horrors and destruction that accompanies all wars. Liisa would tell of playing with a girlfriend from a wealthy family at their mansion when the air raid sirens sounded and running to the cellar for shelter. The house shook as bombs fell and when they emerged the walls were gone and only the floor remained. On another occasion she ran to her own home after an air raid to find her parents safe but half of the building gone. She kept a painting hanging on her wall, a reminder of those times, which had been damaged by shrapnel and repaired by the artist after the war. During the last year of the war she volunteered as a helper in the hospitals. Ultimately, Finland maintained its independence but paid a tremendous price, in no small part, suffered by each of its inhabitants.
Despite the odds the Finns survived and have coined a word describing that tenacity: Sisu. Liisa and her future husband Kalle embodied Sisu throughout their lives, a trait that served them well during future challenges. Having survived the war Kalle ended up in the US, eventually joining the US Army. His good friend, classmate and wartime buddy was Liisa's brother Paavo who ended up in Chicago after the war to work on a PhD. Liisa had knit her brother a sweater which was a bit too small so Paavo offered it to his friend Kalle during a visit. The long and short is that Kalle wrote Liisa a letter of thanks which started a chain of correspondence across the Atlantic eventually leading to a proposal and subsequent acceptance by mail. During this time Liisa attended Nursing school in Helsinki and worked for some time as an RN.
The two were married on New Years Eve, 1954 in Finland. Liisa sailed aboard the SS America to join her husband and begin her new adventure in the US, and that's exactly how she described her decision to leave family and friends behind to start a new life in a foreign land. The adventure wasn't without challenges though, one being described years later upon realizing that she and Kalle had (at that point) lived longer in the US than they had in Finland but strangely felt like they weren't yet American and at the same time no longer Finnish. As a result Liisa took it upon herself to see that her children had a sense of their heritage and culture. Both of the kids learned to speak fluent Finnish, the language they used at home. She was an amazing cook and especially famous for Christmas dinners replete with the festive foods and desserts she and Kalle had themselves as children. Relatives, travelling musicians and artists from Finland were welcomed to the home and Sunday dinners, always special and an opportunity to bring out the fine china, crystal and silverware, became a ritual time of telling stories from the old world. The family travelled to Finland as often as possible, especially during a five-year assignment in Norway. In their later years Liisa and Kalle were instructors of the Finnish language, with many graduating students. Liisa was an active member of the Finnish Lutheran Church, Finlandia Foundation and the Nordic Heritage Museum having recently provided an oral history recording for their archives. In 2003 Liisa was offered back her citizenship by Finland to acknowledge the contributions made by immigrants in the US. She accepted the offer.
Marriage to an Army officer meant a life on the move. Liisa and Kalle had two children, Jussi and Eeva, both born during a stay in Georgia. Liisa described how lost and afraid she was as a young woman in a foreign land, waiting for her first child in a military barracks style hospital, unable to speak the language, just another woman lost in endless rows of beds of other woman in various stages of labor. Never again, she vowed, and her daughter was born in a civilian hospital.
It was impossible to put down roots in the military world. Until Kalle retired from the Army in 1975 the Keranen family moved on average every three years. That family of four learned to rely on each other as they went from Georgia to Florida, Kansas, three cities in Germany, North Carolina and Norway, ending up in Seattle. Kalle also served three separate one year "hardship" tours without the family, leaving Liisa and the kids on their own.
Coming to Seattle in 1970 Liisa and Kalle bought their first house in Shoreline. With both kids finishing high school Liisa decided to attend the University of Washington to obtain a degree in Social Work. At one time all four family members attended the U of W at the same time. After finishing her degree she went to work at Group Health hospital on Capitol Hill.
Liisa was a spiritual person. She had a deep interest in philosophy that started in her late teens and a yearning to understand the deeper meanings, possibilities and purposes in life. She read poetry, practiced yoga for decades and was fascinated with astrology. Spending time in the out of doors is deeply engrained in the Finnish people's culture and for Liisa it was all-important. She hiked almost every week, well into her seventies and often with her friend Eivor Van Hagel. When a companion was not available she would simply take off by herself. Picking berries is also a Finnish trait, something she'd done since childhood and continued to do as long as she could carry the brimming buckets home, turning the yield into her famous pies. And speaking of picking she was famous for her ability to find four leaf clovers. It was a common summer sight to see her stooped over searching through a field, raising her hand victoriously clutching the prize. Pulling a book from her shelf and thumbing through the pages often yielded one of her catches, neatly pressed and dried between the pages.
Liisa was well known for her gardens, both flower and vegetable, and the back yard at the Shoreline house was a meticulously maintained showcase in it's own right. Additionally Liisa was an avid knitter and seamstress. In addition to hiking the family practiced cross country and downhill skiing. In later years Liisa and Kalle walked around Greenlake every week, eventually leading to the decision to move to the Hearthstone Retirement home years later so those walks could continue, something she did up until a month before passing.
Liisa was grateful for her life and felt blessed and fortunate to have experienced so much with so many incredible people over the course of her 88 years. She is survived by her son Jussi, grandchildren Raija (Aaron), Kaisa, Hanna, Mikko and daughter in law Monique.
Memorial service March 18th at 6PM in the Chapel at Hearthstone Retirement Center, 6720 E Greenlake Way N, Seattle, WA 98103
Remembrances to the Finnish Lutheran Church at 8504 13th Ave NW, Seattle WA 98117 in lieu of flowers.
---
Comments
Lora Heitstuman
Posted March 10, 2014 at 11:27 pm
Jussi – your mom was a special person, her smile very memorable. Our prayers and thoughts are with you and your family. Be in touch,
Lora, Jack – Mom & Dad
Raija Keranen
Posted March 11, 2014 at 3:07 pm
She will certainly be missed! She was a pretty special woman as well as an excellent Mummi!
Ritva Karinsalo
Posted March 12, 2014 at 1:37 pm
Liisan, hyvän ystävän, muistoa kunniottaen,
Ritva
Jorma Laine
Posted March 15, 2014 at 1:41 pm
Liisan muistoa kunnioittaen
Eine ja Simo Laine
Jorma Laine perheineen
Ritva Karinsalo
Posted March 16, 2014 at 6:40 am
"Niinkuin muuttolintusen tie
kotoa kauas matka vie.
Jää turvaksi Herrani, rakkaiden luo,
haltuhus kaikkeni uskoa saan". Hilja Haahti
Liisan muistolle
Eine ja Simo Laine
Ritva Karinsalo ja Lauri Toivanen
Johanna Säteri perheineen
Mikko Karinsalo perheineen
Pirkko Keränen
Posted March 17, 2014 at 11:49 am
Liisa Keräsen muistoa kunnioittaen ja surussa myötäeläen.
Pirkko Keränen ja Hannu Siipola
Eveliina Markus ja Sami Salonen
Jussi, Johanna ja Lyyti Markus
Kevin Roscoe
Posted March 17, 2014 at 9:01 pm
Jussi,
I'm glad God called on me to call you and be able to attend the memorial to your Mother.
She was as you know that special woman that will now be telling your dad that they will soon be great Grandparents, and all that they instilled into you and your children will be passed on to the next generation. God blessed you to have such amazing parents and is now blessing your Mom as her human journey ends and her spiritual journey continues in a sacred place. Love, Peace, and Happiness to you in your time of sorrow.
---
Comments Closed