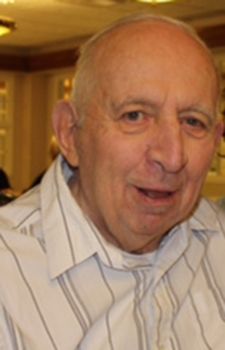 Francis (Frank) Wieman passed away at his home in Seattle, WA on Friday Feb. 7th, 2014 at the age of 86.
Frank is lovingly remembered by his three children; daughters Celeste Wieman McAloon (Michael) and Margaret Wieman Nordahl; his son, Daniel Wieman (Michelle), and his grandchildren Ryan McAloon, Thomas McAloon, Sam Peck, Alex Peck and Claire Sandoval-Peck. Frank is predeceased by his wife, Eileen Clare, who died in 1984. They were married in 1952 in Missoula, Montana.
Frank was born in Spokane, WA on October 19, 1927. He joined the US Navy in August 1946, trained as an Electronic Technician and supervised an outer island radio station at the Eniwetok Atomic Bomb test site in the South Pacific where he witnessed 3 atomic bomb tests. After attending Gonzaga University on the GI Bill, he earned a BS in Electrical Engineering in 1952. He retired in 1990 after a long and successful career with Boeing.
Frank enjoyed a wide variety of hobbies; from stained glass design and fabrication, wine making and carpentry, to antique conservation and repair. Always an avid sports fan, he loved his Seattle Seahawks & Sounders and was often found in attendance, whether as a coach or spectator, at any one of his children's sporting events.
The funeral mass will be held at Our Lady of Fatima Church, 3218 W Barrett, Seattle, WA on February 21, 2014 at 10am with Father Phil Raether, Celebrant; reception to follow at parish center. Internment with military honors will follow at Calvary Cemetery, 5041 35th Ave NE, Seattle, WA at 1pm.
In lieu of flowers, memorial donations may be made to Catholic Community Services of Western Washington, 100 23rd Ave S., Seattle, WA 98144-2302.
---
Comments
Grace, Rudy Sandoval
Posted February 14, 2014 at 12:08 pm
Margaret and Claire our sincere sympathy on your loss. Our prayers and thoughts will be with you and your family.
God Bless,
Love,
Rudy and Grace
Betty,Edward Emanuel
Posted February 15, 2014 at 10:36 am
With our deepest Sympathy. No one has the perfect words to make your sadness go away, but you may find comfort in knowing how many people wish they did.
Martin&Jill McAloon
Posted February 16, 2014 at 7:25 am
May he rest in peace dear Jesus in thy heavenly home above, with the Sacred Heart of Jesus in his own eternal love.
Teri (Wolf) Sykes
Posted February 18, 2014 at 9:00 am
Celeste, Margaret & Danny,
It's been a long time since I've seen you or my godfather and I was sad to hear of his passing. What a long and full life he lived! My parents always spoke of Frank & Eileen's friendship and generosity during the years they lived in Seattle. Dad talked about being a poor college student with a wife and child (me) and how your parents often invited them over for dinner which was so appreciated. I will have a mass said for him since I am unable to attend the funeral. Eternal rest, grant unto him O Lord: and let perpetual light shine upon him.
Yvette Pentland
Posted February 20, 2014 at 11:45 am
Dan, Celeste and Margaret,
My heart goes out to your family during this difficult time. I know that no words can help ease the pain and loss that you are feeling right now. My heartfelt condolences to you and your family.
Clare&Adrian McAloon
Posted February 22, 2014 at 6:29 am
His life was full of kindly deeds,
A helping hand to all in need,
A pleasant smile, a heart of gold,
No better man this world could hold.
May his soul rest in peace. Amen.
Paul & Julie Taylor
Posted February 22, 2014 at 6:12 pm
Dan, Celeste and Margaret,
We are so sorry for your loss.
We hope you can find some comfort in knowing that your father is at peace now.
You are all in our thoughts.
Brian Wolf
Posted February 24, 2014 at 12:55 pm
Dan, Celeste and Margaret,
My condolences to all of you and your families. It's been years since we last spoke but I just wanted to thank you once again for the love and generosity your family shared with me back in 1986 when I was starting my company and didn't have a dime to my name. Allowing me to live with you during that very difficult time was such a big help both emotionally and financially. I am forever grateful and will always keep your dad, mom and you all in my thoughts and prayers.
---
Comments Closed