Dirk Bratthauer 56 year old. Dirk was born on October 23, 1957 in San Jose, California and passed away on February 11, 2014 in Edmonds Washington.
Moved to Cortez, Co then moved to Zuni New Mexico, Graduated from Zuni High School. Dirk loved playing the drums. He moved to Washington in 1992 to pursue his music career. His passion was playing the drums with Humbolt Draw for 22 years reaching people through music. Dirk with a kind gentle person who enjoy meeting people and helping others.
Dirk lived in Everett Wa worked as a resident electrician and maintenance .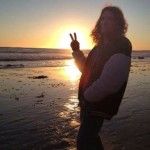 He is survived by his daughter: Hesper Bratthauer and Son-in-law Anthony Garcia, Granddaughters: Elizabeth Garcia, Pearl Garcia, Maria Garcia, and Grandson: Richard A Garcia of Gallup New Mexico. Sisters: Gretchen Cheney Santa Clara California, Karen Dreiling Denver Colorado, Brothers: Richard Bratthauer Hollister California, Kris Bratthauer of Ramah New Mexico. Five Nieces and Two Nephews and Three Great Nieces and Four Great Nephews.
He is preceded in death by Mother Elizabeth Bratthauer and Father Richard L. Bratthauer.
---
Comments
Hesper Bratthauer
Posted February 18, 2014 at 10:38 am
I Miss Daddy! I carry you in "Me Hart"! "I Love you more then you know".
Stephanie silva
Posted February 18, 2014 at 11:26 am
My dear friend I can't tell you how much I miss you. You came into my life 30 years ago and became a real good friend and you were there for me when I needed you. I'm going to miss that beautiful smile of yours and your wonderful sense of humor and you playing your drums. Keep on rocking and rolling in heaven!!!
Love you!!!
Shelley Goodwin
Posted February 18, 2014 at 12:56 pm
Dirky- Im so glad you arent suffering anymore but we miss you so much! I keep thinking you will be walking through our front door… but you wont :( You were such a kind soul with the biggest heart! Thank you so much for blessing us with your friendship! Journey wont be the same without you! Love you!!
Jody Silva
Posted February 18, 2014 at 1:18 pm
Dirk you will be truly missed. Its been a blessing that you came into our family. You have been there for everybody. We will miss your friendship, and laughter. You will always be in our hearts, but never forgotten. Love you and miss you
Trisha king
Posted February 18, 2014 at 2:31 pm
I was truly touched by this article. Beautiful way to summarize the life of a very wonderful man. I miss u dirk. We miss u every day. I'm very thankful to have been a part of your life. You were the kindest person and always put yourself last. Thank you for your friendship. You won't be forgotten.
Neal Storme
Posted February 18, 2014 at 2:46 pm
I am standing on the seashore.
A ship spreads it's white sails
to the morning breeze and starts for the ocean.
I stand watching it until he fades on the horizon
and someone at my side says,
"He is gone."
Gone where?
The loss of sight is in me, not in him.
Just at the moment when someone says,
"He is gone," There are others who are watching
him coming.
Other voices take up the glad shouts.
"Here he comes."
And that is dying …
Henry Scott Holland
Merrill Metzger
Posted February 18, 2014 at 6:42 pm
Brother I remember the day when you came to Humbolt Draw , I remember the countless time we've shared and they will never be forgotten my friend . Although memories were few over the years I will never forget the kind of person you were in the world . Now your with God and I'm mad , I am mad because you beat me there pal but know this someday we shall meet again . God's sped Dirk you will be missed brother deeply!
Lisa Bratthauer
Posted February 18, 2014 at 7:19 pm
Words cannot express the loss and love for this man. He shared so much love and laughter, telling jokes to warm the hearts of so many. He was a wonderful husband, father, grandfather, brother, uncle and best friend… Willing to help anyone who needed him. Every one of your drum beats will remain in my heart forever. I miss you so much. Peace and love…
Gretchen Cheney
Posted February 20, 2014 at 10:28 am
I miss you so much my baby brother!!!! Say hi to Ma and Ric for me!! LOVE YOU!
Valkyrie Cheney
Posted February 20, 2014 at 10:44 am
I love you and miss you soooooo much! But now I realize that you're going to be ok and be in a better place!! I hope you know how much I miss you and love you!!! And I never forget playing your drums!!! say hello to papa and to my great grandma!!!!Rest in peace!!!!
Teresa Cheney
Posted February 20, 2014 at 4:08 pm
I love and miss you Uncle Dirky! I know your in a better place but miss you so much….
Mimi Drew
Posted February 23, 2014 at 8:46 pm
My cousin—-I only remember you as a little boy; but shared the family love forever. Life is so short.
My thoughts are with you, your family, and I love all of you.
Reyes C Pinto
Posted February 28, 2014 at 10:59 pm
Dirk, I'm glad to have been one of your good friends, like family at the work place. Those were the good ole days. When i got the news you were right there in the music when i was traveling. You will be greatly missed. You are now in a better place. Thank You for being a friend!!!! You will never be forgotton. Keep on drumming
gary sanders
Posted March 1, 2014 at 5:38 am
Dirk one of kindess people I every R.I.P my friend only you know what DIRK meant LOVE BUDDY GOVE MY SON JR A BOG HUG!!!!!
Rosanne Ghahate
Posted March 3, 2014 at 10:05 am
My dear friend, So sad to hear of your passing Dirk, From high school until the day you said you are leaving Zuni, we have spent so much together, working while stil in high school at our small grocery store, put in 25 years plus, then I went to work at an art gallery, and there you were working with me again, another 6more years. Thru all that we shared a lot of laughter, jokes, tears, and a shoulder to cry on. I still continue with our coin n stamp collection we started back in the late 70s . Last time I saw you was 15 years ago at our neighborhood Walmart, you told me you were married and was happy, I was very happy for you. God takes the best at any time my Friend, Rest in peace Dirk, Give your mom the biggest hug for me.. I will Never forget you….
ROX ANNE QUANDELACY
Posted March 3, 2014 at 5:40 pm
HEY! IM THROWING OFF A PEACE SIGN TO YOU RIGHT NOW AND SAYING "CLASS OF 1975 FOREVER! I WILL ALWAYS REMEMBER YOU MY FRIEND.MEMORIES WILL NEVER FADE..
The Lewis Family
Posted March 7, 2014 at 7:08 pm
Dirk, you are truly one of the greatest. The real deal. Rest in Peace, brother. We will all meet up again someday in the eternal land of Rock & Roll.
Nina Garcia
Posted March 10, 2014 at 6:26 pm
Nana Dirk u r missed so much u were the best always thinking about i know u r in a better place with my TaTa know u r watching over all of us much love misss u
Hesper
Posted April 25, 2014 at 1:37 pm
I miss you more with passing day Daddy!! Love you still more then you know!!
---
Comments Closed