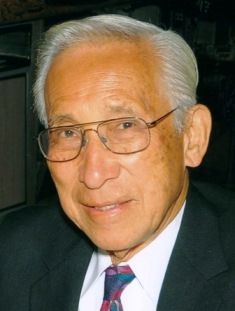 Edwin Wong, 83, passed away on April 17, 2014 in comfort with family at his side. He was born at his parents' home in Seattle, Washington on June 25, 1930. As a lifetime Seattle area resident, he went to Broadway and Garfield High. After graduating high school, he could not find a job so he joined the Army for two years. The GI bill helped start his education at the University of Washington where he graduated in 1953 with a BA degree in Accounting. He received his Certified Public Accountant certificate in 1957 and his Certified Financial Planner certificate in 1980. His work experience included Boeing, Helwig Butler and Associates CPAs (20 years as the managing partner) and then self-employment until "retiring" in 1992. His retirement included continuing to do many individuals' taxes, even thru this past tax season.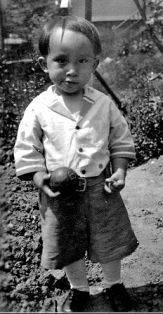 Ed was very involved in various Chinese Community projects either as a co-founder, finance officer and/or long time board member of the Seattle Chinese Athletic Association, Kin On Nursing Home and Bogey Bear Foundation. He was the driving force behind the Asian Pacific Islander Blood Drive in memory of his son, Kirby. He also served on other boards including King County Medical Blue Shield, Washington Physicians Service, the Gee How Oak Tin Foundation, and Municipal Golf of Seattle.
He enjoyed playing basketball, traveling, golfing, and fishing. A few highlights included two hole-in-ones, a double eagle and catching a 59 lb. King salmon in Alaska's Kenai River. His intrepid traveling took him to 35+ countries. Ed always looked forward to planning, whether it was the next big trip or someone's financial roadmap.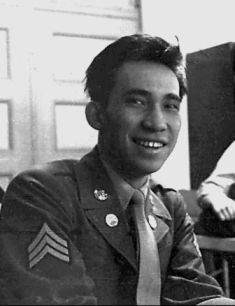 He was Uncle Ed to everyone and his quick wit and humor made everyone laugh. His big heart has left a lasting legacy in the community. He was always willing to help others and share his knowledge and wisdom with whoever asked. Friends and family depended on him to be their trusted advisor. He touched many lives by his kindness.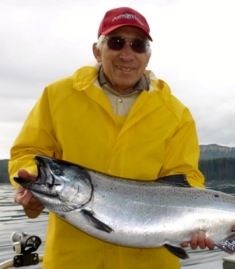 Ed was preceded in death by his 1st wife Lanna, son Kirby, 2nd wife Anna, and sisters Sue, Helen and Louise. He is survived by his son Bradley (Diane); daughter-in-law Becky Kosugi; brother Herman (Suelyn); sister Mabel (David); his partner Naomi Takagi; and numerous nieces and nephews.
Per Ed's request, there will not be a memorial service. In lieu of flowers, donations may be made in his name to: Kin On Nursing Home, 4416 So. Brandon St, Seattle, WA 98118; Wing Luke Asian Museum, 719 So. King St, Seattle, WA 98104; Blaine Memorial United Methodist Church, 3001 24th Ave. So., Seattle, WA 98144 or Chinese Information and Service Center, 611 So. Lane St, Seattle, WA 98104.
---
Comments
Susan Wan-Ross
Posted April 25, 2014 at 2:04 pm
Uncle Ed was always kidding around or joking with us. I have fond memories visiting with him when I was growing up. I will miss his quick wit and sense of humor. He was someone I always looked up to and admired, and was proud to be one of his many nieces.
Michael and Mami
Posted April 25, 2014 at 2:27 pm
We have all lost a great friend, mentor, and leader. U Ed will be missed but the lasting benefits he left for us and the community will be appreciated for many, many years to come.
Cheryl Locke
Posted April 26, 2014 at 8:30 pm
Dear Brad, Diane and Naomi-
My heart goes out to you all.
Uncle Ed will always be remembered. He lived a wonderful life and he made a wonderful lasting impression on all of us.
That was an elegant and touching obituary
Elaine Inaba
Posted April 27, 2014 at 3:14 pm
Dear Brad,
I am so sorry for your loss. Your parents' friendship was such a gift to our family. I always enjoyed chatting with your dad. I would almost forget he was of their generation, not mine. He was just so funny! I will miss him.
Elaine
Jack Heath
Posted April 27, 2014 at 4:31 pm
Ed was one of the finest men I ever knew or did business with – he is well remembered by our old staff at Washington Physicians Service.
Rest in peace dear friend.
Dick DeLapp
Posted April 29, 2014 at 10:19 am
Dear Naomi, Brad and Family
I have not known Ed as long as many of you – But I was surely blessed when my new wife at the time, Maxine Moore DeLapp – (a few days before he fell, Ed and Maxine figured out that they had worked together for some 57 years) – She brought Ed into my life sixteen years ago. I have never worked with a more helpful, trusting, caring, insightful individual – With his easy going manner, He was able to relate and communicate serious issues with ease, comfort and confidence. what a special person he was – His work, advice and friendship will be long lasting.
Our heart and prayers are with you – Naomi, Brad and faimily.
Maxine Moore DeLapp
Posted April 29, 2014 at 10:54 am
I met Ed some 57 years ago when my first husband and I became one of his first clients at Helwig Butler. He became one of the most important people in my life – someone that I respected, trusted and counted on his advice over the years.
I will truly miss him.
Dick Levinthal, M.D.
Posted May 1, 2014 at 6:00 pm
When I began medical practice in 1966, Ed (at Helwig, Butler then) was the accountant for our group, until he retired when Helwig, Butler was sold. Several years later I had occasion to call on him for help with financial planning. And also enjoyed steelhead fishing with him, one time.
He was one of the nicest people you'd ever want to meet. Knowledgeable & helpful, but soft-spoken & kind. I feel privileged to have known him, & know that he will be missed by a great many people. His family has my sincere sympathy, and condolences.
Dick Levinthal
---
comments closed